Sergio Garcia Disaster: A Moment Of Self-Destruction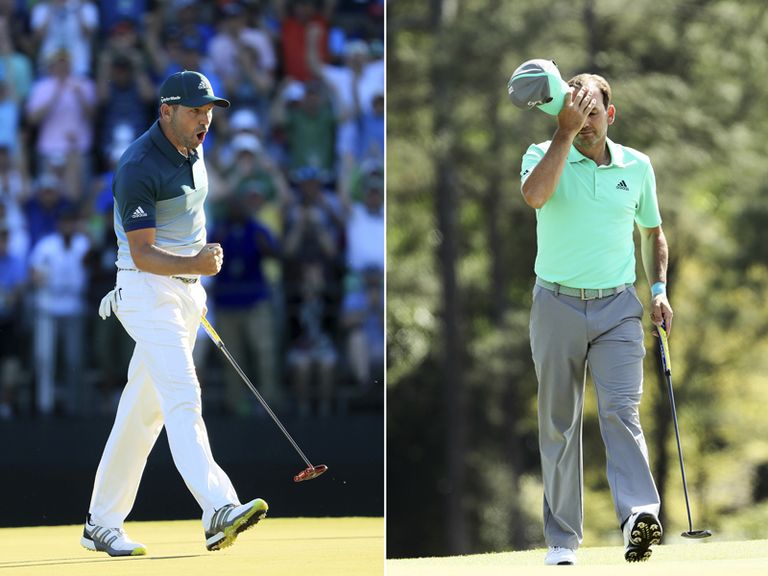 By Neil Tappin
In this opinion piece, Neil Tappin takes a look at the Sergio Garcia disaster as a moment of self-destruction that belies a US Masters Champion
Sergio Garcia Disaster: A Moment Of Self-Destruction
The Golfing Gods have always been a fickle mistress. Yesterday, it was Sergio Garcia's turn to find out how cruel she can be. Standing on the 15th fairway at 2-over par the Spaniard was making a solid if unspectacular start to his US Masters defence. What happened next was a thing of nightmares.
Five identikit wedge shots from the same spot on the fairway screwed back, away from the hole and into the water. In no more than a handful of minutes, Garcia's hopes of a miraculous US Masters double evaporated into the Augusta air. It was painful to watch.
US Masters Betting Tips
That this should happen on the very hole the Spaniard eagled 12 months ago in a crucial moment that helped finally transform him from a contender into a major winner, did not escape anyone's attention. Now the dust has settled it is worth asking what happened, how could a man who last year mastered this dangerous layout make such a simple, yet catastrophic, mistake?
Twitter reacts as Sergio Garcia cards 13 on 15th Hole At Masters
Only two players have ever won the US Masters on their debut – Fuzzy Zoeller and Horton Smith (in the first Masters tournament ever played). More than anything, this is because at Augusta National you need to know where NOT to miss. Those who don Green Jackets combine this knowledge with patience and an understanding that at Augusta National, anything can happen.
Of all his attributes, patience possibly wouldn't have been at the top of Sergio Garcia's list. Throughout his career, he has been aggressive, mercurial and emotional – his natural talent his defining characteristic. But throughout last year's US Masters, we saw a far more considered and patient version of Garcia. By adding maturity to his natural ability, Sergio Garcia finally emerged as a major winner and it was great to see. It was the most valuable of lessons.
This makes what happened yesterday even more remarkable. Dunking his first approach in the water was understandable. The flag was cut tight to the front, the greens were impossibly fast and Garcia was looking for a birdie on one of the easier holes on the course. He hit a good shot but was a fraction too aggressive and paid the price. Mistakes happen.
What followed was utter self-destruction. As his first approach found the water, Garcia would have known that he was in danger of making a number that would take him out of the tournament. Now was the time for a cool head. But instead of taking a deep breath and understanding the danger of the moment, he replicated the exact same shot… Four more times. The clarity of vision that is crucial but so hard to muster in moments like these, especially at Augusta National escaped him and instead it was the red midst that took over. Quite simply, Sergio Garcia hit the self-destruct button - he was the architect of his downfall, not the golf course.
Yes, this was a hard shot and yes, the pin position was verging on unfair but there was plenty of green past the hole and for a player of Garcia's ability, finding dry land was straight-forward. By repeating the same shot over again, he showed a naivety that belies a Masters Champion.
Of course, this Sergio Garcia disaster also underlines why the Spaniard is so popular. If we as golfers can relate to anything, it is the mind-bending nature of our game. During the exact same episode, we found ourselves marvelling at his ball-striking and sympathising with his plight. It was pure drama, Augusta National style.