The Best Seat In The House For The Masters
The Best Seat In The House For The Masters watching the golf at home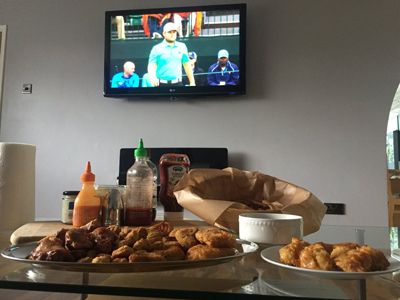 How are you watching the Masters? As much as you'd like a golden ticket, they're not easy to come by, but sitting at home with a glass of something nice comes a close second... maybe
The Best Seat In The House For The Masters
Forget FA Cup Finals, World Cups, Opening Ceremonies, Wimbledon, The Ashes, the Grand National or the 6 Nations Championship. For four days in spring we're invited into Augusta National, Georgia to soak up another chapter of the US Masters (opens in new tab).
For golf fans, this is pretty much as good as it gets. Yes, a ticket would be nice, but there's always the sofa - the best seat in the house for the Masters.
Related: US Masters Leaderboard (opens in new tab)
How are you watching the 2018 US Masters? Creating the perfect set-up at home is important, that's before you decide whether to watch on the BBC or Sky (opens in new tab).
We've been asking for your best pictures for how you're set up to watch the Masters, and we have some good ones. Keep them coming via Twitter using #MastersSetUp
Looks like a leather chair, premium comfort...
Nice television, even nicer-looking lounge.
Chocolate, wine and, yes, a cat. The smile says it all - fantastic entertainment.
The danger: too comfortable and you may fall asleep and miss the action.
More danger. A drink too many and you may fall asleep and miss the action. A single malt before the leaders enter the back nine?
Food. Much needed when it comes to settling down for six hours of golf. The only big decision is what food, and we still can't be certain what we're looking at here - but it looks good.
The dog. Not always your best friend when needy, but can enhance your viewing experience when well behaved.
Taking it to a new level. The juices are flowing with the Masters in full swing, and you can even lift yourself out of your favourite armchair for a putt or two.
Expand Who Is Rory McIlroy's Caddie?
Harry Diamond has been Rory McIlroy's caddie since…
Expand Jon Rahm US Masters Outfits 2018
Jon Rahm US Masters Outfits 2018
This is what Spaniard Jon Rahm will be…
Expand Masters Weather Forecast 2019
It could be windy this week at Augusta...
Golf Monthly - or some members of - is at Augusta National, but we very much appreciate your home set-ups. The action is hotting up and you can follow all the action right here on the Golf Monthly website.
In the meantime, keep your pictures coming via Twitter using #MastersSetUp and we'll share the best ones.
Michael has been with Golf Monthly since 2008. As a multimedia journalist, he has also worked for The Football Association, where he created content to support the men's European Championships, The FA Cup, London 2012, and FA Women's Super League. As content editor at Foremost Golf, Michael worked closely with golf's biggest equipment manufacturers, and has developed an in-depth knowledge of this side of the industry. He's now a regular contributor, covering instruction, equipment and feature content. Michael has interviewed many of the game's biggest stars, including six world number ones, and has attended and reported on many Major Championships and Ryder Cups. He's a member of Formby Golf Club.