Man vs. Nature: The Alfred Dunhill Championship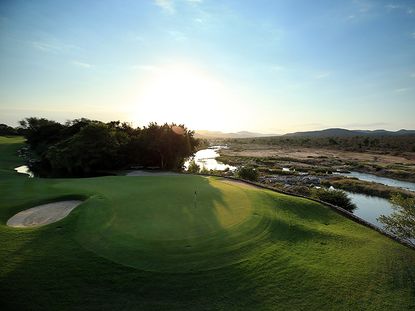 (Image credit: Getty Images)
You have more than birdies to contend with in South Africa
Lions and tigers and bears, oh my! Dorothy isn't the only one who needs to watch out for this season's Alfred Dunhill Championship that starts tomorrow. Golfers not only have to worry about birdies on this course but hippos, lemurs and crocodiles as well.
The Leopard Creek Country Club in Malelane, South Africa has hosted the prestigious European Tour championship since 2004. Set on the edge of Kruger National Park, the stunning golf course is also home to many wild animals.
It's not surprising to catch a glimpse of a leopard or impala just before teeing off. Look for Harry the Hippo in the lake adjacent to the 16th hole and the many crocodiles that lurk in Crocodile River near the par five 13th.
Take a look at some photos from the Championship in years past that capture man and nature up close and personal.
It's easy to get distracted when you have impala and water buck as your audience. The golfer tries his best to remain focused on his putt.
See ya later alligator, looks like that ball on the 13th green is a goner.
If you had this situation would you know what to do? Our video below reveals what to do in a dangerous situation.
Try to identify this animal after it leaves tracks in one of the bunkers during the second round of the Dunhill Championships.
The longer the neck, the better the view. This giraffe might have the best seat in the house as he watches from the trees.
At any other golf course they might be flowers or leaves, but the white things in the bushes are actually birds! Gregory Bourdy of France takes a closer look at them from the 15th hole.
Baboons run wild around the famous Leopard statue at the golf club.
This little monkey is planning what he would do with all that prize money.
The hungry, hungry hippo casually grazes as players putt out on the 13th green.
Spotted: Harry the Hippo snatching up players' lost Titleists.
Will Medlock graduated from UEA with a degree in Film and Television before completing a Masters in Sports Journalism at St Mary's in London. Will has had work published by The Independent and the Rugby Paper.