The driving force behind The Open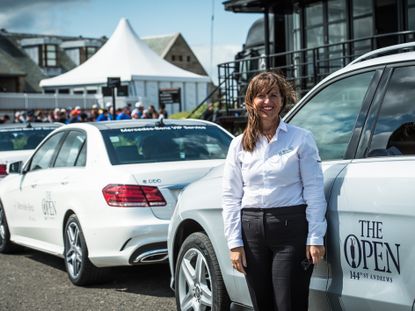 (Image credit: Stefan von Stengel)
We go behind the scenes at The Open to meet the lady who gets all the golfers where they need to be and when
Golfers in The Open spend more time in the Mercedes-Benz courtesy car office behind the practice ground at St Andrews than you might think. Whether they are seeking shelter from a deluge of rain (Friday), the 45mph winds (Saturday), or just for some peace and quiet (every day), the courtesy car office provides respite, and player liaison coordinator Carolyn Johnston makes sure of it.
"The players get privacy in our office," Johnston tells Golf Monthly. "It is an oasis of calm for them while they wait for their car.
And which golfers are the nicest guys behind the scenes?
"My heart is with Tom Watson, and Jordan Spieth is really nice," says Johnston. "They have both come into the office all week and they are so polite, so lovely, they take time to speak to us even though they are so busy, and they are real ambassadors for the sport, I would say.
"I am privileged to have been to the Masters in Augusta twice on holiday, and because Jordan won the Masters this year I felt I had to tell him I had been there too! I asked him what his favourite golf courses are and of course Augusta is one of them.
"Sergio Garcia came in yesterday and said, 'It is so lovely to see you again'. That was a surprise! That made my day, I have to say."
Sergio Garcia saying it's lovely to see you again? It would make your day, wouldn't it. (He never says that to journalists.)
Johnston, who comes from Stirling, is working her 10th year in the courtesy car operation at The Open. She started as a driver but her personality and organisational skills are a perfect fit for the office. Mercedes-Benz provides a fleet of 110 cars for The Open, with a total of around 110,000 miles being covered over the course of 10 days.
"At the end of each day, the players come into the office to book their transportation for the next day," says Johnston, whose day job is working in fund raising for Macmillan Cancer Support. "Most of the players come in and have a chat about how their day has gone, and I try to keep on top of who is leading so we know whether to say 'well done' to them as they come in. I am a golf fan anyway so I enjoy keeping track of who is playing well. If someone has had a bad day we know not to talk about the golf so much."
The office opens at 5:00am each morning, at the same time as the practice ground behind it, and closes only once the last golfer has gone at night. At The Open that can be pretty late. At 10:00pm on Friday night for example, Watson was still in his press conference.
And who would Johnston like to win The Open?
"I would like to see Jordan win that third major in a row," she says. "That would be fantastic for him, especially at St Andrews."
Mercedes-Benz is Proud Patron and Official Car of The Open.
Robin has worked for Golf Monthly for over a decade.