30mph Gusts Force Last Minute Course Changes At The Open
A bad forecast has forced some last minute course changes at The Open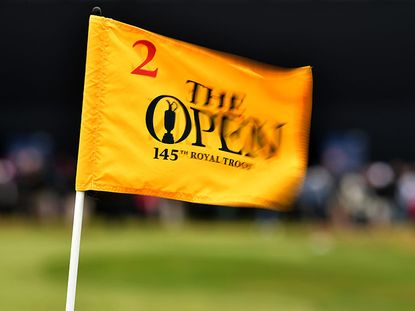 (Image credit: Getty Images)
A forecast of 15-25mph winds with gusts of 30mph has forced a number of last minute course changes at The Open ahead of round three, including certain tees and pins being moved
A forecast of 15-25mph winds with gusts of 30mph has forced a number of last minute course changes at The Open ahead of round three, including certain tees and pins being moved
Key changes include three tees on the back nine moving up to the next forward tee on 11, 16 and 17 to ensure they remain playable and a fair test.
Related: Round three tee times
The par 4 3rd pin position also had to be moved. It was originally set to be 19 yards on and seven yards from the right edge. However, early morning tests saw some balls moving on the green, so the R&A and Troon greenkeepers were forced to move it to a flatter and more sheltered spot four yards further back, 23 yards on and seven from the right.
All in all it means the total yardage for round three (measured from tee markers to flagstick) is 7,080 yards for round three, a whole 110 yards short of the full potential yardage of 7,190 yards.
The forecast high winds also meant that the greens were not cut or rolled as planned on Saturday morning, so they are now running at 9 feet 5 inches, half a foot slower than the 9 feet 11 inches they rolled at during round one.
Interestingly, the average firmness is 102 gravities, a decrease from 111 on Friday, making them softer to land on.
All these changes will hopefully mean a fairer test for the players, who were struggling to reach long par 4s like the 13th yesterday when they faced terrible conditions in the afternoon.
Jake O'Reilly specilaises in equipment coverage, and joined the Golf Monthly team in 2013. Before this he graduated from the University of Huddersfield with a Sports Journalism and Media degree, and worked at a number of British golf magazines. Follow Jake on Twitter
@jake0reilly