Hollywood Pride: The Amateur Career of Rory McIlroy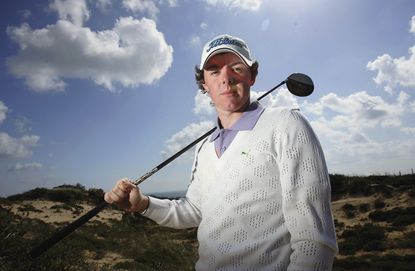 (Image credit: Getty Images)
Golf Monthly Newsletter
Golf tips and expert instruction, golf club reviews and the latest golf equipment.
Thank you for signing up to . You will receive a verification email shortly.
There was a problem. Please refresh the page and try again.
Irish golf writer Brian Keogh remembers the early amateur career of Rory McIlroy, highlighting the mannerisms and charisma that are still so prevalent today in the make-up of the 2014 Open Champion - Photography: Getty Images, Brian Keogh
There's something special about Baltray in June when the cream of Irish amateur golf gathers for the annual June Bank Holiday weekend East of Ireland Championship.
From the moment you battle your way through the Drogheda traffic and take that winding road along the Boyne estuary where sea birds swoop and dive, you feel detached from the hustle and bustle of life as you eagerly await your first sight of the links at County Louth.
Of course, it's the "West" at County Sligo that truly heralds the start of the amateur season in Ireland when the giant Ben Bulben looks down on the players at Rosses Point for the Easter matchplay meeting that has since become synonymous with Rory McIlroy's rise from boy wonder to world star.
It was out west where I caught my first glimpses of McIlroy's golfing genius but our first meeting came in the car park at Baltray, where the then 14-year old was about to make his debut in senior golf in the 2003 East of Ireland championship.
Padraig Harrington will tell you that Irish golfers are better prepared to deal with the media than players from any other part of the world.
Amateur golf still warrants dozens of column inches and players get used to speaking to reporters from an early age.
Some are more eloquent that others but speaking to McIlroy in front of the scoreboard at Baltray that June day, my abiding memory is of a tiny teenager with a natural, easy confidence.
There were no bold predictions, no airs and graces. No matter that he would be blown away and miss the cut by five shots after rounds of 81 and 74.
There was something special about the firm handshake and the confident eye-to-eye contact of a young boy who appeared to be wearing shoes that were a size too big.
It was a confidence that was not lost on top club maker Derek Murray of ForeGolf when he first set eyes on a 12-year old McIlroy, baseball cap pulled low over his eyes, shaping shots at will during an Irish amateur panel training session at CityWest on the outskirts of Dublin on a cold October day in 2001.
"I asked him to tell the group of 16 other young guys what he did to shape the ball so well and watched him hit low fades and high draws," Murray recalls.
"He tipped up his little hat and simply said, 'Derek, I just think draw and I hit draw, I see it in my head and then I just hit the shot.' I nodded and dismissed the group knowing full well that this was the response of natural talent and was un-teachable. I decided then and there that this kid was special."
Murray's job was to make sure that every member of the panel had their clubs set up perfectly, but McIlroy, still a five handicapper, was already ahead of the game and was the only one who knew the exact loft and lie of every stick in his bag.
Standing Out
"As part of the training sessions, we encouraged the kids to understand their clubs better and wanted them to know exactly what type of shafts and specifications they were using," Murray remembers.
"This would help them as they got older to manage their golf careers better as they knew exactly what their clubs did or didn't do. We could then help them to understand and identify weaknesses in their game and produce clubs to help solve those problems.
"Most of the young group hadn't a clue what loft was on their driver or what loft their sand wedge was, so it was our job to measure and note all their clubs. Not Rory.
He knew every loft and lie, every shaft. He was just 12 at the time and I had two super years with him. He had an 87-88 mph swing speed at the time and now it's 128 mph."
McIlroy was swinging the club at around 100 mph when he turned up at windswept Rosses Point for the 2004 West of Ireland Championship, a matchplay event that boasts legendary names such as Joe Carr, Des Smyth, Gary McGimpsey and Padraig Harrington among its past champions.
There is something epic about the venue as the great golf writer Pat Ward-Thomas noted when he covered for the Manchester Guardian in 1962:
"It all lies on a peninsula between the bays of Drumcliff and Sligo; to the north, Ben Bulben rises like the prow of a great ship heading for eternal seas and away to the south is Knocknarea, where the cruel Queen Maeve lies buried high above her Connacht kingdom.
The mountains inland appear unbelievably clear beneath cloud- flecked skies and the long, blue line of the Mayo coast stretches far into the Atlantic that has gleamed silver and peaceful in the sunshine."
What better venue for a new Irish hero to make his bow.
McIlroy did not win the 2004 West of Ireland Championship but you would hardly have guessed given the fanfare that greeted his debut in that championship.
Sporting blond streaks in his brown, curly hair and wearing a pair of jaunty striped pants, the lolloping stride we now know so well was already in evidence as he strutted his way into the last 16.
"I've never seen anything like it in my 68 years," beamed one white-haired gentleman, one of many who were enthralled by the young Ulsterman's swashbuckling performances that week, as he shook McIlroy vigorously by the hand.
Boys Against Men
McIlroy was a 14-year-old the day he beat Mullingar's John 'Junior" Morris by one hole to make it into the third round. Having qualified comfortably with rounds of 73 and 71, the fresh-faced Ulster kid faced Pat Murray of Limerick, a respected international, 3 & 2 in the first round.
"I was five under when we shook hands on the 16th," Murray recalls of the sweetest defeat of his career.
"It was unbelievable. When you are drawn against a 14 year old in the first round of the 'West' you think to yourself, this is going to be a handy match. Well not quite. He has as long as me all day, sometime longer, and he was eight under par for the 16 holes. It doesn't feel so bad now."
McIlroy went on to beat Morris - a dogged match player who had beaten five Ryder Cup players in his time, Padraig Harrington, Darren Clarke, Paul McGinley, Jose Maria Olazabal in the British Boys and Joakim Haeggman in the European Team Championships.
The 'West' had seen nothing like it since the days of Carr and Cecil Ewing. Huge crowds thronged the links to catch a glimpse of a player who was already being head-hunted by the top US colleges and mentored by Darren Clarke and Nick Faldo.
McIlroy, the boy wonder, was off and running and thinking big. There was never any doubt or speculation as far as he was concerned.
"Playing on tour would definitely appeal to me," he told me at the end of that season. "I am pretty close to turning pro and it will probably happen over the next three or four years.
It is going to be exciting in 2005. I will not be playing and Boys or Youths golf at all."
He always had the all-encompassing confidence in his own ability.
The youthful swagger could easily be confused with big-headedness but there is precious little difference in personality between the teenager who made Irish golfing history by winning back-to-back West of Ireland and Irish Amateur Close titles in 2005 and 2006 and the man who claimed his second major title at Kiawah Island this summer.
His primary school headmaster, Martin Meyler, remembers the same laid-back McIlroy who "just breezed through school life. Nothing seemed to faze him at all.
When it came to doing the '11-Plus' and all the parents and children would be so worried, he just took it in his stride and of course, he got it.
"He's always had coolness, that balanced temperament. He never forced anything. That time when he went to pieces at the Augusta Masters, he quickly composed himself.
That would have affected other people for years afterwards but not Rory. He had the inner confidence to get himself back on track again."
McIlroy's play was simply astounding during that 2004-06 period. It wasn't just his prodigious length off the tee and the towering iron shots that made him stand out but his tremendous imagination, his competitive drive and his love of putting on a show.
In the 2005 Irish Amateur Open at Carton House, he was well adrift of the eventual winner Richie Ramsay entering the final round. That didn't stop him finishing with the best final round of the lot, a five under 67 that gave him fifth place.
What stood out was the birdie he made at the par-five 17th on that final day.
After zipping a wedge off a back stop to a couple of inches for a tap-in birdie he looked over to myself and another reporter in the gallery and gave the wedge a flamboyant twirl as if to say, "Did you see that boys."
Natural Confidence
There was always a childish wonder about everything he did. When he played in the 2005 British Masters at the Forest of Arden just a week after his 16th birthday, he couldn't resist hitting left handed shots off the first tee in the pro-am alongside Lee Westwood.
In the 2006 Dubai Desert Classic I remember him running frequently.
He ran through the desert scrub to catch a glimpse of Tiger Woods, Ernie Els, Darren Clarke and Thomas Bjorn in a pre-tournament exhibition and even after missing the cut in the tournament proper, ran off with his pal Harry Diamond, like a couple of schoolboys hearing the school bell, to watch Woods in the second round, borrowing a camera from a photographer so he could follow the action from inside the ropes.
Until he joined Chubby Chandler's ISM in late 2007, he was always available at the other end of a phone, such as the time he picked up during his girlfriend Holly's Irish dancing class to learn he'd just become world amateur number one.
When I visited him at his Holywood home at the end of 2006, plans were already in place for him to turn professional under Chandler after the follow September's Walker Cup.
The modest terraced house was in the process of being renovated, a sign perhaps of someone's confidence in his future earnings.
Rory was already thinking of owning his own place anyway and even had his eye on some property. "I can't wait," he said. "I really can't wait to turn pro and have a crack at it. I can't wait to have my independence and my own house."
He didn't shy away from the thorny issues of identity that still dog him today, though he plainly didn't like being asked the question on that December afternoon six years ago.
"I would identify myself as British," he said as he munched biscuits on his mother's living room sofa. "I'm from Northern Ireland so I'm a British citizen and I've got a British passport.
I'm Northern Irish but I can have an Irish passport if I want. It's just easier to say it. I didn't really have any experience of all the troubles. Holywood is a quiet area and nothing really goes on."
It never occurred to him for a minute that he wouldn't make it big.
"I want to win Majors, play in Ryder Cups and win Orders of Merit," he said. "All of that. There is no point in saying I want to be journeyman. I don't want to finish top 60 in the order of merit every year.
I want to go out and win, play the best I can and go on from there. Obviously you need to get into the top 50 in the world to play in Majors and I hope to do that after the first three or four years."
Less than two years later, he was ranked 50th in the world. The rest, as they say, is history.
The leading website from the world's oldest golf magazine, we're the go-to destination for amateur and keen golfers alike who are keen to up their golfing game. As well as expert course reviews, news and tips to improve your handicap our golf-focused travel content will help you pair teeing off with your travels in some of the best destinations around the globe.