Top 10 Friday morning Ryder Cup 1st tee moments…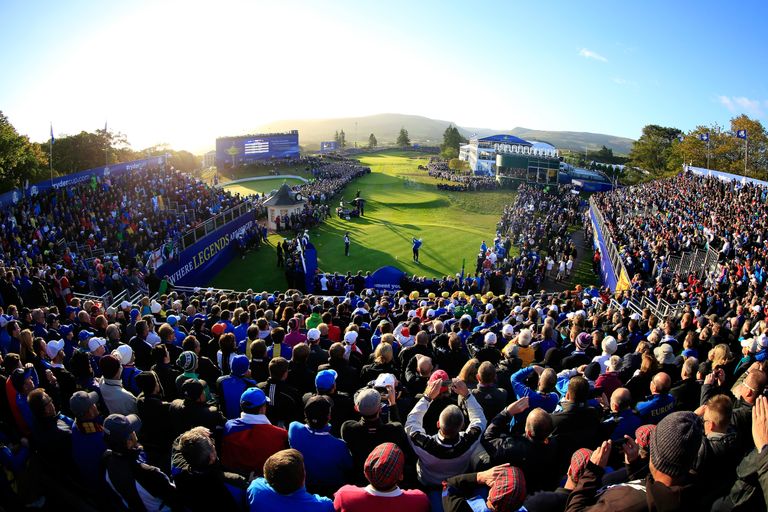 (Image credit: Getty Images)
They were queueing from before first light but it was worth the wait. Jeremy Ellwood looks back on the electric atmosphere as the 2014 Ryder Cup got underway
Many of you will no doubt have been glued to the coverage from 7.35am this morning. I'm not normally one for sitting in a grandstand at a golf event as I generally like to get out and wander, but with reserved seats this morning courtesy of my hosts at Rolex, it would have been rude not to get up at 5.00am for the second morning in a row and avail myself of such a privileged spot.
What a spot – three rows back just behind Dr Bob Rotella - and what an atmosphere! I've never known anything quite like it. So here, in no particular order, are my Top 10 moments from the hour and a half I sat there, from 6.50am until the final ball was struck majestically down the middle by Rory…
1. The sun gradually rising to reveal the glorious Perthshire countryside in all its glory.
2. The welcome for Ivor Robson and the chanting of, 'Ivor, Ivor, give us a wave.' It was a real shame he then fluffed his opening line.
3. Webb Simpson's opening sky-duff which didn't get halfway up the hole. I think it was actually a hybrid not a 3-wood, so the moral of the tale is, when you're faced with the scariest tee-shot of your life, don't use your very smallest club.
4. Bubba whipping up the crowd, then hitting a massive banana slice which almost started out over the heads of Monty, Butch and Darren in the Sky commentary booth.
5. The sheer volume of the cheers as every European pair appeared and was announced.
6. A second startled deer (after Webb Simpson) making an appearance only to find his usual grazing ground occupied by about 20,000 people!
7. The YourGolfTravel Guardians of the Ryder Cup. I have to confess, I've found their ads on our YouTube videos mildly irritating, but warmed to them here, especially 'Kaymer, Kaymer, Kaymer, Kaymer, Kaymer Chamelion.'
8. Three or four resilient US fans being booed good-naturedly by the massed Europeans whenever they put their vocal chords over the parapet.
9. The roars that greeted captain Paul McGinley when he first appeared on the tee.
10. The spontaneous rendition of, 'There's only one Tom Watson', amid all the pro-European chanting.
Jeremy Ellwood has worked in the golf industry since 1993 and for Golf Monthly since 2002 when he started out as equipment editor. He is now a freelance journalist writing mainly for Golf Monthly across the whole spectrum from courses and Rules to equipment and even instruction despite his own somewhat iffy swing (he knows how to do it, but just can't do it himself). He also edits The Golf Club Secretary Newsletter, has authored or co-authored three books and written for a number of national papers including The Telegraph and The Independent. He is a senior panelist for Golf Monthly's Top 100 UK & Ireland Course Rankings and has played all of the Top 100 plus 89 of the Next 100. He has played well over 900 courses worldwide in 35 countries, but put him on a links course anywhere and he will be blissfully content. On his first trip to Abu Dhabi a decade ago he foolishly asked Paul Casey what sort of a record he had around the course there. "Well, I've won it twice if that's what you mean!" came the reply...