PowaKaddy FX5 Electric Trolley Review
Refined for 2023, how did the PowaKaddy FX5 electric trolley perform when we took it out onto the golf course?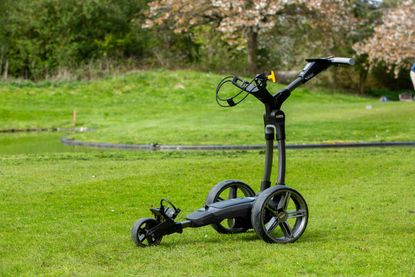 (Image credit: Howard Boylan)
An excellent trolley for those who want something sleek and simple. The FX5 has incorporated everything that made the outgoing FX7 brilliant and it's made with the attention to detail and premium finishes that we've come to expect from PowaKaddy.
Reasons to buy
+

Simple design, easy to use

+

Features USB charging ports

+

Whisper technology
PowaKaddy FX5 Electric Trolley Review
Electric trolleys have always, and will always, be popular amongst golfers. It removes the pain from carrying a far too heavy bag on your back but it also makes you feel rather professional; by that I mean we watch PGA professionals on TV and they never carry their bags, the electric trolley offers this feeling to the everyday golfer. PowaKaddy has slim-lined its range for 2023, taking the old FX7 out of the fleet and giving the new FX5 all the bells and whistles once owned by the FX7. It now sits clearly in its place within the fleet with the entry-level FX3 below it and the compact folding CT8 GPS and brand-new RX1 Remote GPS sitting above it.
PowaKddy is one of the leading trolley brands, especially when it comes to the best electric trolleys, in the market and the FX5 is just another masterful design added to its fleet. The FX5 electric trolley keeps things simple but with a very classy, high-end feel. The first thing you notice is how easy PowaKaddy has made it to unfold this trolley with its simple One-Click fold system.
The FX5 weighs in at just over nine kilograms, battery excluded. For some golfers, this may be a little too heavy especially when it folds down and it doesn't fold as compactly as something like the Motocaddy M3 GPS or M5 GPS. However, when the trolley is in use, the weight is very well distributed and makes for a balanced feel when traversing terrain. The strong alloy frame is sleek and offers great stability throughout the trolley, it has been built to last. PowaKaddy offers a UK warranty of two years for the trolley chassis and five years for the lithium battery.
The battery is easy to turn on and off with an isolator switch placed on top and an LED indicator making it easy for any golfer to acknowledge if their battery is on or not. It's not just the battery PowaKaddy has made easy to use, the speed control system is not only more powerful and accurate, it also is big enough for anyone to be able to use. The controller system sits just below a new full-color wide-screen display where you can track how long the round has taken you, clock face and elapsed time. The FX5 trolley also boasts an Automatic Distance Function allowing you to set the trolley off at distances of 15/30/45 yards at a time. I like to keep a hand on my trolley normally but knowing I can set it off in the direction of my ball and it all stops puts my mind at great ease.
Speaking of ease, PowaKaddy has approached the FX5 with bungee straps to secure your bag into place with anti-pinch handles to help you pull them together on the top. The bottom of the trolley features just one bungee strap that you simply pull around the base of your bag. Very simple. Very easy. It eliminates the fiddling around for two straps that have been dragged through the mud.
The FX5 electric trolley features new whisper technology and it was a highlight in my opinion. For many golfers, the loud hum or buzz of a trolley can be irritating but this trolley cuts that out allowing you to walk along almost undetectable to the ear but still with an incredible amount of power with the 30 Volt 230-Watt motor. All in all, the PowaKaddy FX5 packs a whole lot of fancy into a simple design. I would recommend this trolley for anyone who doesn't require all the fancy gizmos but still wants to look stylish amongst their peers and also for golfers who want a little quieter from their electric trolley, the PowaKaddy FX5 has you covered.
Monty is an upcoming golf journalist having completed his Multimedia Journalism degree at Bournemouth University; where he was also apart of the University's well renowned golf team. He has had a passion for golf ever since he picked up a club at 12 years old and this love for the sport only grew stronger over time as his game developed and he pursued golf through different avenues. His game took him over to the United States on a golf scholarship and has had him travelling the UK to take part in competitions like the Nick Faldo series and general club scratch matches. Monty worked on 'The Open' radio team when it was hosted at Royal St George's getting to walk inside the ropes with some of the top players like Justin Thomas, Rory McIlroy and of course that year's winner - Collin Morikawa. Monty has been lucky enough to have three holes-in-one in his short golfing career and he looks to continue growing that number. Monty believes the ability to continue playing golf well lies in his dedication to keeping fit through his other passion, which is CrossFit.
What's in the bag:
Driver: Srixon Z 765
3 wood: Taylormade AreoBurner
2 iron: Srixon Z U65
Irons: Srixon Z765
Wedges: Titleist Vokey SM6 (50°,54°,58°)
Putter: Odyssey White Hot Nano 7