Callaway 2023 Big Bertha Fairway Wood Review
Ed Carruthers tests out the new 2023 Big Bertha fairway wood, a club aimed at average players seeking more launch and forgiveness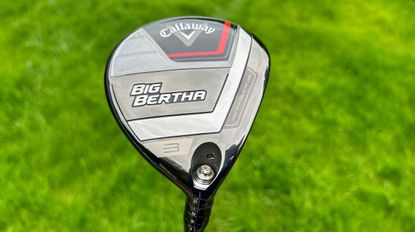 (Image credit: Future)
A very forgiving and lightweight fairway wood that offers up bags of shelf appeal and plenty of power. All golfers will enjoy playing with these clubs, but those with slower swing speeds will benefit from a punchy feel, excellent consistency and a draw-biased ball flight.
Reasons to buy
+

Ideal for players with slow swing speeds

+

Strong, draw-biased ball flights

+

Very forgiving

+

Visually appealing
Reasons to avoid
-

Stiff shaft felt a little soft at times
Callaway 2023 Big Bertha Fairway Wood Review
The Callaway Big Bertha Fairway woods are a comprehensive upgrade on the B21 Big Bertha metalwoods that we thoroughly enjoyed playing with back in 2022. One of the things I look out for when testing a new set of fairway woods is how much forgiveness and consistency they offer. Playing from over 200 yards out can often be a hard thing to do, particularly if you're trying to score well on a par 5. But being able to grab a club you can rely on and pump the ball straight down the fairway towards the green is invaluable. That is something the Big Bertha range of clubs has really excelled at over the years, delivering bags of power and accuracy from both the tee and the ground and is once again evidenced in this latest addition to the brand's iconic range of clubs.
New for 2023, Callaway's Big Bertha fairway woods are designed to help golfers eliminate their slice and be more accurate by placing more weight towards the heel of the club. The result, as I found out in testing, is a very reliable metalwood that plays well from both the ground and off the tee.
Visually, the new Big Bertha is stunning. It doesn't stray too far from the stealthy visuals seen on the Great Big Bertha fairway wood that was released in the autumn of 2022. It comes with a glossy black clubhead design that boasts some sleek maroon red and chrome detailing on the sole that provides a premium look. Something that will split opinion here, though, is the glossy crown on this club. While it does help to add a sleek finish, some players may not enjoy how shiny the crown is, with it reflecting the sun's rays a little too easily.
At address, the Big Bertha looks very inviting to hit. It comes with a slightly oversized footprint compared to some of the best fairway woods in the game. The club sits quite shallow to the ground too - something many of the best fairway woods for high handicap golfers get right.
Having put this club to the test over several rounds at The Springs Resort and Golf Club in Oxfordshire, I was impressed with how lightweight and consistent it was. Callaway has cut the shafts shorter on the Big Bertha woods to make them much more playable, while the implementation of a triaxial carbon crown in the head makes them feel light, easy to swing and perfect for players who don't necessarily have a fast swing speed. Even with stiff shafts, they did feel a little whippy and that may or may not be to your taste depending on how fast you swing the club. For me, it did take a little getting used to, particularly when I transitioned to the top of my back swing, but it certainly help get the ball up and away more easily.
Image 1 of 2
During my testing sessions, these fairways delivered some impressive numbers and even when slowing my swing down for control I was still very happy with what the club produced. My speeds with the 3-wood averaged out at around 139 mph, while the 5-wood totalled up to around 137mph. The clubs felt hot on impact - even on a few of my poorly struck shots, which still travelled an ample distance towards the target.
The high launch on offer is something many high handicap players will be able to benefit from and the ball hung in the air nicely before coming down softly. Distances were also excellent. I was able to really rip through my 3-wood to hit it over 225 yards on a couple of occasions off the tee. One thing the B21 really got right was its interaction with the turf and it's clear Callaway has once again paid plenty of attention to making these fairways just as forgiving off the ground as they are off the tee, with shots off the deck travelling impressive distances.
Accuracy is also something many golfers struggle with in their long game and these clubs can help there too. They come with a built-in draw-bias, thanks to their ultra-low and deep center of gravity. My shots flew very straight with both the 3-wood and the 5-wood, and the control I had over the ball was excellent, so much so that felt I rarely pushed any shots, with the ball generally travelling straight.
Overall, these are a very consistent and powerful set of fairway woods that are perfect for less experienced players looking to improve around the course. They come in at £349/$434 each, which, at first look may be a large sum to part ways with, but is a pretty good value investment, seeing as these clubs will help you improve as a player. I also think they're a solid purchase for any intermediate players too, with the 2023 Big Bertha fairways offering a very similar performance to many of the best fairway woods for mid handicappers.
Ed has been playing golf for as long as he can remember and is obsessive about the sport. He is regularly sought after by family members and friends for advice on what equipment to buy and uses his background, having written extensively on golf in the past, to produce equipment orientated content for Golf Monthly.
Having obtained a Masters in Law with Medicine from the University of Liverpool, Ed has recently changed paths into journalism and just last year achieved his NCTJ Sports Journalism Diploma with the Press Association.
He has written for a variety of media outlets over the years and has interviewed some big names in sport, including Premier League managers, All Blacks Coaches and Grand Slam tennis superstars. He has also worked on some huge sporting events, including the 2021 Australian Open and the 2022 FIFA World Cup. And when he's not writing for Golf Monthly, you'll find him producing news and feature articles for the MailOnline's sports desk, where he covers everything from football to rugby union.
During his weekends off, you'll likely find Ed heading out for a round at one of his local golf clubs with his friends, and was, up until recently, a member at the Leatherhead Golf Club in Surrey. Ed also plays the saxophone, can tell you some pretty terrible dad jokes and can knock up a very tasty carbonara!