Titleist Pro V1 / Pro V1x golf balls
Titleist Pro V1 / Pro V1x golf balls reviews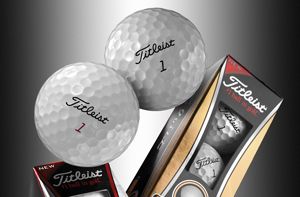 As with the 2009 models of the Pro V1 and Pro V1x, it must be extremely difficult to change a ball that is already the choice of many of the best golfers around the world. The original Pro V1 really did change the game in a way that no other ball will ever do again. The dimple design has been modified slightly this time round, and produced noticeably more check on chip and pitch shots. The slightly higher flight offered by the Pro V1x will broaden its appeal to more golfers. For all-round performance levels both balls are up there with the very best. Dedicated Pro V1 users won't see a huge difference, but there is enough added spin on offer to justify a new release. Price will be an issue for some. PGA Pro verdict Improving a top product is always tough, but Titleist has done it. The Pro V1 gave me exceptional spin around the green and added distance from the tee. I was at least 5-10 yards longer. The Pro V1x gave me slightly less height on my long game with lower spin, although it was a tough call to feel the difference around the green. I noticed an improved durability, which everyone will appreciate (John Jacobs).
Why you can trust Golf Monthly Our expert reviewers spend hours testing and comparing products and services so you can choose the best for you. Find out more about how we test.
Titleist Pro V1 and Pro V1x balls have been tweaked and improved from previous models. The Pro V1 provides increased spin control and a more consistent ball flight. These are both achieved thanks to a new dimple pattern (352 rather than the previous 392) as well as an improved core and casing layer. The Pro V1x is designed to deliver lower spin off the driver and long irons for added distance. Seven different dimple sizes help to provide a higher trajectory and a more consistent flight.
These new golf balls wwill suit anyone wanting to play a top-of-the-range, premium ball and/or those who want a combination of feel and distance.
RRP £50 per dozen
Paul joined Golf Monthly in 2006 in a junior role and has since worked as senior staff writer and now as technical editor. He writes equipment and instruction content and tests the vast majority of golf clubs that are introduced every year.