Valspar Championship Power Rankings: Ranking the Top Golfers in this Week's Field
The Valspar Championship begins on Thursday, March 16th, in Palm Harbor, Florida. Johnny Covers shares his top 5 rankings for the Valspar Championship.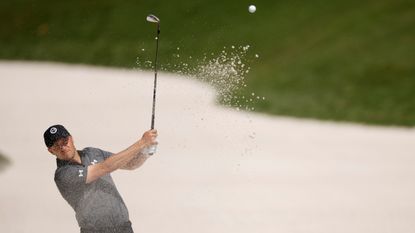 (Image credit: Getty Images)
On the Florida swing, Innisbrook is occasionally overshadowed by Bay Hill and TPC Sawgrass, making it something of a diamond in the rough. Such courses often attract stronger fields, and despite the WGC Match Play having a short week coming up, the Valspar Championship has a strong lineup with two 2022 Major champions at the top and a wide range of OWGR top-100 players. To compete here, you must have patience and a great all-around game.
Let's take a closer look at the course itself and the top five players teeing it up this week.
The Valspar Championship Course - Copperhead Course at Innisbrook Resort, Pal Harbor, FL
A strategic, tree-lined golf course, Innisbrook Resort (Copperhead), requires numerous layups off the tee. On this course, players must work the ball in both directions. Significant elevation changes on this short course make accuracy key but approach shots even more important.
The Valspar Championship Power Rankings
Jordan Spieth (+1200) Bet $100 to collect $1,200 DraftKings has the best odds, click here
The ridiculously fortunate break on THE PLAYERS' 36th hole was the latest thing to bounce Spieth's way this year, as it just seems like his stars are aligning again in 2023; a break turned disaster into a T19. That followed a T4 at Bay Hill. He's also a former Copperhead champion (2015).
Justin Thomas (+1200) Bet $100 to collect $1,200 DraftKings has the best odds, click here
Justin Thomas hasn't played well enough to cause concern, and his putting has been erratic, but he's been at ease at Copperhead. From his initial trip in 2015, all four of his payouts finishes in five visits since then have gone for a top 20. He placed third last year, and just one month has passed since a solitary fourth at Waste Management.
Matt Fitzpatrick (+1400) Bet $100 to collect $1,400 DraftKings has the best odds, click here
He has already matched his season total of missed cuts from 2021–2022 despite missing cuts in three of his last five starts. Yet, Fitzpatrick continues to be slump-proof and will likely remind us of his firepower sooner rather than later. In Copperhead, where he was T5 a year ago, perhaps it's this week.
Sam Burns (+1800) Bet $100 to collect $1,800 DraftKings has the best odds, click here
He now has the opportunity to become the first player since Steve Stricker, who won three consecutive John Deere Classics from 2009 to 2011, winning here in his past two outings. Burns has had spurts, but overall this season, he has been rather quiet. He gains more self-assurance at Copperhead.
Tommy Fleetwood (+2200) Bet $100 to collect $2,200 DraftKings has the best odds, click here
His floor is higher than the majority of this field, and he automatically poses a threat after placing T16 in his maiden performance here last year.
For the better part of the past decade, Johnny has been covering sports betting markets and handicapping games. Along the way, he has written for publications such as All-In Magazine, Blitz Predict, FantasyPros, BettingPros, Sportsbook Review, OddsChecker, and now, Golf Monthly. In addition to giving out picks on Twitter, Johnny is the host of the podcast The Daily Sports Bet, a 10 minute or less listen with actionable insights.