Tiger Woods trick shots
Tiger Woods shows off his skills with some amazing new trick shots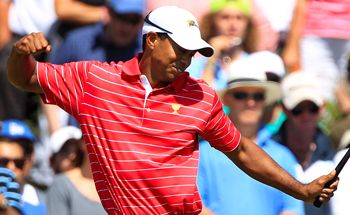 Tiger Woods may be without a Major victory since 2008, but the former world number won has recently shown signs of a return to form, and he has also impressed fans with a few new trick shots.
Promising rounds at the Australian Open and Presidents Cup may be the catalyst for the 14-time Major winner to burst back onto the scene in 2012 after a slump in form saw him fall outside of the world's top 50.
Woods recently took time out of his playing schedule to show off his skills. Here's a video of Woods playing some trick shots.
Tiger Woods trick shots:
Perhaps more significant is the smile that seems to have returned to Woods' face as he plays a few trick shots, right and left-handed.
It may have something to do with Woods creating a new image, but if it means we get to see him back anywhere near his best, that has to be a good thing.
See more: