Sergio Garcia Says Rory McIlroy 'Lacking Maturity' As He Opens Up On LIV Golf Feud
Sergio Garcia says Rory McIlroy does not respect his decision to join LIV Golf but would be open to talking through their issues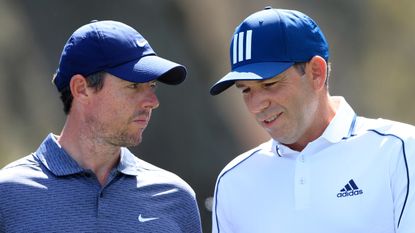 (Image credit: Getty Images)
Sergio Garcia says Rory McIlroy is "lacking maturity" for the way he ended their long friendship following the Spaniard's LIV Golf move, but insisted he would be open to sitting down with him to talk over their issues.
The two had been close friends and went to each other's weddings as well as being partners in Ryder Cup matches, but McIlroy recently said he'd deleted Garcia's number following an argument over LIV Golf.
After Garcia sent McIlroy a text message telling him to stop criticizing LIV Golf, McIlroy responded: "I was pretty offended and sent him back a couple of daggers and that was it."
Garcia has now told The Telegraph (opens in new tab) that McIlroy's actions were "lacking maturity" but did insist that he would be willing to sit down and talk over their issues – even though he thought McIlroy wouldn't even entertain the prospect.
"I don't have a problem with him. He's the one that has a problem," Garcia told the Telegraph's James Corrigan. "So if he wants to reconcile, then I'm willing to talk. But I'm not sure he'll put himself down to that level.
McIlroy, for his part, has completely closed the door on the friendship and ruled out a reconciliation with Garcia when last asked.
"I think it is very sad," added Garcia. "I think that we've done so many things together and had so many experiences that for him to throw that away just because I decided to go to a different tour, well, it doesn't seem very mature; lacking maturity, really.
"But Rory's got his own life and he makes his own choices, the same way that I make mine. I respect his choices, but it seems like he doesn't respect the ones I make. So a one-way street."
The feud between the two would also be a major reason why 43-year-old Garcia is highly unlikely to have any future Ryder Cup involvement – especially this year in Rome.
Garcia is the record points scorer in Ryder Cup history but although Jon Rahm has backed the prospect of Garcia being involved in the team in some way, Luke Donald would never select him while the current conflict with McIlroy continues.
"I wouldn't want to harm the atmosphere in the team room," Garcia said as he repeated his stance that he wouldn't try to force his way in and risk upsetting the rest of the Ryder Cup team. "I love that event too much for that."
The new LIV Golf League starts this weekend in Mexico, with Garcia claiming that along with the team aspect of the competition, the fact that the bosses listen to the players more is also a huge plus.
In another dig at McIlroy and Tiger Woods, he claims that the PGA Tour was not very good at listening to other players apart from the big two.
"We had so much criticism when we started off last June that it unified us all together and that included with the bosses," Garcia added.
"You can suggest things, ideas, and although they are not always followed up and acted upon, you are listened to. That didn't happen on the PGA Tour. There are only two, maybe three players who the bosses listen to on that Tour."
Paul Higham is a sports journalist with over 20 years of experience in covering most major sporting events for both Sky Sports and BBC Sport. He is currently freelance and covers the golf majors on the BBC Sport website. Highlights over the years include covering that epic Monday finish in the Ryder Cup at Celtic Manor and watching Rory McIlroy produce one of the most dominant Major wins at the 2011 US Open at Congressional. He also writes betting previews and still feels strangely proud of backing Danny Willett when he won the Masters in 2016 - Willett also praised his putting stroke during a media event before the Open at Hoylake. Favourite interviews he's conducted have been with McIlroy, Paul McGinley, Thomas Bjorn, Rickie Fowler and the enigma that is Victor Dubuisson. A big fan of watching any golf from any tour, sadly he spends more time writing about golf than playing these days with two young children, and as a big fair weather golfer claims playing in shorts is worth at least five shots. Being from Liverpool he loves the likes of Hoylake, Birkdale and the stretch of tracks along England's Golf Coast, but would say his favourite courses played are Kingsbarns and Portrush.