Why they changed the Rules of Golf?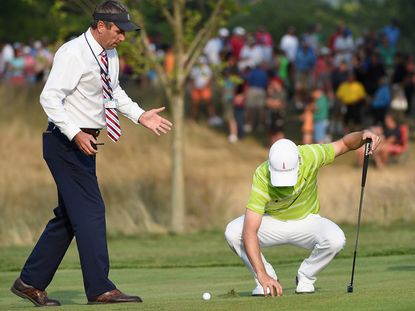 In this exclusive interview David Rickman, executive director of Rules and Equipment Standards at The R&A, tells Golf Monthly why they changed the Rules of Golf.
For the 33rd edition of the Rules of Golf, the headline act is Rule 14-1b, the well-publicised ban on directly anchoring the putter - or indeed any club – that stems from a growing desire for the golf stroke to involve simply a free-swinging club.
In this exclusive interview David Rickman, executive director of Rules and Equipment Standards at The R&A, tells Golf Monthly about why they changed the Rules of Golf. Click here for details on the 2016 Rules of Golf Changes...
How many Rules have been revised this time round?
I would say about a dozen, but some are covered in the Appendices, and some would be classed as redrafting for clarification - for example, Rule 3-3, which addresses playing a second ball in strokeplay, and Rule 26-2, which is what happens if you play from within a water hazard and the ball is then not playable. Those are quite complex Rules, which have been difficult for people to understand. We have tried to rewrite them without essentially changing their operation, but sometimes rewriting, while leaving the meaning the same, is the most difficult thing to do!
Why have you withdrawn Rule 18-2b in the section dealing with 'ball at rest moved by player, partner, caddie or equipment'?
We introduced an Exception to Rule 18-2b in our 2012 revisions to deal with some of the inequities that we believed happened. The Rules originally said that once a player has addressed the ball, he is deemed to have caused any movement, and there is an automatic penalty. That 2012 Exception stated that if it was known or virtually certain that something else had caused the ball to move, there would be no penalty, but in other cases, there was still a presumption of causality, so the player would still be penalised. It became very confusing for people, because in all other cases where a ball moves, it's simply a matter of judging the facts - did the player's actions cause the ball to move - and you make your determination on that simple process. So what we've done now is to remove Rule 18-2b in its entirety so the question will simply be, has the player caused the ball to move? Obviously, in the rough, if somebody grounds their club behind the ball and it moves, that player is going to be considered to have caused that movement and there is a penalty. But from January 1, if a player addresses the ball on the putting green and it moves, the questioning will be, 'What have you done? How firmly did you put the putter down? Did you possibly touch the ball?' The answers to such questions will determine whether or not there is a penalty. It's a subtle change, but I think an important one that will help clear up some of those penalties, particularly on the putting green.
There's a specific change to Rule 6-6d (wrong score for hole). What is it, and what was the catalyst for that?
That's one we've been talking about for some time, and have had some interest in trying to moderate the penalty here. The penalty for breaching a Rule can escalate depending on when it's discovered - if you don't know about a breach and return your scorecard, the penalty escalates to disqualification, but if the clock keeps ticking and the competition has closed, you actually get into the realms of no penalty being incurred. We have been particularly concerned about the situation before the competition has closed, where a player does not know they have incurred a penalty, and have handed in their scorecard. It might be a professional event where something is picked up on TV or overnight, or amateur golfers chatting in the bar only to discover that an unusual occurrence was also a breach with a penalty. At the moment, the penalty then is disqualification. We just felt that was unduly harsh, and that we could retain an appropriate level of support for the Rules by changing it to the original penalty plus an additional two strokes rather than disqualification. Yes, a two-stroke penalty would become a four-stroke penalty, but at least the player is still in the competition.
Was the Tiger Woods' Masters incident anything to do with this?
In all honesty, no it wasn't. There have been a number of breaches over the years, with the classic one being Padraig Harrington in Abu Dhabi in 2011, where his ball moved a fraction on the green and that ultimately ended in disqualification.
I understand that under changes to Rule 14-3 you will now get away with the first impermissible use of an artificial device or training aid…
You don't entirely get away with it - you still get penalised for the first breach, but you don't get disqualified straightaway. There have been a number of situations in elite golf where players breach the Rule once and someone immediately says, 'I'm not sure you can do that' - perhaps using a training aid while waiting to play. Equally, where the Local Rule for distance measuring devices is not in place, we've had a number of cases where players have used them once, then immediately realised, or somebody has said, 'You're not allowed to use them in this competition.' We felt a single breach could be appropriately dealt with by a two-stroke penalty or loss of hole, and it would need repeated breaches for disqualification to be appropriate.
So on to the big one, the new Rule 14-1b that prohibits anchoring the club. There's a distinction here between intentional and accidental acts, isn't there?
Yes, if there were an accidental brushing of the gripping hand against the body while the player makes a stroke, that does not constitute anchoring, and I think it is appropriate that this is about an intentional act. We don't want a Rule that suggests somebody might be in breach by an accidental brushing of their waterproof suit or jumper, for example – this is about a player making a conscious effort to stabilise the top end of the club and not swing the entire club freely.
Why now when players have been anchoring for 30 years or so?
As we said in the document we issued in 2013, a minority method of stroke was tolerated for some time, but when it became clear that this was a very common method, it came back on to our agenda. During that re-examination, we were increasingly uncomfortable that anchoring compromised the fundamental essence of the stroke. Golf is all about the free swinging of the club; it's all about this balance of power and finesse, and the challenge of the game is being able to do all of those. We concluded that anchoring was seeking to get round one of those fundamentals, and that while it's late in the day, an anchoring ban was now appropriate. The new Rule was announced back in 2013 for a deliberate reason - to give the many people who had adopted anchored strokes two and a half years to work on finding a suitable alternative.
Have you had much mail from aggrieved anchorers?
Relatively little at the moment, but whether we're suddenly going to get a deluge, I don't know. I would stress that the new Rule is drafted deliberately narrowly - a huge variety of strokes will remain conforming. Then clubs themselves, as you know, are not being banned, so belly and long putters can continue to be used. There are a variety of different styles that players can adopt, and all of that is deliberate to focus the attention on the elements of the anchored stroke that we feel are contrary to the fundamentals of the game. We're not getting huge correspondence at the moment, and sincerely hope that everyone who enjoys the game now will continue to enjoy the game next year.
Finally, was there anything else under consideration that didn't ultimately make it in for 2016?
Rather than anything specific, we have, in parallel with the 2016 revisions, been thinking about a more fundamental review of the Rules, so in that respect, everything has been up for consideration. That work is continuing, and at the appropriate time - whenever that may be - we will reveal some of those thoughts.
In his current role, Neil is responsible for testing drivers and golf balls. Having been a part of the Golf Monthly team for over 15 years and playing off a handicap of 3, he has the experience to compare performance between models, brands and generations. For 2022 he thinks the main trend in drivers is: "In a word, consistency. Whilst all the brands are talking about ball speed (and the new drivers are certainly long), my biggest finding has been how much more consistent the ball flights are. Mishits don't seem to be causing the same level of drop-off or increase in the spin numbers. This means that more shots seem to be flying the way you want them to!" As far as golf balls are concerned the biggest development is in the, "three piece, non-Tour, urethane-covered section. For regular golfers, these models offer superb performance at both ends of the bag without denting your wallet quite as much as the premium Tour-played options."
Originally working with the best coaches in the UK to produce instruction content, he is now the brand's Digital Editor and covers everything from Tour player interviews to gear reviews. In his time at Golf Monthly, he has covered equipment launches that date back well over a decade. He clearly remembers the launch of the Callaway and Nike square drivers as well as the white TaylorMade driver families, such as the RocketBallz! If you take a look at the Golf Monthly YouTube channel, you'll see his equipment videos dating back over a decade! He has also conducted 'What's In The Bag' interviews with many of the game's best players like Rory McIlroy, Dustin Johnson and Jon Rahm. Over the years, Neil has tested a vast array of products in each category and at drastically different price-points.

Neil is currently playing: Driver: TaylorMade Stealth Plus Fairway Wood: Titleist TSR2 Hybrid: Titleist TS3 Irons (4-9): Mizuno JPX 919 Forged Wedges: Titleist Vokey SM7 46˚, 50˚, 54˚, 60˚ Putter: Odyssey Triple Track Ten Ball: Titleist Pro V1X