2016 Rules of Golf changes revealed by R&A and USGA
The 2016 Rules of Golf changes have been revealed by the R&A and USGA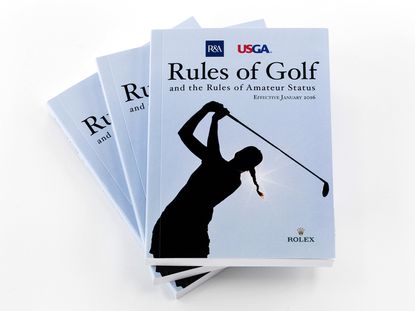 (Image credit: USGA Museum)
The 2016 Rules of Golf changes have been revealed by the R&A and USGA, and include a number of additions alongside the previously announced anchoring ban
The 2016 Rules of Golf changes have been revealed by the R&A and USGA, and include a number of alterations.
The 2016 Rules of Golf changes take effect on January 1st 2016, and come after a four-year review cycle and a collaborative effort between The R&A and the USGA. The new updates also come after CONGU announced plans to change the way handicaps are calculated, making it a busy few months for golf's ruling bodies.
The most significant 2016 Rules of Golf changes include:
If your ball moves at address there is no longer an automatic penalty Rule 18-2b (Ball Moving after Address) has been withdrawn. This means that if a ball at rest moves after you address it, you are no longer automatically deemed to have caused the ball to move. A one-stroke penalty under Rule 18-2 will still be applied only when the facts show that the player has caused the ball to move.
GM verdict: This is a great common sense move. If you've done nothing to cause your ball to move it seems unfair to be penalised.
No longer an automatic DQ for submitting an incorrect card A new exception has been introduced to Rule 6-6d (Wrong Score for Hole) to provide that a player is not disqualified for returning a lower score for a hole than actually taken as a result of failing to include penalty strokes that the player did not know were incurred before returning their card. Instead, the player incurs the penalty under the Rule that was breached and must add an additional penalty of two strokes for the scorecard error. In all other cases in which a player returns a score for any hole lower than actually taken, the penalty will continue to be disqualification.
David Rickman of the R&A explains why they changed the Rules of Golf
GM verdict: This has been introduced after a few high profile incidents of players signing score without knowing they'd incurred a penalty. Possibly one for the Tour pros!
Modification of penalty for use of artificial devices or equipment The penalty for a player's first breach of Rule 14-3 (Artificial Devices, Unusual Equipment and Abnormal Use of Equipment) during the round has been reduced from disqualification to loss of hole in match play or two strokes in stroke play. The penalty for any subsequent breach of Rule 14-3 will continue to be disqualification.
Prohibition on anchoring As announced in May 2013, the new Rule 14-1b (Anchoring the Club) prohibits anchoring the club either "directly" or by use of an "anchor point" in making a stroke. The penalty is loss of hole in match play or two strokes in stroke play.
Discussing the changes, David Rickman, executive director Rules and Equipment Standards at The R&A, told GM: "We continually look at ways we can improve and clarify the Rules of Golf. The R&A and the USGA collaborate closely and we consult with our respective national and international advisory members to produce a code of Rules that is relevant to all golfers around the world."
Printed copies of the new Rules of Golf are now available from the USGA and The R&A. More detailed information on the 2016 Rules of Golf changes and the complete Rules of Golf can also be found at randa.org.
GM verdict All those who currently use a belly putter should clearly take note. We think the ruling bodies were right to address this issue and this modification is there for a reason - but we're not entirely sure what!
Jake O'Reilly specilaises in equipment coverage, and joined the Golf Monthly team in 2013. Before this he graduated from the University of Huddersfield with a Sports Journalism and Media degree, and worked at a number of British golf magazines. Follow Jake on Twitter
@jake0reilly