Royal Norwich ladies appointed to major club positions
Four Royal Norwich ladies have been appointed to major club positions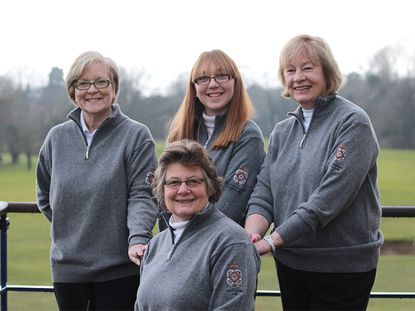 Four Royal Norwich ladies have been appointed to major club positions, including club president and club captain, for the first time in its 123-year history
Royal Norwich Golf Club has set out to lead the way in dispelling inequality in golf, by simultaneously appointing women as both its club president and club captain this year.
This move demonstrates the club's commitment to increasing female participation in the game and marks the first time in its 123-year history that ladies will hold every major position.
The decision comes at a time when nationally the number of people who play golf once a month continues to slide (Sport England Active People Survey), particularly among the female population.
Golf has historically been considered a gentleman's game, something that clubs have been working hard to overcome, with female only initiatives and national campaigns driven by England Golf.
Statistics from England Golf's study into club memberships have shown that despite accounting for over 50% of the UK population, female members only make up 15% of golf club memberships – thus representing a potential growth area for golf clubs to increase participation and membership.
Royal Norwich's general manager, Phil Grice, said: "We have appointed the best people for these roles regardless of sex, and it is a shame in some respect that this is considered ground breaking.
"It's a sad reflection on the sport that we love. We hope that other clubs, while respecting their heritage, also look forward with an open mind in terms of equality and developing our sport."
Incoming club captain Angela Loveday, a member at Royal Norwich for almost 14 years, believes that more clubs will start following suit: "It's the beginning of a wave. The golf environment is changing so rapidly and these roles are becoming genderless, open to anyone on their merit".
She went on: "Young people of both genders come together socially and in sport much more comfortably than they did in previous years. I applaud this and would like to develop this across our golf club."
Royal Norwich is one of several Norfolk clubs participating in Girls Golf Rocks - a project jointly run by England Golf and the Golf Foundation designed to introduce new girls to the game.
The club also has a very successful Junior Scholarship programme, where girls make up over 30% of membership. The Club invests a considerable amount of time and finances into the development of the scheme – part of their overall strategy to grow the female membership of the club.
Lauren Spray, the England Golf Women and Girls' participation manager, commented: "This is very good news which helps to break down barriers and dispel perceptions about the game. Golf is a friendly, welcoming sport and a game for all. Congratulations to Royal Norwich and its officials."
Tom Clarke joined Golf Monthly as a sub editor in 2009 being promoted to content editor in 2012 and then senior content editor in 2014, before becoming Sports Digital Editor for the Sport Vertical within Future in 2022. Tom currently looks after all the digital products that Golf Monthly produce including Strategy and Content Planning for the website and social media - Tom also assists the Cycling, Football, Rugby and Marine titles at Future. Tom plays off 16 and lists Augusta National (name drop), Old Head and Le Touessrok as the favourite courses he has played. Tom is an avid viewer of all golf content with a particularly in depth knowledge of the pro tour.