'No One Has Told Me To P*** Off' - Cam Smith Says He's Not Lost Friends Over LIV Move
Open champion Cameron Smith insists he's not lost any friends over making the big move to LIV Golf from the PGA Tour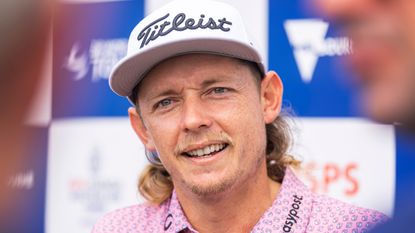 (Image credit: Getty Images)
Cameron Smith has played down the perceived rift between LIV Golf players and their PGA Tour counterparts, saying he still has the same friends he had before he joined the Saudi-backed tour.
The Australian joined Greg Norman's new venture shortly after winning the Open Championship at St Andrews, in one of the biggest captures for LIV Golf.
Joining LIV also cost Smith the chance to defend his Players Championship title at Sawgrass recently, but he's always insisted he is comfortable with his decision – and the consequences that come with it.
We've seen players falling out over LIV Golf, most notably Rory McIlroy and Sergio Garcia ending their long and close friendship after the Spaniard decided to make the move.
Bit Smith says that he still has the same friends he had before the move, and insists nobody has come to him to air any grievances about it to him.
"All the guys I was mates with are still my mates. No one has told me to p*** off or not talk to them ever again," Smith told Mark Howard on his Howie Games podcast.
"I'd like to think that I'm a pretty easy person to talk to and if anyone ever wanted to confront me, I'm all about talking about it and making sure they're comfortable with it as well.
"It's not my spot to step on anyone's toes and that's the last thing I wanted to do. It's just a move I felt was right for my career."
Despite being one of the biggest LIV captures, with the Australian reportedly signing a deal worth over $100+ million, Smith has not been among the players to lay into the PGA Tour with any parting shots.
And Smith also seems happy to take the associated consequences of his actions, such as missing out on the Players, and is among those who would like to see the golf divide healed in some way moving forward.
Paul Higham is a sports journalist with over 20 years of experience in covering most major sporting events for both Sky Sports and BBC Sport. He is currently freelance and covers the golf majors on the BBC Sport website. Highlights over the years include covering that epic Monday finish in the Ryder Cup at Celtic Manor and watching Rory McIlroy produce one of the most dominant Major wins at the 2011 US Open at Congressional. He also writes betting previews and still feels strangely proud of backing Danny Willett when he won the Masters in 2016 - Willett also praised his putting stroke during a media event before the Open at Hoylake. Favourite interviews he's conducted have been with McIlroy, Paul McGinley, Thomas Bjorn, Rickie Fowler and the enigma that is Victor Dubuisson. A big fan of watching any golf from any tour, sadly he spends more time writing about golf than playing these days with two young children, and as a big fair weather golfer claims playing in shorts is worth at least five shots. Being from Liverpool he loves the likes of Hoylake, Birkdale and the stretch of tracks along England's Golf Coast, but would say his favourite courses played are Kingsbarns and Portrush.