Michelob Super Bowl Campaign Includes Early Access To Full Swing On Netflix
The Beer brand has launched a Super Bowl campaign where fans can get an early look at Full Swing documentary on Netflix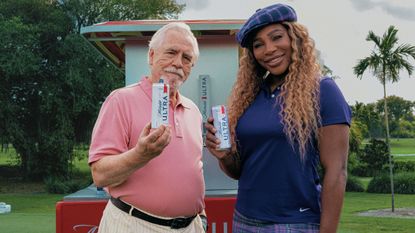 (Image credit: MICHELOB ULTRA)
Golf fans can get an early look at the eagerly-anticipated Netflix docu-series Full Swing thanks to Michelob ULTRA – who have released their full star-studded Super Bowl commercial line-up.
The likes of Serena Williams, Canelo Alvarez, Alex Morgan and Tony Romo star in the Caddyshack inspired full 60-second Super Bowl commercial, which is themed as a new member's day at the infamous Bushwood Country Club from one of the best ever golfing movies.
Tennis legend Williams is seen as the new golfer at the course as she takes on Emmy award-winning actor Brian Cox, with cameos from the likes of Romo and Canelo all with a nostalgic nod to the classic golf movie.
Along with golfing fiction, though, golfing reality TV is also big news with fans eagerly awaiting the start of the new Netflix behind the scenes documentary Full Swing, which is set to be released on 15 February.
Rickie Fowler can be seen sitting down to watch the first episode of Full Swing along with Morgan, while Romo again offers the comic element in his role.
Special edition Michelob ULTRA cans feature a QR code that can be scanned to get early access to view the first episode of Full Swing – or fans can sign up at MichelobULTRA.com/ULTRAClub (opens in new tab) to register to view the first instalment.
The first Full Swing episode will be available to view for 24 hours, starting from right after the Super Bowl finishes on Sunday 12 February, so golfing NFL fans can enjoy a sneak peak right after their big game ends.
"Golf is going through an exciting transformation to become more inclusive and more joyful, which perfectly aligns with Michelob ULTRA's point of view and as such ended up serving as inspiration for our campaign this year," said Ricardo Marques Vice President of Marketing Michelob ULTRA.
"Beyond entertaining we're looking to engage our audience with an approach that combines creativity, commercial integration and new partnerships; we're incredibly excited."
With the Netflix series being filmed during the most dramatic season on record on the PGA Tour, thanks to the arrival of LIV Golf and the big-name players leaving to join the Saudi outfit, Full Swing promises to be an explosive insight inside the locker room.
So the Super Bowl teaser from Michelob ULTRA for fans to gain special advanced access is sure to be popular with people wanting to get an early viewing of all the drama.
It's part of a full-on campaign from the beer brand. Companies always push the boat out for their Super Bowl commercials, with the annual NFL showpiece attracting huge audiences - and Michelob ULTRA have chosen a huge golfing tie-in for this year's efforts.
The Super Bowl taking place in Arizona at the same time as the Waste Management Phoenix Open on the PGA Tour makes golf an appropriate topic, and Michelob ULTRA have not held back in their advertising campaign.
And in addition to the two commercials, the brand has even released an apparel collaboration with Devereux Golf (the brand's first ever women's collection) while they're also making the big game shoppable, bringing consumers into the world of Bushwood Country Club with limited-edition Michelob ULTRA Golf Packs and a collaboration with Instacart.
Paul Higham is a sports journalist with over 20 years of experience in covering most major sporting events for both Sky Sports and BBC Sport. He is currently freelance and covers the golf majors on the BBC Sport website. Highlights over the years include covering that epic Monday finish in the Ryder Cup at Celtic Manor and watching Rory McIlroy produce one of the most dominant Major wins at the 2011 US Open at Congressional. He also writes betting previews and still feels strangely proud of backing Danny Willett when he won the Masters in 2016 - Willett also praised his putting stroke during a media event before the Open at Hoylake. Favourite interviews he's conducted have been with McIlroy, Paul McGinley, Thomas Bjorn, Rickie Fowler and the enigma that is Victor Dubuisson. A big fan of watching any golf from any tour, sadly he spends more time writing about golf than playing these days with two young children, and as a big fair weather golfer claims playing in shorts is worth at least five shots. Being from Liverpool he loves the likes of Hoylake, Birkdale and the stretch of tracks along England's Golf Coast, but would say his favourite courses played are Kingsbarns and Portrush.