Michael Block's Cinderella Story Is Just What Golf Needed Right Now
Just when golf was tearing itself apart, Michael Block came along at the PGA Championship and reminded us all of why we love this game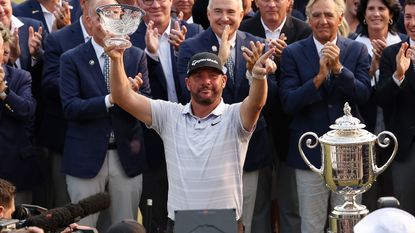 (Image credit: Getty Images)
In the most tumultuous period in the sport's history, with rival tours throwing millions and billions behind players, tournaments and legal fees, with the acrimony of a seismic split threatening to tear the whole thing apart – Michael Block's fairytale week at the PGA Championship was just what golf needed.
An antidote to the antitrust lawsuits between the PGA Tour and LIV Golf, in direct opposition to players cashing in on Greg Norman's Saudi-backed outfit, this one man reminded us all of what it's really all about as we watched him living out his golfing dreams just for the love of it.
It was a refreshing break from millionaires arguing with millionaires about how good their respective golf tours are, from lavish LIV parties flashing their ginormous wealth ahead of new tournaments, from bots on social media lashing out from both sides.
No professional golfers, from both sides, who frankly should know better, taking to Twitter to air petty grievances or have sly digs at Tours they either made their name on, or Tours that have provided a different disruptive alternative to the norm.
Instead, we had a 46-year-old club professional, who dishes out advice in $150 lessons back home in California, producing a Cinderella story that warmed the heart of every golfing fan – and captured the imagination of even those not huge followers of the sport.
That, ladies and gentlemen, is how you grow the game.
From not even knowing how much prize money he'd won to his first thought when being told he had an exemption for next year's PGA Championship being delight that it freed up a space for another club pro to try and live their dreams – Block was authentic, likeable, heart-warming – and played some damn good golf to boot!
It was so nice to cover a good news story in golf, and really did take us away from the sniping and backbiting that's become a tiresome and draining reality within the sport of late – and it hopefully points us towards a better future.
And so to remind us of this tremendous occasion, let's go through the Michael Block highlight reel, and there's plenty, from rounds with Justin Rose and Rory McIlroy, record-breaking achievements and of course that hole-in-one. What a ride!
---
Michael Block's PGA Championship highlights
The Slam Dunk Hole-in-One
As if making the cut at the PGA Championship and then playing in the final round with Rory McIlroy was enough, Michael Block sent Oak Hill wild on Sunday with an incredible slam dunk hole-in-one.
He struck a 7-iron from 151 yards on the par 3 15th hole and dunked it straight into the cup - even though he didn't realise at first.
"I thought to myself, 'Why is Rory hugging me? He wouldn't hug me if it just went close!'" Block said afterwards.
Reaction to McIlroy pairing
Just Block's reaction to being told he'd be playing with McIlroy on Sunday was priceless. He responded by saying "you serious?" whilst doing a turn in disbelief, with the American then adding "wow. That should be fun, we're going to have a good time."
After his response, Block still couldn't believe the news, as he then asked "really?" and then walked off uttering the words "oh boy...".
It's not all about the money
Block earned $288,333 for his efforts at Oak Hill, but didn't really bat an eyelid despite that being by far his biggest payday from playing golf - a refreshing attitude in modern golf.
"I literally had no idea," he said. "The money will be fun and great to have for my family but I didn't do it for that.
"I never thought about what I could make. I just wanted to do it for the crowd."
"I didn't do this for the money" An emotional Michael Block is "the happiest guy in the world" after finishing his final round 😍 pic.twitter.com/4gXwuWVnuWMay 21, 2023
See more
Showed his class with qualification
Block showed what a nice guy he is when told he'd be back in the PGA Championship next year at Valhalla thanks to his finish at Oak Hill - and his first thought was what that meant for his fellow club pros.
"I'm so pleased I can open up a place for another PGA professional to play in this tournament," he said.
He needed to hole a tough putt to make it into the top-15 (and back again next year) to complete an incredible final hole up-and-down. Of course he holed it.
The PGA Championship is the Major for the golfer in all of us.Well, Michael Block, we are all fans of you. Thanks for taking us on this ride. We'll see you next year at the #PGAChamp pic.twitter.com/k6vD2MvSkUMay 21, 2023
See more
Paired with Olympic champion and former World No.1
Block was firmly a fan favorite after two days when he made the cut with ease, and his reward was a third round with 2013 US Open champion, Olympic champion and former World No.1 Justin Rose.
"I've been watching Rosey for years," Block said. "At the start I couldn't look at him because if I did, I would have lost my mind."
Heading to Colonial
All fairytales have to end, but Block's will continue for a while yet, as he was given an invite into the Charles Schwab Challenge on the PGA Tour right after the PGA Championship.
So instead of heading home to California he will be switching his travel plans and heading to Texas and Colonial.
"Don't tell me what you're gonna tell me because if you tell me I'm gonna cry right now man," Block said. But they did tell him, and he did cry...
And another invite to the Canadian Open
After he's done in Texas, Block will be making his way north of the border as the RBC Canadian Open has also extended him an invite to play.
So those golfers of his waiting for lessons may have to wait a while longer as who knows what's next for golf's latest unlikely superstar.
From what we've seen and heard from Block this week though, he deserves every last bit of success.
Paul Higham is a sports journalist with over 20 years of experience in covering most major sporting events for both Sky Sports and BBC Sport. He is currently freelance and covers the golf majors on the BBC Sport website. Highlights over the years include covering that epic Monday finish in the Ryder Cup at Celtic Manor and watching Rory McIlroy produce one of the most dominant Major wins at the 2011 US Open at Congressional. He also writes betting previews and still feels strangely proud of backing Danny Willett when he won the Masters in 2016 - Willett also praised his putting stroke during a media event before the Open at Hoylake. Favourite interviews he's conducted have been with McIlroy, Paul McGinley, Thomas Bjorn, Rickie Fowler and the enigma that is Victor Dubuisson. A big fan of watching any golf from any tour, sadly he spends more time writing about golf than playing these days with two young children, and as a big fair weather golfer claims playing in shorts is worth at least five shots. Being from Liverpool he loves the likes of Hoylake, Birkdale and the stretch of tracks along England's Golf Coast, but would say his favourite courses played are Kingsbarns and Portrush.