Emiliano Grillo recovered from a double-bogey at the 72nd hole to overcome Adam Schenk in a playoff at the Charles Schwab Classic and lift his first PGA Tour title in eight years.
The Argentinian appeared set to cruise to a comfortable victory at Colonial Country Club after opening up a two-shot lead with just one hole to play, only to come unstuck when he blocked his drive into a stream that carried his ball back towards the 18th tee.
Following a penalty drop onto a cart path, Grillo racked up a closing double-bogey that allowed Schenk a chance on the final green to snatch an unlikely victory. His effort pulled up short and Grillo eventually got over the line with a birdie two on the second playoff hole for his first PGA Tour win since the 2015 Frys.com Open.
"It been such a ride," Grillo said. "It makes me think of where I'm from, it makes me think of my family. We had a baby 14 months ago and life changed, my perspective changed.
"I made a double on 18 and I didn't care. I would have liked to and get it on the 72nd but to close with some great swings, two great birdies on 16.
"They say the second is harder than the first and it definitely was. I'm on top of the world right now and hopefully I can stay there for another week."
Grillo began the day trailing Schenk and England's Harry Hall by four. Hall, 25, was looking for his maiden PGA Tour title and had held at least a share of the lead at the end of each of the first three rounds.
The Englishman got off to the perfect start on Sunday with back-to-back birdies but wouldn't pick up another shot as he carded a three-over 73 that left him in a tie for third.
He had a putt on 18 for par to join the playoff after finding the water with his tee shot but saw it pull up agonisingly short and left.
Alongside Hall, Scottie Scheffler could well have tasted success in Texas but for a stone-cold putter. The World No. 1 lost shots to the field every day on the greens but found the perfect solution on the par-3 eighth, making a hole-in-one to vault himself into contention.
Another birdie at 10 took him to eight-under but a bogey at 16 meant he had to settle for a T3 finish.
Charles Schwab Challenge Leaderboard 2023
-8 Grillo*, Schenk
-7 Scheffler, Hall
-6 Haley II
-5 Kim, Fowler, Burns
Useful Links
Refresh
HELLO AND WELCOME
Follow live updates from the final day of the PGA Tour's Charles Schwab Challenge. Colonial Country Club is the glorious setting as England's Harry Hall bids to capture his first win.
Birdie for English
What a start for the American, who birdies the first to join the leaders at -10.
Homa to -5
It's another birdie for Homa, who gets to five-under. He's five back with nine to play so needs a fair few more to vault himself into contention.
Walking them in.@MaxHoma23 vaults into the top 10 after back-to-back birdies @CSChallengeFW. pic.twitter.com/ZnVhEheb0CMay 28, 2023
See more
HALL TAKES SOLO LEAD
What a start for the Englishman, who gets up-and-down for birdie on the par-5 opener to get to -11 and into the solo lead.
CHEERS RING OUT ROUND COLONIAL
Schenk plays a sloppy pitch on the second as a huge cheers goes up from somewhere. To the 8th tee, is it Scheffler? It is!
He makes a magic ace on the 189-yard par-3 to get to -7.
BIRDIES GALORE
The birdies are flying in from everywhere. Fowler gets to -6, as does Rai. Grillo joins Scheffler at -7 but what a move from Hall.
He sinks a 15-footer on the second to get to -12 all of a sudden and move two clear.
Scheffler's ace
Here's how the World No. 1 got to -7...
ACE FOR SCHEFFLER!!It's the second hole-in-one of Scottie Scheffler's career @CSChallengeFW 🔥 pic.twitter.com/sRGrlYp717May 28, 2023
See more
Greens look baked
Colonial is sporting some US Open-esque greens here. They look and sound baked, meaning judging the landing spot is going to be vital.
It's a great feature and should provide some drama throughout the day.
Clumsy from English
English faces a lengthy par putt on the 4th after a clumsy chip shot on the par-3. If he misses, he'll fall three behind Hall.
Par for Hall
If there are any nerves, Hall isn't showing them. He misses the fairway and green at the 3rd but slots a five-footer to save par and consolidate his lead.
Scheffler's putting woes
Perusing Data Golf and once again Scheffler's putting stats stand out. And not in a good way. Of the players to make the cut, he ranks last in strokes gained on the greens. It comes on the back of a similarly useless display on the greens at Oak Hill during the PGA Championship.
The rest of his stats are incredible and are as follows:
Around the green: 7th
Approach play: 1st
Off the tee: 2nd
Tee to green: 1st
Bogey for English
English can't convert his par putt on the 4th and slips to -9. He's now three behind Hall. Plenty of golf left to be played.
Schenk and Hall save par
The final twosome make clutch putts for par on the tricky 4th to hold station in first and second.
Morikawa's bogey hole
Morikawa is in the house at level par and has taken to Twitter to poke fun at his record on the 9th at Colonial across the four days. Highly relatable content.
Anyone want to guess my least favorite hole for the week? 🫠 pic.twitter.com/CTI2XfTtcBMay 28, 2023
See more
Great Scott
Scheffler finally gets a putt to drop and it's a monster. He rolls in a 40-footer for birdie on the 10th to move to -8.
English is going the other way and joins Scheffler with a second consecutive bogey at the 5th.
Bogeys galore
Colonial is proving a beast. Hall drops a shot on the 5th to slip to -11, while in the game ahead, English makes another bogey to drop to -7.
Hall two clear again
Schenk's bogey at the 6th restores Hall's two-shot cushion. Elsewhere, Streelman and Lipsky birdie the 9th to get to -6 and within five.
What a shot
Paul Halley II has entered the conversation. He chips in on the 13th from 50 feet for a third consecutive birdie to get to -6.
Hovland has a chance from inside five feet on the 9th upcoming to break free of the group at -6.
The magic continues for the Haley/Scheffler group 🔥Paul Haley II played this one perfectly @CSChallengeFW. pic.twitter.com/KrFwEgWe15May 28, 2023
See more
Hovland misses
What a chance that was for Viktor. It's a slippery one and he lets his birdie putt slip by on the right side. He remains -6 and five back.
Chink in Hall's armour
The leader three-putts for the first time in 110 holes at the par-3 8th. It drops him to 10-under leaving him just one clear of Schenk and two ahead of Scheffler.
It's hotting up!
Hovland within three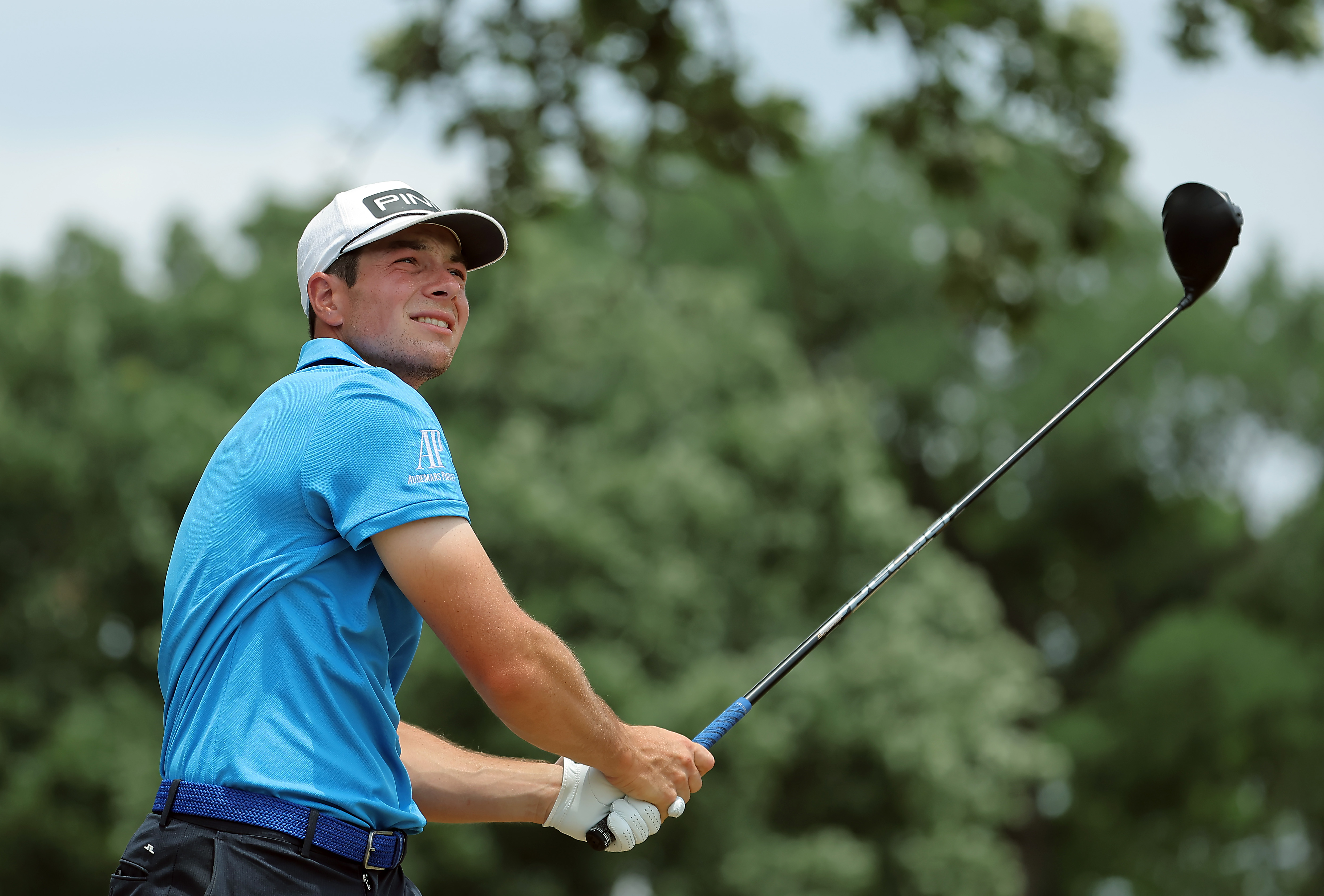 After missing a great birdie chance on the 9th, Hovland makes amends at the very next hole to get to -7 and within three of Hall.
Up ahead, Justin Rose puts the finishing touches on his tournament with a birdie at 18 to finish -3.
Another putt slides by for Scheffler
The World No. 1 misses another opportunity for birdie at the 15th. He's missed just one green today but will need to get some putts to drop in the closing three holes if he wants to challenge for victory.
Final group makes the turn
We're into the back nine on Sunday. Hall has a chance to go two ahead again on the 9th and hits a great putt but watches on in dismay as it dives across the hole and lips out.
Scheffler, Hall out of position
After bigging up Scheffler's ball-striking, he misses the 16th green. His bunker shot is poor and leaves him 12 feet for par.
On the 10th tee, Hall hits a wipey slice into the right rough. Are the nerves starting to show?
Bogey for Scheffler, defending champ signs off
The World No. 1 can't clean up his mess on 16 and drops to -7. He'll likely need two birdies to finish and a prayer if he wants to win.
On 18, defending champion Sam Burns closes with a birdie to get to -5.
Huge par save for Hall
Halls converts from eight feet to salvage a four on the 10th after missing the fairway and green. That was huge and consolidates his one-shot advantage.
He's definitely feeling it, though, and hits another wide off the tee on 11 into the jungle.
Grillo within one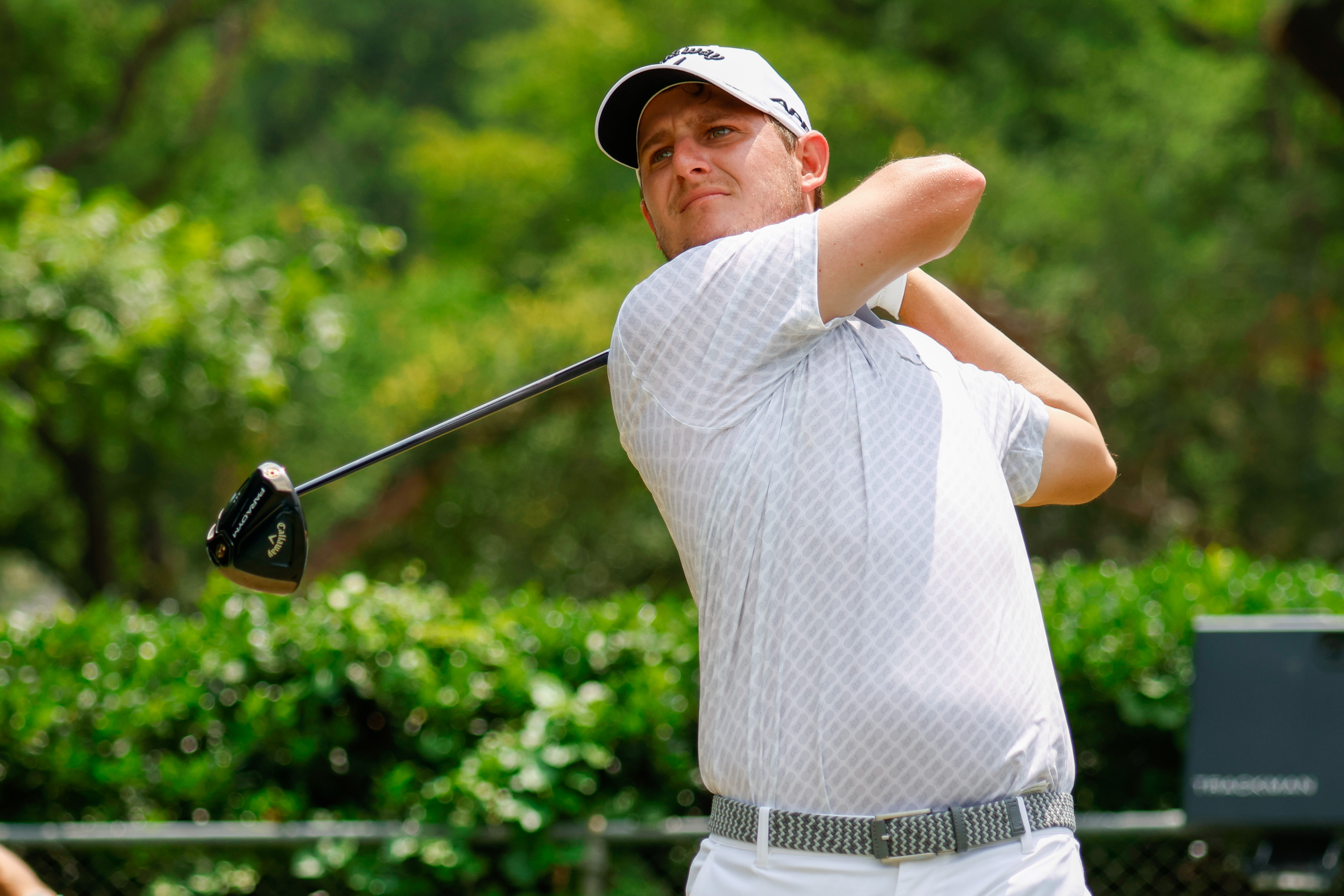 Is Grillo the man to beat? He certainly appears to be playing the best golf. The Argentinian is now just one back of Hall courtesy of a birdie on the 435-yard 12th.
He's safely aboard the par-3 13th, albeit some 40 feet away.
Hovland in the drink
The Norwegian steps up on the 13th and hits a rare wide, blocking his tee shot miles right into the water. He'll do well to salvage a bogey.
Tied at the top
Hall puts himself back in position on the par-5 11th after a poor tee shot only to miss the green with a wedge in hand and then fail to get up-and-down. The bogey takes him back to -9 and into a tie with Grillo.
Hovland salvages bogey
From the drop zone, Viktor stuffs it into about five feet and saves bogey. With Hall dropping a shot at the same time, he remains within three of the lead and well in it.
Huge break for Grillo
Name on trophy? The Argentinian steps up on the 14th and unleashes a monumental block that crashes into the trees and bounces back in the fairway. From there, he arrows his second to 15 feet.
Scottie in the house
Scheffler finally gets a putt to drop. Ironically it's on the last and it's for par. The World No. 1 lost shots to the field on the greens in every round but still posts a seven-under total.
It'll likely be a couple shy of what's needed to win but another solid showing from the game's best player.
Hovland's race run
The Norwegian follows a bogey with a double to drop out of contention at -4. Schenk also suffers a setback with a bogey on 13 to fall two behind.
Hear from the World No. 1
Scottie's second hole-in-one in PGA TOUR play 🙌Our World No. 1 spoke with @Amanda_Balionis following his final round @CSChallengeFW pic.twitter.com/ypgzziiwVCMay 28, 2023
See more
Three-horse race?
Hall hits a six-iron from 189 yards into the heart of the 14th green. Schenk goes with two clubs less from 25 yards closer and makes it count, sticking it to 18 feet.
Ahead, Grillo finds the par-3 16th green and will have 20 feet for birdie. It's likely between these three for the title.
Grillo hits the front
These greens are like glass. Grillo trickles his birdie putt on 16 and it still goes in at pace. He will care little as he takes a one-shot lead to the 17th tee.
Huge fist pump for @GrilloEmiliano 🔥He takes the solo lead after the birdie on No. 16 @CSChallengeFW. pic.twitter.com/H85XRTEgxCMay 28, 2023
See more
Final group on the clock
Hall and Schenk have been given the hurry up. The Englishman is up first from the 15th fairway and hits a shocker with a nine-iron in hand, leaving himself short-sided and facing a devilish up-and-down.
From the trees, Schenk leaves himself handily place in the mouth of the green.
Leaders in trouble
Hall drops another shot
That birdie-birdie start feels like a lifetime ago for Hall. He's unable to save par on 15 and is back to eight-under, two behind Grillo.
The Argentinian has a tricky eight-footer of his own for par on 17 and buries it.
Hall finds bunker, Grillo in trouble on 18
Hall continues to struggle and finds the front trap on 16, putting another bogey firmly on the cards. In contrast, Schenk hits a beauty to around eight feet for his first birdie of the day.
On 18, the leader blocks his tee shot miles right. It remains to be seen where his ball ended up.
Grillo's ball is still moving
Incredibly, the leader's ball is in an aqueduct and is slowly moving down a stream. Never seen anything like it. An interesting ruling coming up.
Bizarre scenes on 18.Leader Emiliano Grillo's tee shot finds a water stream and takes five minutes to eventually come to a stop.Grillo takes a penalty stroke and plays where the golf ball entered the stream @CSChallengeFW. pic.twitter.com/cc3XibhSwRMay 28, 2023
See more
Schenk birdies, Hall saves par
Schenk sinks his birdie putt to get to -8 and right back into it while Hall makes a superb sand save to stay at the same mark.
The moment Grillo's ball came to a stop
Leader @GrilloEmiliano found this stream with his tee shot at 18. His ball was tracking back toward the tee box until it finally hit a rock 🙃 pic.twitter.com/Q9sZYmdSVsMay 28, 2023
See more
Grillo drops on a cart path
The leader takes a free drop on a cart path and will be playing his third from a seriously tricky spot. It looks like he's got to hit his ball below a tree limb off an upslope with water left of the green.
He does pretty well, leaving himself on the fairway, 40 yards to the hole.
Final group save par on 17
From the fairway, Schenk gets greedy and hits his second into the front trap guarding the hole. Hall does the opposite, leaving himself more than 30 feet for birdie.
Schenk hits a phenomenal bunker shot to save par and Hall follows suit, holing from seven feet after racing his birdie putt well past the hole.
Drama at 18
Can you believe it? Grillo hits his pitch to about 15 feet and can't make the bogey putt, meaning he drops two shots back to -8 and into a three-way tie at the top with Schenk and Hall.
A wet and wild finish for Emiliano Grillo on 18. Double bogey to drop into a tie for the lead. pic.twitter.com/oygu04Wa26May 28, 2023
See more
Disaster for Hall on 18
It's Hall's turn to come unstuck on the 72nd hole. The Englishman pulls his tee shot well left and it runs into the water. He looks distraught.
He still has a chance if he can make par but that front-left hole location on these baked greens has been extremely difficult to get close to.
Schenk, on the other hand, has piped one down the middle.
And while all this is going on, Grillo has invited a young boy to come hit some balls with him. What a sport.
Schenk has a putt to win
Schenk is up first from 121 yards and hits a cracker into 15 feet - he'll have that to pull off a win that looked seriously unlikely an hour ago.
Hall will be up first for par from 23 feet and it's a must make.
We're going to a playoff
Hall's putt pulls up agonisingly short and left, with the bogey dropping him back to -7 and into a tie for third with Scheffler. The Englishman has led since an opening 62 but struggled on Sunday after making a strong start. An experience he'll undoubtedly be better for but one that will be tough to take for a while.
Schenk is next for the win and his putt also stops a couple of rolls shy, meaning we're heading to a playoff at Colonial.
Really cool moment
What a moment ❤️In the midst of preparing for a playoff, @GrilloEmiliano invited two young fans to hit some shots @CSChallengeFW. pic.twitter.com/naBLusQyyjMay 28, 2023
See more
Hall: 'I'll learn from it'
"I haven't thought about it too much yet. Winning on the PGA Tour was closer than I thought it would be. You don't need great golf on a hard course coming down the stretch to get it done and I just missed a couple putts inside five feet that I wouldn't normally do.
"I'll learn from it."
Playoff begins
Grillo is up first on 18 and opts for a wood this time instead of driver. He blocks it again but gets a brilliant bounce back into the fairway.
Schenk is up next with the driver and he stripes it down the middle.
Both players find the green
Up first from 157 yards, Grillo sticks his approach to 27 feet. Schenk from 15 yards closer can't do much better so both are facing lengthy birdie putts.
So close
Grillo hits a great putt that just slides by on the left side, leaving a tap-in for par. Schenk has another putt to win and his goes just as close, missing by a whisker on the high side.
He taps in for par so we're off to the par-3 16th.
It's a game of inches.@GrilloEmiliano and @ACSchenk1 both narrowly miss their birdie putts on 18.We'll head to 16 for the second playoff hole @CSChallengeFW. pic.twitter.com/WZr82Z25IaMay 28, 2023
See more
What a bounce
Grillo gets another mega bounce on the par-3. His ball looked destined for the bunker but took a huge hop left and rode the slope done to about five feet.
Schenk smashes his tee shot in reply well through the green.
Advantage Grillo!
Superb from Schenk
The American plays an exquisite bump-and-run through the rough, judging the speed to perfection to get it to about three feet.
Grillo still has a great chance to win but at least he's being made to work for it.
Grillo is the champion
The Argentinian makes no mistake, pouring his putt into the middle for a first title in eight years after a hugely dramatic finish.
7 years, 7 months and 10 days in between victories.@GrilloEmiliano is once again a PGA TOUR champion @CSChallengeFW 🏆 pic.twitter.com/ss9fPWZpf8May 28, 2023
See more
That's a wrap
Thanks for following along, folks. It turned out to be a bit of a belter in the end. Until next time, goodbye!