Jay Monahan Accepts Hypocrisy Criticism At 'Intense' Players Meeting But Defends Merger
PGA Tour boss Jay Monahan insists merger with the Saudis is the best move for players and professional golf as a whole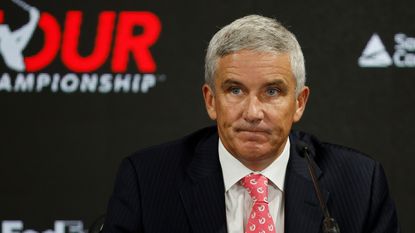 (Image credit: Getty Images)
Get the Golf Monthly Newsletter
Thank you for signing up to Golf Monthly. You will receive a verification email shortly.
There was a problem. Please refresh the page and try again.
Jay Monahan did his best to defend the huge PGA Tour merger with LIV Golf but accepted criticism of being a hypocrite after taking part in an "intense, certainly heated" meeting with angry players.
Out of absolutely nowhere, the golf world was rocked by the historic merger brokered with LIV Golf backers from Saudi Arabia's Public Investment Fund (PIF) that sees them become investors in the PGA Tour and part of a new golfing entity.
It's a massive U-turn from previous comments from Monahan, and was completed under strict secrecy with even Greg Norman, Tiger Woods and Rory McIlroy only finding out minutes before Monahan and PIF boss Yasir Al-Rumayyan appeared on TV to announce the deal.
"I recognize that people are going to call me a hypocrite," said Monahan as he faced the media ahead of the Canadian Open to explain the deal.
"Anytime I said anything, I said it with the information that I had at that moment, and I said it based on someone that's trying to compete for the PGA Tour and our players.
"I accept those criticisms. But circumstances do change. I think that in looking at the big picture and looking at it this way, that's what got us to this point."
At what Monahan called an "intense" meeting with frustrated PGA Tour players in Toronto, he says he tried to explain that the deal would ultimately be to their benefit.
The likes of McIlroy, Justin Thomas, Will Zalatoris, Scottie Scheffler and others who turned down huge sums of money to remain with the PGA Tour will have even more reason to resent the move – but Monahan says they still made the right decision.
"It probably didn't seem this way to them, but as I looked to our players, those players that have been loyal to the PGA Tour, I'm confident that the move that they made - they've made the right decision.
"They've helped rearchitect the future of the PGA Tour. They've moved us to a more pro-competitive model."
Monahan accepted that he was considering some sort of levelling up process to over time redress the balance between players who took LIV money and those who missed out to stay loyal.
"What you're talking about is an equalization over time," he added. "And I think that's a fair and reasonable concept."
Dropping the legal proceedings was a key driver of the deal, which Monahan is keen to stress is just a "framework" for now – and the reason why even huge players like Woods and McIlroy were not even tipped off about the talks.
"Again, what we've agreed to here is a framework agreement, and the binding elements are tied to the litigation," said Monahan. "A lot of these details we've got to work through.
"If we had announced a definitive agreement this morning and I was calling them in the morning and I had made commitments on behalf of the PGA Tour and not had an opportunity to fully vet them with our Policy Board and with those two individuals in a larger group, then that would be a complete miss on my part, and I recognize that.
"But this was us reaching a framework agreement. We think it's the right agreement. Obviously Tiger and Rory's perspective is one that I understand very well, and it was part of my thinking throughout these conversations, and it will be a part of my thinking going forward.
"Now that we're in a framework agreement, I look forward to talking to all of our players, including the two of them, to make certain that this comes off the right way."
Get the Golf Monthly Newsletter
Tips on how to play better, latest equipment reviews, interviews with the biggest names and more.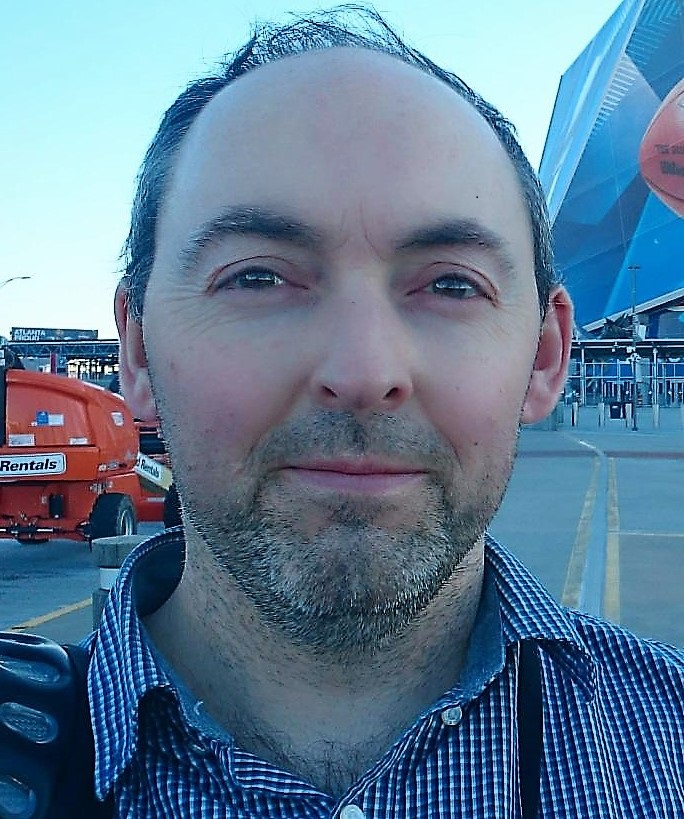 Paul Higham is a sports journalist with over 20 years of experience in covering most major sporting events for both Sky Sports and BBC Sport. He is currently freelance and covers the golf majors on the BBC Sport website. Highlights over the years include covering that epic Monday finish in the Ryder Cup at Celtic Manor and watching Rory McIlroy produce one of the most dominant Major wins at the 2011 US Open at Congressional. He also writes betting previews and still feels strangely proud of backing Danny Willett when he won the Masters in 2016 - Willett also praised his putting stroke during a media event before the Open at Hoylake. Favourite interviews he's conducted have been with McIlroy, Paul McGinley, Thomas Bjorn, Rickie Fowler and the enigma that is Victor Dubuisson. A big fan of watching any golf from any tour, sadly he spends more time writing about golf than playing these days with two young children, and as a big fair weather golfer claims playing in shorts is worth at least five shots. Being from Liverpool he loves the likes of Hoylake, Birkdale and the stretch of tracks along England's Golf Coast, but would say his favourite courses played are Kingsbarns and Portrush.