'I'm Still Hurting. Badly' - The Agony Of Not Coming Out The Augusta Media Ballot
Golf Monthly will be playing Augusta National on Monday, but it won't be Michael Weston - and he's not happy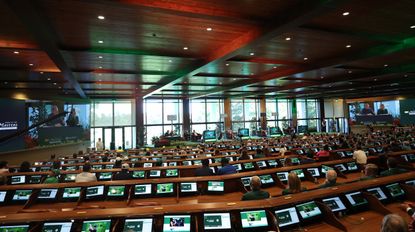 (Image credit: Getty Images)
This is my opportunity. My Golf Monthly colleague, Mike Bailey, has been afforded one of the golden tickets: a once-in-a-lifetime opportunity to play Augusta National courtesy of his name being drawn out of a hat (it's not done quite like that) in the media ballot. He'll be playing Dr Alister MacKenzie's world famous creation tomorrow (Monday). Or will he?
I was not one of the lucky media bods to see my name revealed on the TV screen in the press building on Friday – and I'm still hurting. Badly. Mike has to attend a mandatory meeting in the interview room at 10.30am today to go through the dos and don'ts of playing the course (mostly don'ts, I reckon). Understandably, he's buzzing, excited to complete the trio of of St Andrews, Pebble Beach and Augusta National.
His fate, though, is in my hands. When he leaves his desk, and his phone (you can't take cell phones into the interview room), I'm planning on taking some photographs – loads, in fact, of all the places in the building you're not allowed to, which is pretty much everywhere. Then, when we're out watching Brooks Koepka and Jon Rahm coming down the stretch – when Mike's telling me for the umpteenth time on how he plans to play Amen Corner – I'm going to discreetly deliver news of a Rules violation to the nearest marshal. Dream over.
I'm joking, of course. I'm absolutely delighted for Mike. We met each other for the first ever time this week and hit it off immediately. We'd even planned to go for a beer. No chance, now – I can't look him in the eye. At this moment in time, I feel like it's exam results day, where your best pal is dancing around with his 'A' in Maths and you've failed. Actually, it's worse than that – way worse.
When the announcement came inviting media to enter the ballot on the front desk, there was very little movement in the press building – too full of professionals, many of who have probably played the course the same number of times as Gary Player. I don't exactly sprint up the staircase (not allowed) and down the stairs to reception the other side, but I'm fairly brisk – and I try to style it out in a casual way that makes it look like I'm just off to the gents.
I then get my ticket: number 004. This suggests to me that I'm the fourth person to enter out of what will probably be, so I'm told, a few hundred. I tell the lady on reception my sob story about my nightmare journey to the Masters (basically BA lost all of my luggage, including golf clubs) in the hope that she'll take pity on me and put in a good word to Augusta National Chairman, Fred Ridley, who I like to think draws out balls in an FA Cup-style format. 'Michael Weston will play with Mike Bailey at 10.30am on Augusta National on Monday 10th April.'
Alas, it's not to be. The results of the ballot and the names of the "winners", as they called, are displayed on a screen the following day. Once again, there's an announcement inviting media to check the noticeboard. This time, there's more of a rush. I'm not styling it out this time. I climb over Mike's back, push Alan Shipnuck to the floor and race to the top of the stairs.
And there it is in green and white: 'Mike Bailey', along with the names of 27 other people. Mike. It could have been me. I'm a Mike. And on the last page – page four of four – a 'Michael'. Not this Michael, though, Michael from another publication. Cruel. I really thought that was me for a split second. And these are the lucky ones going to the great Chocolate Factory with their little golden (yellow) tickets. Keep your eyes on your cell phones, chaps – you don't know where they might end up.
Michael has been with Golf Monthly since 2008. As a multimedia journalist, he has also worked for The Football Association, where he created content to support the men's European Championships, The FA Cup, London 2012, and FA Women's Super League. As content editor at Foremost Golf, Michael worked closely with golf's biggest equipment manufacturers, and has developed an in-depth knowledge of this side of the industry. He's now a regular contributor, covering instruction, equipment and feature content. Michael has interviewed many of the game's biggest stars, including six world number ones, and has attended and reported on many Major Championships and Ryder Cups. He's a member of Formby Golf Club.