'It's Just Sad' - Gary Player Says He Has To 'Beg' To Play A Round At Augusta
Gary Player says he is made to feel so unwelcome at Augusta National he has to beg a member just to try and play a round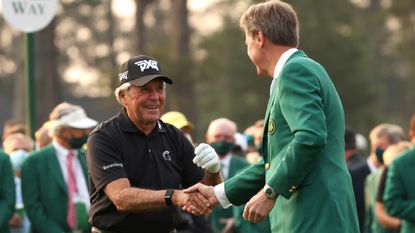 (Image credit: Getty Images)
Gary Player claims he has to "beg" to go and play a round at Augusta National despite being a three-time Masters champion, saying that the club does not make him feel welcome despite being someone who "helped make this tournament what it is".
The 87-year-old attracted criticism for putting the Masters bottom of the list of golfing Majors, although it was a view that had also previously been shared by Jack Nicklaus.
Critics had said that Player should even be stripped of his ceremonial role as honorary starter at the Masters alongside Nicklaus and Tom Watson, but there's no chance of the South African ever backing down.
In an interview with The Times, Player reveals that hitting that ceremonial tee shot is one of the few chances he gets to actually play Augusta National, as he launched a stinging attack on how he feels he is treated by the Green Jackets.
"After all I've contributed to the tournament and been an ambassador for them, I can't go and have a practice round there with my three grandchildren without having to beg a member to play with us, and there's always some excuse. It's terribly, terribly sad," Player told The Times.
"I've played my role: I've won it three times; I was in the top ten 15 times; I made the most number of cuts in a row ever, yet here we are struggling to get a round.
"That's why I rate the Open No 1. If it wasn't for the players, (Augusta) would just be another golf course in Georgia.
"It's just sad - and I put great emphasis on the word 'sad' - that Augusta don't make you feel welcome in that regard, because I helped make this tournament what it is."
Never one to hold back when discussing himself, Player also says that he's had great support from people and was keen to point out more of his achievements in golf.
"I've had phenomenal support. I don't think there's anybody on this planet who gets more love than me," he added.
"There's no golfer who's ever had a tougher life than I have. I've won more tournaments than any man alive. I've won more national Opens than Jack Nicklaus, Tiger Woods and Arnold Palmer put together. I've done remarkable things."
Paul Higham is a sports journalist with over 20 years of experience in covering most major sporting events for both Sky Sports and BBC Sport. He is currently freelance and covers the golf majors on the BBC Sport website. Highlights over the years include covering that epic Monday finish in the Ryder Cup at Celtic Manor and watching Rory McIlroy produce one of the most dominant Major wins at the 2011 US Open at Congressional. He also writes betting previews and still feels strangely proud of backing Danny Willett when he won the Masters in 2016 - Willett also praised his putting stroke during a media event before the Open at Hoylake. Favourite interviews he's conducted have been with McIlroy, Paul McGinley, Thomas Bjorn, Rickie Fowler and the enigma that is Victor Dubuisson. A big fan of watching any golf from any tour, sadly he spends more time writing about golf than playing these days with two young children, and as a big fair weather golfer claims playing in shorts is worth at least five shots. Being from Liverpool he loves the likes of Hoylake, Birkdale and the stretch of tracks along England's Golf Coast, but would say his favourite courses played are Kingsbarns and Portrush.