'I Really Should Have Won It That Year' - Spieth Laments 2018 Masters Near-Miss
Jordan Spieth says the Masters is his favourite tournament and sticks out as golf's Super Bowl as he prepares for his 10th appearance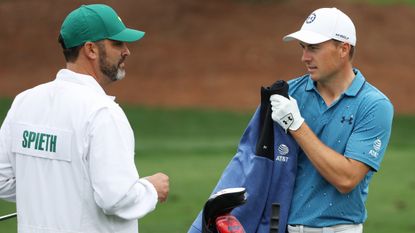 (Image credit: Getty Images)
Jordan Spieth already has one Green Jacket in his locker, he should really have two and he could even have three tucked away had the cards fallen differently during what was an incredible start to his Masters career.
Spieth could have conceivably won on his first three trips to Augusta National as he sandwiched his one victory in 2015 between a sparkling 2014 debut and his epic collapse of 2016 that handed the Green Jacket to Danny Willett.
The 29-year-old held a two-shot lead at one point on Sunday in 2014 before Bubba Watson came through to win and deny him from becoming just the fourth debut Masters champion.
In 2015 Spieth bounced back to become the second-youngest Masters winner before 12 months later suffering that huge meltdown when a quadruple bogey on the 12th saw him throw away a seven-shot lead he held entering the back nine.
Overall it was four top-three finishes in his first five Masters before the lean times hit and he struggled badly with his game, but after building himself back up brick by brick, the three-time Major winner feels he's now in a place to seriously challenge again on his 10th appearance.
"Yeah, 10th appearance now feels crazy and I hopefully can match some of those greats that played in how many over the years," Spieth said in his pre-Masters press conference.
"It would be pretty special, but at the same time when you get opportunities at a young age and you feel good about your chances, I want to win it again. That's the goal.
"Ten years here, a lot of experience, I can look back and say I learned a lot from winning, and I learned a lot from losing.
"I feel better perspective now than ever, and hopefully that continues to grow. But ultimately, our sport doesn't get heightened more than it does this week. This is the highest-viewed golf tournament in the world, and I like to always call it our Super Bowl, but at the same time, that's still a game, too."
As well as his debut and his 2016 collapse, Spieth feels he could have won the 2018 Masters, when a poor second and third round saw him start Sunday nine shots behind Patrick Reed before a sparkling 64 left him in third, coming up just two shots short.
"When I look back on the times where I've had real legitimate chances, I look at the middle two rounds of 2018, I really could have, should have won it that year," he added. "I wasn't playing great. I just had two really good rounds.
"I had chances in 2014 and 2016 down the stretch, and other than that, it's just been 2018 that I was nine back. 2021, I was pretty far back. I really haven't had a lot of opportunities on the back nine with how many top - like I've backdoored some of those top finishes, and I'd love to get in the mix because I feel like right now, I feel better about my game than I've felt since probably 2017."
And being back to something like his old self is down to Spieth simply working hard to recapture his game having been guilty of overthinking things, but he's enjoyed the journey back.
"You know, to me, there's nothing like it. It's everything to kind of re-fall in love with the game and enjoy working it back. You know, I don't feel I have all the weapons right now. But I have enough, and I'm continuing to work on the ones that I don't have, and I get a little better each day with them."
As Spieth knows more than most, anything really can happen on a Masters Sunday thanks to a back nine that can provide birdie chances but also present card-wrecking scores – something he's sampled both sides of.
"You have a pretty good idea on Sunday where you can get some really exciting moments. The back nine gets set up to where if you're in the wrong spots you can go downhill, and if you're kind of in the rights pots, you can really - Schwartzel was four birdies in a row to finish.
"There's been comebacks. I almost came back one year; I lost the lead one year; I've maintained one. It can yield just about anything. So I think the course setup has a lot to do with it, and as I mentioned this being essentially the Super Bowl to golfers,
"Then you get those moments toward the end combined with that course setup, and creates that kind of iconic finishes."
Paul Higham is a sports journalist with over 20 years of experience in covering most major sporting events for both Sky Sports and BBC Sport. He is currently freelance and covers the golf majors on the BBC Sport website. Highlights over the years include covering that epic Monday finish in the Ryder Cup at Celtic Manor and watching Rory McIlroy produce one of the most dominant Major wins at the 2011 US Open at Congressional. He also writes betting previews and still feels strangely proud of backing Danny Willett when he won the Masters in 2016 - Willett also praised his putting stroke during a media event before the Open at Hoylake. Favourite interviews he's conducted have been with McIlroy, Paul McGinley, Thomas Bjorn, Rickie Fowler and the enigma that is Victor Dubuisson. A big fan of watching any golf from any tour, sadly he spends more time writing about golf than playing these days with two young children, and as a big fair weather golfer claims playing in shorts is worth at least five shots. Being from Liverpool he loves the likes of Hoylake, Birkdale and the stretch of tracks along England's Golf Coast, but would say his favourite courses played are Kingsbarns and Portrush.