Golf Legend Calls For Pros To Go Back To Using Persimmon Drivers
Tony Jacklin says smaller, wooden drivers would limit distance off the tee and bring more skill back into the game of golf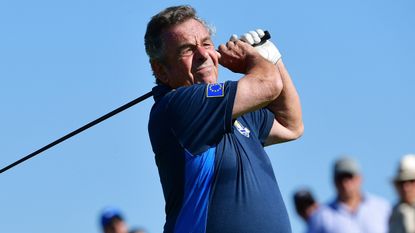 (Image credit: Getty Images)
Tony Jacklin has weighed in on the great distance debate in golf right now by calling for the reintroduction of persimmon drivers to limit golfers off the tee.
The R&A and USGA have proposed a Model Local Rule for 2026 where elite players would use different golf balls to recreational golfers in order to limit the distance they can hit the ball.
The plans for this bifurcation of the game of golf has come under criticism from all corners, with even some PGA Tour and LIV Golf players in agreement – showing that they can still agree on something.
Justin Thomas said "it's so bad for the game of golf" while Bryson DeChambeau unsurprisingly slammed the plans as "atrocious" when he was told of the development.
Even less surprising was the push back from golf ball manufacturers, who claimed it was "a solution in search of a problem" when contacted by Golf Monthly for their opinions.
The game is very much split on this, with Golf Monthly readers divided on the debate when taking part in two polls through our digital and social channels.
While some are also backing the plan of limiting the golf ball, others have gone further and suggested a change in hardware – namely the drivers used by the big-hitting tour pros.
Two-time Major champion and World Golf Hall of Fame member Jacklin has echoed a few suggestions that have called for Persimmon drivers to be reintroduced into the game.
While not everyone has mentioned Persimmon drivers in particular, many have said that reducing the size, and more importantly the sweet spots, of modern drivers would limit distances off the tee – or at least make it a tougher task to get maximum distance.
"Bring back persimmon for pros, end of story !!!" Jacklin tweeted when talking about the distance debate.
I'd just like to see top players having to hit medium irons into par 4's. I'm guessing those days have gone!March 15, 2023
See more
A final word from the Englishman came on what is often discussed within modern day golf, namely the lack of players needing to hit longer irons into greens on par fours, due to the length they can generate off the tee.
"I'd just like to see top players having to hit medium irons into par 4's. I'm guessing those days have gone!"
Jacklin will not be the last to speak out on this great distance debate, which likely has a few more twists and turns before it's settled one way or the other.
Paul Higham is a sports journalist with over 20 years of experience in covering most major sporting events for both Sky Sports and BBC Sport. He is currently freelance and covers the golf majors on the BBC Sport website. Highlights over the years include covering that epic Monday finish in the Ryder Cup at Celtic Manor and watching Rory McIlroy produce one of the most dominant Major wins at the 2011 US Open at Congressional. He also writes betting previews and still feels strangely proud of backing Danny Willett when he won the Masters in 2016 - Willett also praised his putting stroke during a media event before the Open at Hoylake. Favourite interviews he's conducted have been with McIlroy, Paul McGinley, Thomas Bjorn, Rickie Fowler and the enigma that is Victor Dubuisson. A big fan of watching any golf from any tour, sadly he spends more time writing about golf than playing these days with two young children, and as a big fair weather golfer claims playing in shorts is worth at least five shots. Being from Liverpool he loves the likes of Hoylake, Birkdale and the stretch of tracks along England's Golf Coast, but would say his favourite courses played are Kingsbarns and Portrush.