Tony Jacklin: Europe's golfing saviour
Tony Jacklin twice helped revive European golf: as a player, then as a Ryder Cup captain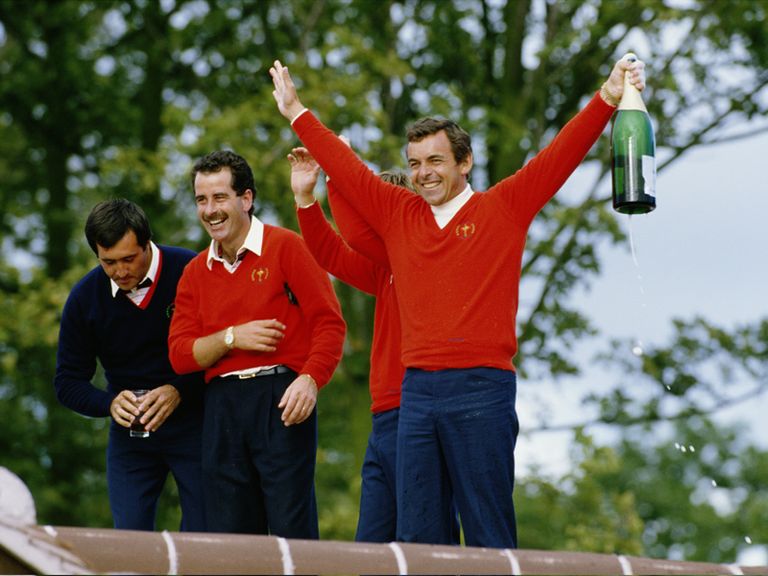 (Image credit: Getty Images)
Through a career of glittering highs and testing lows, Tony Jacklin twice played a pivotal role in revitalising the fortunes of European golf – once as a player then again as Ryder Cup captain.
Tony Jacklin was born into a working class family in Scunthorpe in 1944. The son of a lorry driver, golf seemed an unlikely career path. Despite support from his golf-loving father, his parents felt turning professional was too risky. So, at 15, he started as an apprentice in a steel works then took a post as an office boy for a law firm.
But golf's pull was too strong and, in 1962, Bill Shankland gave Jacklin a job as assistant pro at Potters Bar. He worked tirelessly on his game and began to enjoy success. In 1967 he won four significant tournaments including the British Masters and the Pringle of Scotland Tournament.
Jacklin had the mentality of a confident winner. In 1965 he met Vivien Murray in the bar of a Belfast hotel. That night, he told his friends he was going to marry her – it didn't bother him she had a boyfriend. 11 months later they were married.
In 1968 Jacklin travelled to the USA to play on the PGA Tour. The Englishman received a frosty reception from some of the more parochial US players - Dave Hill once loudly said, "Foreign players shouldn't be allowed to compete in America," while Jacklin stood just feet away. Despite the narrow-minded few, Jacklin fared well and won the Jacksonville Open of 1968. He returned sure he could beat the best in the world.
In the summer of 1969, Jacklin proved it in The Open at Royal Lytham & St Annes. Standing on the 18th tee with a narrow lead, Jacklin pounded a drive into exactly the right spot on the bunker-strewn fairway drawing the immortal line, "Oh, what a corker!" from commentator Henry Longhurst.
Seeing a charismatic and stylish Brit lift the Claret Jug (the first home winner since Max Faulkner in 1951) sparked a golfing revival and youngsters across the country were inspired to take up the game.
Jacklin was riding the crest of a wave and reached new heights the following year, demolishing the field to win the US Open at Hazeltine by seven shots – the first British US Open winner since Ted Ray in 1920.
In 1972 Jacklin should have won The Open a second time. Tied for the lead with Lee Trevino on the 71st hole, Jacklin faced a birdie putt at the par 5 while the American had missed the green with his fourth. Trevino had pretty much given up as he slapped his chip onto the green but, amazingly, it went in for par and Jacklin proceeded to take three from 18 feet. Trevino won and Jacklin never contended in a Major again. Jacklin's putting fell apart and he tried all manner of cures to no avail. He even tried putting with his eyes closed. Playing in the Bob Hope Classic of 1976, he was so stressed by his putter he went back to his hotel room and passed out.
Jacklin was disillusioned with golf, but his enthusiasm for the game was reinvigorated when he was appointed Ryder Cup captain in 1983. The USA had dominated the biennial competition since Jack Nicklaus' famous concession to Jacklin on Birkdale's 18th green in 1969 had resulted in a halved match. Now, Jacklin would turn things in Europe's favour.
In 1983 his side narrowly lost out to Nicklaus' at PGA National. Then, in 1985, he led Europe to a momentous win at The Belfry – our first since 1957. Jacklin remained captain for the 1987 matches at Muirfield Village where the USA was beaten on home soil for the first time in the tournament's history.
Tragedy struck Jacklin seven months later when Vivien died of a brain haemorrhage. It was a huge blow but he was bravely back to captain Europe one last time in 1989 – a halved match and Europe retained the Cup.
Jacklin's Ryder Cup leadership through the 1980s helped galvanise European golf and encouraged a new generation of stars to rise through the ranks. Since the famous victory in 1985, Europe has won 10 of the last 14 Ryder Cups.
ESSENTIALS Date of birth: July 7, 1944 Place of birth: Scunthorpe, England Career highlights: - 1969 Won Open Championship at Royal Lytham & St Annes - 1970 Won US Open at Hazeltine - European Ryder Cup captain 1983, 1985, 1987 and 1989 - 28 Professional victories between 1964 and 1995 - 1990 Awarded a CBE - 2002 Inducted into World Golf Hall of Fame
Quote: "He gave the impetus for the modern European Tour to be started on the back of his success and the marvelous energy he brought to British and European golf." Ken Schofield
Tony Jacklin is a Golf Monthly columnist and an ambassador for Glenmorangie – The Spirit of The Open