Club Pro Battling Cancer To Make PGA Tour Debut Aged 60
Michael Castillo, who has battled cancer for five years, has qualified to play in this week's Sony Open at the age of 60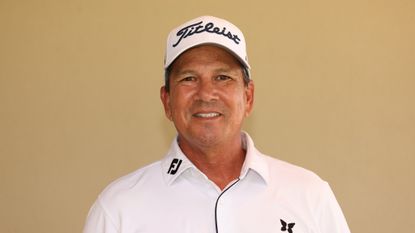 (Image credit: Getty Images)
Michael Castillo will make his long-awaited PGA Tour debut at the Sony Open this week at the grand old age of 60, and that isn't even the most remarkable thing about his appearance.
Following a five-year battle with colon cancer that spread to his lung and back to his liver, his hopes of playing on the PGA Tour had long but faded, until his assistants at Kapalua – where Castillo is the head pro – convinced him to play this year as the Section PGA Championship was at Poipu Bay, a course where he held the same position for 12 years.
A birdie on his final hole in qualifying sent him into this week's event, in a field which features Tom Kim, 40 years his junior. Castillo clearly has absolutely nothing to lose this week in what has become a wonderful feel-good story.
"It is really cool," Castillo said. "And it's the first time our family will all be together in 10 years. So that's exciting to get together as a family."
His family have a long history with the competition, with his father and two brothers playing in the event in the past without making the cut as the tournament reserves a spot for the PGA professional in that section.
"I thought that opportunity had passed many years ago," Castillo said. "I only played in the section championship because it was at Poipu. The guys said, 'You've got to play.' I played well, putted good, it was 25 mph wind and I birdied 18 to win."
Following his cancer diagnosis five years ago, Castillo has undergone chemotherapy and radiotherapy twice each and ahead of the Aloha Section Championship in September, he knew he needed more treatment.
"I knew in September I needed radiation for cancer on my liver," the 60-year-old said. "I waited until that tournament, went to New Mexico for the Senior PNC (Professional National Championship) with my sister, Lori, on the bag, and then did treatments.
"I went with radiation and I'll know next month if it was successful," he said. "In December, it cleaned my body out and I feel pretty good. I'm ready for the Sony."
Castillo even played nine holes with former World No.1 and 2013 Masters champion Adam Scott on Tuesday, and the Aussie thinks it is a great story for the oldest man in the field, saying: "Yeah, that's why. I'm getting those young vibes. Most weeks it seems like I'm the oldest man on the tour or in the field these days," Scott said.
"I think it's a great story. He qualified at 60 years old for his first Sony Open and asked Tom a hit with me today. He's doing that, so I'm excited to do that. I think it's a great story about the game of golf. It's like Fred Couples who is obviously a superstar, but shoots 60 -- how would he is, 63? It's a great game when stuff like this happens. Regardless of his performance this week, to share the moment with his family will be more than enough for Castillo.
"I think I certainly embrace celebrating Mike's achievement of getting in and getting to play PGA Tour event at 60."
Ross Kilvington is a freelance writer from Scotland who has had his work published by acclaimed publications such as Nutmeg alongside popular online blogs including the Gentleman Ultra, North Section and Engrossed in Football. Ross holds a passionate interest in golf and tries to play as often as possible, although having two daughters under the age of four means his quest to break 80 will have to wait a little bit longer. He writes about golf in his spare time, most recently having an article published in the Golf Memories anthology Mind the Links, which was released in July with all proceeds going towards Alzheimer charities. With a handicap that floats between 13-14, highlights are few and far between on the golf course, with an eagle on the par 4 16th at Kinghorn one that stands out (it doesn't matter that it was only 290 yards!).