As Europe Gets Clarity - How Will LIV Golf Issue Impact Zach Johnson's Ryder Cup Plans?
After European trio ruled themselves out, Zach Johnson now has to deal with questions over LIV Golf stars playing in his USA Ryder Cup team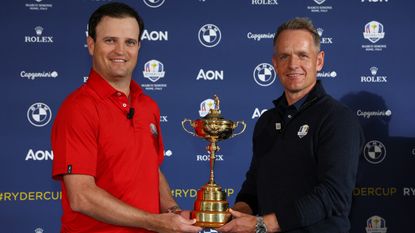 (Image credit: Getty Images)
Luke Donald now has "clarity" over his European Ryder Cup team, but the problems could be just beginning for Team USA captain Zach Johnson about whether he'll have LIV Golf players in his side this year.
The 2023 Ryder Cup takes place at Marco Simone Golf Club in Rome at the end of September and after months of uncertainty we now know that Lee Westwood, Sergio Garcia and Ian Poulter will not be there in any capacity.
While the trio of Ryder Cup legends resigning a missing the event is a big blow due to their experience, it does rule out any awkward conversations or decisions Donald made have had to make over their participation.
However, for Johnson it's a different story as although the American LIV Golf stars are banned from the PGA Tour, a loophole in their PGA of America membership means they are all still eligible.
And after fine showings at the Masters, Brooks Koepka is 18th, Phil Mickelson 23rd, Dustin Johnson 33rd and Patrick Reed 39th in the latest Ryder Cup standings for the USA team.
Koepka and Johnson spoke at LIV Golf Adelaide recently and confirmed they'd love to play in the Ryder Cup if they somehow got in.
"I wouldn't say I was shocked when Brooks and Dustin suddenly appeared on the US qualifying lists, because I'm determined just to concentrate on my team," said Donald.
"But I guess the fact that the regulation was discovered in their qualifying small print did introduce a fresh bit of intrigue, especially after some of the performances at Augusta."
And a few more good performances in the Majors this year could increase clamour for players such as Johnson, who won all five matches at the last Ryder Cup, and possibly Koepka and even Reed to be included.
Donald has been facing similar questions for some time given Garcia is the record Ryder Cup points scorer and Poulter has his unbeaten singles record, and he's now happy the show will be on the other foot.
"It's funny," Donald told The Telegraph's James Corrigan. "I was at a Q&A with Zach a few weeks ago and he was quizzed about the three LIV US players who were in the top five at Augusta.
"I sat back and said, 'Not my problem – we just had the winner'. It was refreshing to be the one not facing the LIV questions'."
Although Team USA haven't suffered any public fallings out such as Rory McIlroy and Sergio Garcia had over the LIV Golf saga – it could still be an awkward team room if one of them somehow qualified or if Johnson selected them as wildcards.
It could also be seen as an advantage, if the captain was able to call upon the likes of Johnson, Koepka, Reed, even a DeChambeau or Mickelson while Donald is unable to tap into his trio of experienced Ryder Cup stalwarts.
Donald is just relieved he won't be facing these questions, while the hope from European fans will be that continuing questions about LIV players in Team USA upset the harmony within Johnson's camp and give them an edge in Italy.
Paul Higham is a sports journalist with over 20 years of experience in covering most major sporting events for both Sky Sports and BBC Sport. He is currently freelance and covers the golf majors on the BBC Sport website. Highlights over the years include covering that epic Monday finish in the Ryder Cup at Celtic Manor and watching Rory McIlroy produce one of the most dominant Major wins at the 2011 US Open at Congressional. He also writes betting previews and still feels strangely proud of backing Danny Willett when he won the Masters in 2016 - Willett also praised his putting stroke during a media event before the Open at Hoylake. Favourite interviews he's conducted have been with McIlroy, Paul McGinley, Thomas Bjorn, Rickie Fowler and the enigma that is Victor Dubuisson. A big fan of watching any golf from any tour, sadly he spends more time writing about golf than playing these days with two young children, and as a big fair weather golfer claims playing in shorts is worth at least five shots. Being from Liverpool he loves the likes of Hoylake, Birkdale and the stretch of tracks along England's Golf Coast, but would say his favourite courses played are Kingsbarns and Portrush.