What Can We Expect From Tiger Woods At The Genesis Invitational?
We look ahead to Tiger Woods' hugely unexpected return to action this week at the iconic Riviera Country Club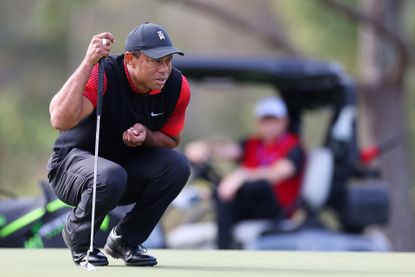 (Image credit: Getty Images)
There will be the odd bleat from the Twitterati of 'who cares?', for the rest of us the return of Tiger Woods to competitive golf is genuine box-office news. In this new dawn of elevated events we now have the one player who's made most of this possible back in the field.
If you don't think this is big news then it's worth a reminder that this will be Woods' first non-Major PGA Tour start since his single-car accident in February 2021. Last year he made three starts, all of them in the Majors, finishing 47-WD-MC, and still walked away with $15m for topping the Tour's Player Impact Programme for boosting engagement and publicity.
There was the false start at the Hero World Challenge in the Bahamas – a tournament, like this week's Genesis, that he also hosts – before everyone was sent scurrying to look up what plantar fasciitis meant.
Put simply, it is 'one of the most common causes of heel pain. It involves inflammation of a thick band of tissue that runs across the bottom of each foot and connects the heel bone to the toes (plantar fascia)'.
Two weeks later he had completed The Match, partnering Rory McIlroy to a defeat to Justin Thomas and Jordan Spieth, before partnering his son Charlie at the PNC Championship.
He would outdrive Thomas on occasion, there were birdies galore in rounds of 59 and 65, good for a tie for 8th spot, as he and Charlie spent the two days 'walking like penguins' after his son rolled his ankle beforehand.
Anything post St Andrews had involved riding in a cart, something that Woods would never even consider doing on Tour.
"It's frustrating because each and every day I have to do it (the therapy) and then on top of that it's trying to sleep in the damn boot, it's no fun. My left leg is bleeding sometimes because the boot hits it. I'm grateful to have this limb and it's mine. It's not some fake limb.
"As you've seen, I can hit golf balls. I can do all that. I can practise at home. I can hit shots around the green. I just can't get from point A to point B. This off-season hasn't really been an off-season. I've kind of ramped things up. But after this, come Monday, we shut it all down and take care of this foot so that I can ramp up properly."
Which leads us to this week. Three days ago, via a very simple 12-word sentence – 'I'm ready to play an ACTUAL PGA Tour event next week @thegenesisinv' – it was confirmed that Woods would be back far sooner than most of us had ever anticipated.
Most of us thought that the first that we'd see of Tiger, with a club in his hand, would be at Augusta. Now, two months ahead of that, he's back on Tour at a course, Riviera, where he first ever attended a PGA Tour event. A few years later he would make his debut as an amateur at the age of just 16 where none other than Sam Snead would watch him.
Thirty-one years later Woods will make his 15th start in the tournament. Bizarrely, in among the 82 wins on Tour, he has never won this event, twice finishing second. In 1998 he would lose a play-off to Billy Mayfair, that year it was held at Valencia Country Club with the US Senior Open being staged at Riviera, before coming up two shots shy the following year when needing a birdie at the iconic 18th to tie Ernie Els.
Now all eyes will be on how he handles the walking side of that hole.
"I imagine we'll be carrying him down the hill on 1 and up it on 18, which no-one would mind," said Max Homa, who won the 2021 Genesis Invitational. "But it's awesome. I'm really glad he's back. I think we're privileged any time he plays now."
The logical part of our brains tells us that he misses the cut; we're nearly seven months on from St Andrews and that Riviera is not the toughest walk in the park but it's still a walk.
More logic tells us that he has those 82 wins on Tour, 15 of them Majors, and that he still has the skill set and the mindset to more than breeze into the weekend and then take his chances from there.
Even being the stubborn and relentless character that he is, if Woods physically feels that he is capable of getting round then the signs are great. Yes, it gives the PGA Tour an early-season boost like literally nothing else and Woods some game time ahead of The Masters, but this never really appeared to be on the cards.
Now plantar (checks spelling again) fasciitis seems like it was a short-term thing and we're looking ahead again. This week Woods was spotted at LA Country Club, home to this year's US Open, a Major that he had to bypass last year. In a month's time it's The Players and, all of a sudden, we're falling over ourselves trying to make sense of what a partial schedule might look like.
At some point this week there will be a press conference where Woods will remind us that he'll only play in an event to try and win – his best price is 150-1 with the bookmakers as low as 100-1 to pull the remarkable off. If he does he'll jump over 1,200 places in the world rankings. It's Tiger Woods, why would you not work it out?
Then there are the little sidebars of interest. Will the FootJoy shoes still be in place? How much swing speed will he be able to tap into? How will the sharpest mind in the game tackle the drivable 10th?
We might even have some equipment nuggets to tuck into but, otherwise, within a few holes it will be business as usual. And we should all thank our lucky stars that we're all going to be watching.
Mark has worked in golf for over 20 years having started off his journalistic life at the Press Association and BBC Sport before moving to Sky Sports where he became their golf editor on skysports.com. He then worked at National Club Golfer and Lady Golfer where he was the deputy editor and he has interviewed many of the leading names in the game, both male and female, ghosted columns for the likes of Robert Rock, Charley Hull and Dame Laura Davies, as well as playing the vast majority of our Top 100 GB&I courses. He loves links golf with a particular love of Royal Dornoch and Kingsbarns. He is now a freelance, also working for the PGA and Robert Rock. Loves tour golf, both men and women and he remains the long-standing owner of an horrific short game. He plays at Moortown with a handicap of 6.