8 Reasons To Buy The New Issue
We take a look inside the December issue of Golf Monthly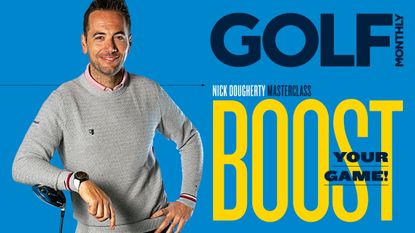 (Image credit: Future)
The new issue of Golf Monthly is packed full of the best new gear, features, tour news and instruction, as well as our FREE 52-page 2022 Travel supplement. We also hear from Nick Dougherty who gives us his top tips to boost your game, talk to Europe's breakthrough star Viktor Hovland, and chat to some of the world's top caddies about life on tour.
1. FREE 52-Page Travel Supplement
Our experienced team of writers explore Europe and beyond to find the ultimate golfing destinations.
2. Nick Dougherty Masterclass
The former tour star and Sky Sports pundit shares his favourite tips to help you shoot lower scores.
3. Winter Gear Guide
Our showcase of the best clothing and accessories to help keep you warm and dry.
4. Viktor Hovland
We meet the Norwegian who is fast becoming one of Europe's brightest stars.
5. The Latest Gear
Our testing team run the rule over this month's hottest equipment releases.
6. Winter Instruction
GM Top 25 Coach Neil Marr tells you how to get the most from your game, whatever the weather.
7. Tour Caddie Confidential
We hear from some of the world's most respected caddies about life on tour.
8. The Best Courses You Can Play
We travel around the UK and Ireland to unearth some of the finest layouts available to all, including St Patrick's Links at Rosapenna (below).
Location: Meldrum House
Neil turned professional in 1989, the same year he was Rookie of the Year on Scotland's Tartan Tour. From 1991, he was Head Teaching Professional at Braid Hills, and in 2000 was appointed Head Teaching Professional at Meldrum House Country Hotel and Golf Course. Alongside his work as a teaching professional, for some 15 years Neil was the Scottish National Under-16 Boys' coach, and later the Under-18 National Boys' coach.
Advice for practice:
Go between working on technique, if that is part of your programme, and then on your whole game, hitting towards targets while simulating game conditions. For example, try to 'play' the first few holes of your golf course; for 'fairways' pick two targets to hit between, and on your next shot assess whether it hits the green or not. Score yourself to try and add some pressure.
Most common problem:
Students can be unaware what part of the clubface they are hitting with and how that can influence their shots. You can't overstate the value of foot spray to monitor this. For example, you may be hitting toe hooks but with a good swing, and you could have had perfectly good results if you had hit with the middle of the clubface.
Biggest challenge:
I am constantly looking for different ways to tell my pupils what I want them to do, in a way that 'clicks' with them. It could be a words thing, or a visual thing, or a drill, or using an accessory. I approach it from every angle, looking for the thing that will 'click'.