The Open Diary of Bill Elliott, aged 67 and a quarter...
Bill Elliott gives the first update on his 2012 Open adventure, it is a damp start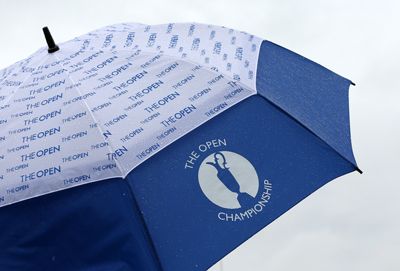 Monday, 11.30am. Arrive in Lytham after a 274 mile trip from Surrey. It's raining. Correction, it is the end of the world. It takes me half-an-hour circumnavigating St Annes to find the yellow car-park for which I have been sent an entry card along with all the other media. Turns out this is on the playing fields of a local school, a place coincidentally where I have played rugby in an earlier life.
Today's weather is so foul no-one would want to play rugby. Or golf. Or watch people playing golf.
Despite this the car-park is at least half-full, a gaggle of schoolboys directing each car into a precise spot, the water funnelling off their noses like mini-Niagras. This parking thing, it turns out, is the easy bit. Leaving the car and getting soaked in the time it takes to clutch an umbrella, I trudge to a waiting double decker bus that will take me and some new companions to the course.
Actually, it takes us to a street that is half a mile from the course and so 46 minutes after I pulled the car to a halt I finally enter the Media Centre. I am not a happy bunny but I most definitely am a wet one.
It's the worst entrance I've made into an Open and this is my 36th. However, I never moan, I'm just in time to catch Bubba Watson's interview. The good old boy is in decent form speaking-wise.
He tells us the weather is what it is (thanks for that Bubba) and that he has decided after one practice round that he'd better leave his driver alone for most of the coming battle.
"Yes, I could overpower this course but I've got to hit every fairway and with the driver I get a little wild sometimes as we know. This golf course means it's like a US Open - you've got to play to a strategy." This was compelling stuff but I suddenly realised just how wet I was and, excusing myself, left Mr Watson to prattle on in his amiable, daft fashion.
Instead, I headed for the R&A Club Tent where, glory be, they serve up a 2006 Bordeaux that is really quite decent. I shared this bottle with an old pal and by the end of it I was still wet but I was also happy. Happy to be at another Open, very happy to be in my old stamping ground of Lytham St Annes, happy to have finished the long drive, happy to be alive.
The rest of the week will now go one of two ways...either it will get better or it will get worse. At least the nice bloke behind the R&A's bar assures me there is plenty of the Bordeaux. Happy days. A bit anyway.
Bill has been part of the Golf Monthly woodwork for many years. A very respected Golf Journalist he has attended over 40 Open Championships. Bill was the Observer's golf correspondent. He spent 26 years as a sports writer for Express Newspapers and is a former Magazine Sportswriter of the Year. After 40 years on 'Fleet Street' starting with the Daily Express and finishing on The Observer and Guardian in 2010. Now semi-retired but still Editor at Large of Golf Monthly Magazine and regular broadcaster for BBC and Sky. Author of several golf-related books and a former chairman of the Association of Golf Writers. Experienced after dinner speaker.