Nike unveil new Vapor irons
Nike's new Vapor irons include the Vapor Pro, Vapor Pro Combo and Vapor Speed.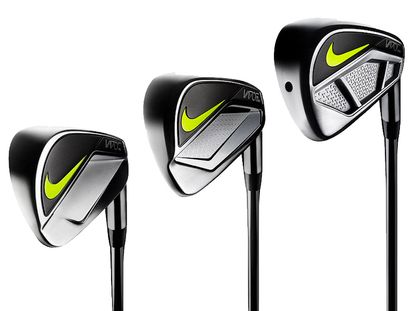 The new Nike Vapor irons include the Nike Vapor Pro, Nike Vapor Pro Combo and Nike Vapor Speed, a trio featuring new technology to help various abilities of golfers.
The new Nike Vapor irons were launched on stage in New York with Rory McIlroy and Tiger Woods, two of Nike's tour stars who have had a big input in their creation.
The irons feature technology that moves their center of gravity closer to the toe than Nike's previous irons, positioning it in the centre of the face. Nike is calling the design "Modern Muscle Technology," and it includes a black-colored PVD insert that is accented by Nike's famous swoosh.
According to Nike, the more-centred CG puts more weight behind the golf ball at impact to improve energy transfer, precision and stability.
"We had this idea, if we moved the CG towards the centre of the face that it would have more impact and more mass right behind the golf ball," Tiger Woods said. "And it worked. I was able to hit the ball a little bit further, it came off more solid and the amazing thing is the ball flew better."
Nike Vapor Pro
The Vapor Pro, which had the most input for McIlroy and Woods, has forward weighting for a lower trajectory, with a longer blade length and shorter face height than its predecessors. It also has milled X3X grooves, a thin sole for better turf interaction and are forged from 1025 carbon steel.
Nike Vapor Pro Combo
The Vapor Pro Combo irons also forged from a 1025 carbon steel and feature the milled X3X grooves. They too utilise face-centred weighting, with a low-and-rearward CG in the long irons for a higher trajectory and high and forward CG in the short irons for a more penetrating ball flight. To achieve this the 2-7 irons will have what Nike calls a "RZN" cavity back, while the 8-PW will have a muscle cavity.
Nike Vapor Speed
The Vapor Speed irons have face-centered weighting that's consistently low and forward throughout the set for a more forgiving, higher launch. The 3-7 irons have hollow cavity backs that are reinforced with a "FlyBeam" behind the face for forgiveness, while the 8-SW have RZN cavity backs. The irons will also feature a moderate sole width and X3X milled grooves.
All Vapor models will be available from January 31st, 2015, with prices and specifications to be confirmed.
Jake O'Reilly specilaises in equipment coverage, and joined the Golf Monthly team in 2013. Before this he graduated from the University of Huddersfield with a Sports Journalism and Media degree, and worked at a number of British golf magazines. Follow Jake on Twitter
@jake0reilly