What Makes The Perfect Golf Club For Juniors?
Recent research reveals what young people expect from a golf facility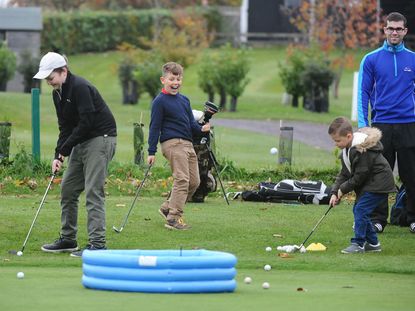 Recent research reveals what young people expect from a golf facility
What Makes The Perfect Golf Club For Juniors?
At a time when many clubs in this country are concerned about an ageing membership, it's essential to consider the next generation of golfers. If clubs are to attract and retain junior players, they must understand what is important to youngsters.
Over a period of six months in 2016, Sports Marketing Surveys Inc. (SMS) carried out a programme of research on behalf of the Golf Foundation – a charity committed to giving all children and young people the opportunity to experience golf.
The research aimed to establish the current golfing experience of junior golfers in this country: how they came into the sport, where they play, what they and their parents look for from a golfing venue and, ultimately, what the perfect facility looks like.
The research
The idea behind the SMS research is to give the Golf Foundation accurate information to make decisions on how to support clubs to deliver the best possible golfing experience for juniors.
The research comprised four quantitative surveys with responses from 520 parents/guardians, 118 junior golfers, 73 club officials and 91 pros/coaches, then qualitative research featuring focus groups and interviews.
The research shows how juniors are currently getting into golf and it considers the barriers that exist to becoming involved in the game. These include the number of other sports and activities on offer to them, the difficulty of golf and the intolerance of other (adult) golfers. The research also highlights the practical concerns parents and juniors have when selecting a golfing venue. These include affordability, convenience, how safe and welcoming a golf facility feels, coaching options and simply the proximity of the club or course to home.
The perfect junior golf club
The research reveals what juniors are looking for when it comes to course, practice, playing opportunities, clubhouse and club environment.
On the course, juniors want to see 18 varied holes with a range of features allowing them to develop different skills. They'd like to encounter water hazards, bunkers, trees and long grasses – generally they are up for a challenge. But they'd like to be suitably prepared before they tackle the 'big course' and there's an enthusiasm for covered driving range bays, practice areas and practice par-3 holes.
These are obvious, but not all clubs can deliver them due to space. However, the research highlights a couple of further 'wants' that most clubs could consider. Juniors would like to see more drinks/refreshment stations around the course and practice facilities, as well as fun putting/adventure golf near the clubhouse and even other sporting opportunities like trampolines.
Competitive opportunity
When it comes to playing, it seems competition is a main driving factor for juniors. Some 80 per cent say they like the idea of having many different types of competition. They also want team competitions, as well as the chance to compete with and against parents.
Coaching and pathways to progress are important to both juniors and parents. One of the key barriers to golf identified is juniors sometimes feel they are not playing well and not moving forward. So parents and kids are looking for mentoring from either pros or more experienced players at the club. They also want a clear pathway from beginner to intermediate and on to more advanced golf. The research also flags that organised group trips to see big golf events would be popular.
Continues below
Expand Are golf clubs welcoming to women and juniors?
Are golf clubs welcoming to women and juniors?
Are out-dated rules and the attitudes of stuffy…
Expand Should Juniors Play In Adult Club Competitions?
Should Juniors Play In Adult Club Competitions?
Encouraging juniors should be on the agenda of…
Expand Should We Worry About Golf Clubs Closing?
Should We Worry About Golf Clubs Closing?
Many golfers may have heard of a local…
In the club
In the clubhouse, juniors generally don't want to feel segregated from other members of the club. The idea of the old-school 'Junior Room' is perhaps a thing of the past. But the young people questioned do have more progressive views on how a clubhouse might be laid out.
The idea of a 'chill zone' with a more relaxed feel is popular, as is the prospect of indoor practice and technology rooms. One suggestion is that there could be a 'challenge stop' where youngsters could meet up with others looking for a game. And, of course, Wi-Fi in the clubhouse is essential!
Consider the environment
It's possible for a club to work hard and spend extensively to create the facilities juniors are looking for, but if the kids don't feel welcome, they won't want to be there. The environment is perhaps the most important factor.
A club must be welcoming for both juniors and parents, particularly when mum and dad are not golfers. There should be plenty for the whole family to do at the club: events, good food, equipment demonstrations etc. Juniors and parents hope that the adult members will be tolerant and acceptant of younger players.
Above all, juniors want to feel like they belong at the club and to view it as a fun place to enjoy their sport. Juniors are the future of our game and, at the moment, many clubs are failing to acknowledge their expectations. If old heads remain in the sand, a generation of members will walk right on by and leave golf clubs in a very difficult place. The research shows that juniors want to play, they just need the right environment to encourage them.
Don't forget to follow Golf Monthly on Facebook, Twitter and Instagram
Fergus is a golf obsessive and 1-handicapper. Growing up in the North East of Scotland, golf runs through his veins and his passion for the sport was bolstered during his time at St Andrews university studying history. He went on to earn a post graduate diploma from the London School of Journalism. Fergus has worked for Golf Monthly since 2004 and has written two books on the game; "Great Golf Debates" together with Jezz Ellwood of Golf Monthly and "The Ultimate Golf Book" together with Neil Tappin (also of Golf Monthly)... Fergus once shanked a ball from just over Granny Clark's Wynd on the 18th of the Old Course that struck the St Andrews Golf Club and rebounded into the Valley of Sin, from where he saved par. Who says there's no golfing god?