The Wee Man: Craig Connelly Exclusive Interview
Craig Connelly may be small in stature, but he has a big reputation as a caddie. Here, Martin Kaymer's right-hand man opens up about life on the bag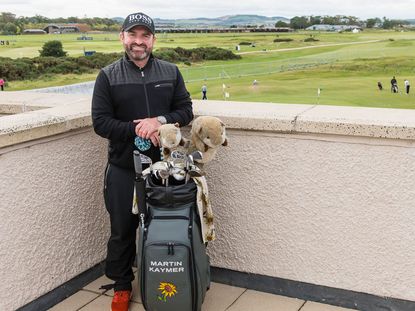 Craig Connelly may be small in stature, but he has a big reputation as a caddie. Here, Martin Kaymer's right-hand man opens up about life on the bag
The Wee Man: Craig Connelly Exclusive Interview
But for a slightly different roll of the dice 25 years ago, it could have been me rather than Craig Connelly chatting to a journalist about his successful caddying career.
I like to think so, anyway, for in 1992 I replied to an advert in Golf Weekly to caddie for Ladies European Tour professional Gillian Stewart, getting down to the last four from 200 hopefuls.
She gave it to someone else, but a few weeks later phoned again to ask if I could do a three-week stint in Europe.
By then I had taken a pro shop job and my new boss was not keen on releasing me, but occasionally I wonder what might have been.
For Connelly, a vaguely similar introduction to caddying has translated into a 22-year career carrying for a host of top women professionals before hitting the European Tour in 2004, where he has caddied for five players including Paul Casey, Monty and current employer Martin Kaymer.
But how did it all start and what did he do before picking up those famously heavy tour bags?
"The simple answer is that I'd never done anything before caddying," he tells me.
"I was 18 when I started. I was introduced to a golfer called Myra McKinley in April 1996 and at the end of April I went down to St Pierre to caddie for her.
"I'd left school in the summer of 1995, and by April 1996 I was caddying on the Ladies European Tour. The following year I was caddying on the LPGA Tour. It wasn't what I wanted to do – it just happened."
Connelly is honest, clearly loves his job and injects a healthy degree of self-deprecation into our conversation while deep down, I suspect, knowing he possesses a certain something top players are looking for.
Related: Can a European Tour caddie save club golfers shots?
I ask if he knows what that 'something' might be. He pauses to ponder before finally replying.
"People are always saying to me, 'What makes a good caddie?' First of all, I say a good player makes a good caddie. That's what makes a caddie stand out because those are the guys with all the talent, practising all hours and putting themselves right on the brink.
"I don't know what makes a good caddie, but certainly what helps in caddying is being able to adapt to a player's personality. What one person may want a lot of from you, another guy might not want anything of. It's being able to take on board what they want and running with it."
Advice or fact
When I ask what percentage of a player's overall performance might be down to the caddie, his answer surprises me, although I understand where he's coming from.
"I really don't know," he says, "but if you can add one per cent then you've done an amazing job, because 99.9 per cent of it is their talent. You can only give advice or deliver fact – it's 150 yards or playing downwind, for example. That's all you can do, but you can't make the decision for them. You can give information, but it's how they perceive that information and accept it. I would say it's 99.99 per cent them."
Would the players he has caddied for echo that? "We are out there as team," he concedes, "but those are the guys who are putting everything into it. Would they say the same? I don't know. Should they say the same? Yes, because it's all on them – they can have someone else caddie for them."
Even so, after 22 years, Connelly clearly brings plenty to the caddying table, and working for the world's best all but guarantees scores of great moments.
I want to know what the very best thing about the job is.
"Being in contention on a Sunday and having a chance to win," he comes back without hesitation.
"I've been very fortunate to stumble across the line sometimes and cruise to victory at others, but just having a chance to win on Sunday is the best thing. I enjoy the travelling, too – I don't mind living out of a suitcase and being somewhere different every week. I'm very fortunate in that I only work 25 weeks of the year and have 27 weeks off!"
"The toughest part is that no matter how hard you try, sometimes you just can't help," Connelly admits before, paradoxically, suggesting that the challenge of trying to do just that when your player hasn't got much of a game is one of the most enjoyable aspects.
"Caddying is easy when they are playing well," he tells me.
"You just fasten the seatbelt and enjoy the ride. It's when they are struggling and you feel they are getting in their own way that you have to take a step back and be that punching bag. You've got to absorb everything that they are giving you – picking them up when they are down, saying the right thing at the right time.
"When they are struggling, that's when the job can be – I wouldn't say the most enjoyable – but when they are not at it, that's when you get a kick out of it."
Business is business
Despite his aptitude for the role, Connelly has parted ways with Casey three times and current boss, Kaymer, once. I ask if that decision has always been theirs, or sometimes his.
"It's been on them," he replies with no hint of resentment.
"I always say that in the player-caddie relationship, the most important person is the player because it's their life, their profession – they are the CEO of themselves, so they have to make the important decisions.
If they don't want you to work for them any longer and think they can get more from someone else, they have to make that tough decision. They are the most important person in the dynamic."
Current boss Kaymer came to that tough decision in 2011, despite tasting Major success with Connelly at Whistling Straits in the 2010 USPGA.
When the pair reunited in 2012, Kaymer said that Connelly helped him to stop being too serious.
"It's something we spoke about the other day," Connelly nods.
"Monday through Wednesday, everyone's laughing and joking, but come Thursday, a veil comes across the range and it's serious, it's work. I get that, but sometimes, just sometimes, we forget what we're doing. We're out there doing something we love. I love caddying, he loves playing and if we can inject some fun into that along the way, fantastic."
What about those big decisions over club choice, then – who makes the final call?
"I don't make the decisions – I give him facts," is Connelly's no-nonsense reply.
"Yardage is fact, but I can't tell him to hit a particular shot because I don't know how he's feeling. Do I know Martin? Yes, I do, but you can't read anyone's mind. All you can do is deliver fact, and once I've delivered that fact, if he says to me, 'Where's the wind?' we work on it together."
As for those fabled player-caddie 'battles' over club choice you sometimes read about, Connelly feels there's only ever one 'winner'.
"Martin would win, because he has to be comfortable in what he does. He's the one who has to see the shot, feel the shot and hit the shot. But there's never a 'battle' anyway, because once you go down that road, it's a tough gig."
The beginning of the end, I suggest.
"I would say so," Connelly agrees.
"Golfers are where they are because of their talent. You're probably not the first guy to caddie for them, and they know what they are doing."
Continues below
Expand WATCH: Kaymer's Caddie And Crowd Sing You'll Never Walk Alone To Thomas Bjorn
WATCH: Kaymer's Caddie And Crowd Sing You'll Never Walk Alone To Thomas Bjorn
The European Ryder Cup Captain is making his…
Expand My day as a European Tour caddie
My day as a European Tour caddie
GM was recently given the chance to be…
Expand Who Is Rory McIlroy's Caddie?
Harry Diamond has been Rory McIlroy's caddie since…
No change in mind
Connelly still plays a little himself during any downtime, but it seems the game's frustrations are too much for him to bear sometimes.
"I have a love/hate relationship with golf," he admits.
"I get easily frustrated – I think my expectations are too high. Even when I was younger I hated practising. I didn't understand why you had to practise – if you were good enough, you were good enough… which is absolute nonsense, of course!"
As we draw to a close, the conversation, almost inevitably, turns to mistakes – things he's got away with and things he hasn't.
"Turning up every day! I get away with that!" he replies with a smile, before adding: "I don't know – there have been a few, but nothing major. Right now I can't think of one that I've got away with because very rarely do you get away with making a mistake. You would get away with it if the player gets up and down for par, but the mistake has still been made."
I like this answer, the inference being, to my mind at least, that, yes, mistakes happen, but there's little to be gained in revisiting them.
As a parting shot, I ask Connelly if he could ever see himself doing anything else as a profession.
"I turned 40 years old in April," he replies with a grin on his face.
"I first started caddying on the Ladies European Tour when I was 18, so 22 years ago now. What do you think?"
Stay in touch with Golf Monthly on Facebook, Twitter and Instagram
Jeremy Ellwood has worked in the golf industry since 1993 and for Golf Monthly since 2002 when he started out as equipment editor. He is now a freelance journalist writing mainly for Golf Monthly across the whole spectrum from courses and Rules to equipment and instruction. He also edits The Golf Club Secretary Newsletter, a highly regarded trade publication for golf club secretaries and managers, and has authored or co-authored three books and written for a number of national papers including The Telegraph and The Independent. He is a senior panelist for Golf Monthly's Top 100 UK & Ireland Course Rankings and has played all of the Top 100 plus 91 of the Next 100, making him well-qualified when it comes to assessing and comparing our premier golf courses. He has now played well over 950 golf courses worldwide in 35 countries, right across the spectrum from the humblest of nine-holers in the Scottish Highlands to the very grandest of international golf resorts, but put him on a links course anywhere and he will be blissfully content.
Jezz can be contacted via Twitter - @JezzEllwoodGolf
Jeremy is currently playing...
Driver: Ping G425 LST 10.5˚ (draw setting), Mitsubishi Tensei AV Orange 55 S shaft
3 wood: Ping G425 Max 15˚ (set to flat +1), Mitsubishi Tensei AV Orange 65 S shaft
Hybrid: Ping G425 17˚, Mitsubishi Tensei CK Pro Orange 80 S shaft
Irons 3-PW: Ping i525, True Temper Dynamic Gold 105 R300 shafts
Wedges: Ping Glide 4.0 50˚ and 54˚, 12˚ bounce, True Temper Dynamic Gold 105 R300 shafts
Putter: Ping Fetch 2021 model, 33in shaft (set flat 2)
Ball: Varies but mostly now TaylorMade Tour Response