The most famous tree in golf?
The Eisenhower Tree once stood on the left of the 17th fairway at Augusta National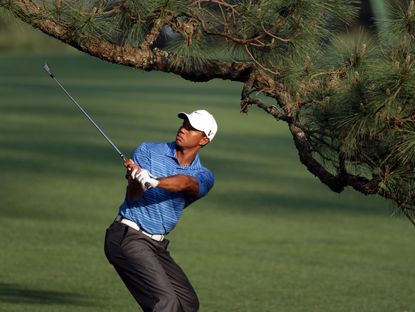 (Image credit: Ross Kinnaird)
Golf Monthly Newsletter
Golf tips and expert instruction, golf club reviews and the latest golf equipment.
Thank you for signing up to . You will receive a verification email shortly.
There was a problem. Please refresh the page and try again.
The Eisenhower Tree was probably the most famous tree in golf
The Eisenhower Tree was probably the most famous tree in golf. It stood on the left on the 17th fairway (opens in new tab) at Augusta National, 210 yards from the Masters tee.
It got its name from Dwight 'Ike' Eisenhower's strong dislike of it. Eisenhower, an Augusta member from 1948 until his death in 1969, kept hitting it. So at a meeting of Augusta National governors in 1956 he proposed that it be cut down.
Eisenhower was US President at the time.
Clifford Roberts, Augusta chairman, promptly adjourned the meeting, thus preventing a decision being made which he knew would have gone against the president.
But since that day the tree became known as Eisenhower's Tree or sometimes Ike's Tree.
It was a loblolly pine, Pinus taeda, and had reached 65ft and was reckoned to be between 100 and 125 years old when it was cut down last year. This happened because it could not be saved after a snowstorm damaged it, from the weight of ice on its bough. This was only a few weeks before the 2014 Masters. The tree was already being held together by cables.
Tributes were released on its demise as for any notable sporting celebrity.
"The loss of the Eisenhower Tree is difficult news to accept," ran the statement of Augusta National and Masters Chairman Billy Payne. "We obtained opinions from the best arborists available and, unfortunately, were advised that no recovery was possible. We have begun deliberations of the best way to address the future of the 17th hole and to pay tribute to this iconic symbol of our history – rest assured, we will do both appropriately."
Six-time Masters winner Jack Nicklaus also issued a statement: "The Eisenhower Tree is such an iconic fixture and symbol of tradition at Augusta National. It was such an integral part of the game and one that will be sorely missed."
Tiger Woods has more reason that Eisenhower to dislike the tree. In the 2011 Masters he had to play when crouched underneath it, slipped on the covering of fallen pine needles, and damaged his knee and Achilles which put him out of golf for several months.
"I've hit it a few times," reflected Woods upon hearing of the removal of the Eisenhower Tree. "It's like the cypress tree out there at Pebble, kind of that iconic landmark. I can't say some of the guys are going to miss it, but we are going to certainly see a difference, there's no doubt about that."