Miguel Angel Jimenez Q&A: On His Career, Love For Golf, Tiger Woods And More!
Miguel Angel Jimenez is currently competing in his 36th consecutive year as a professional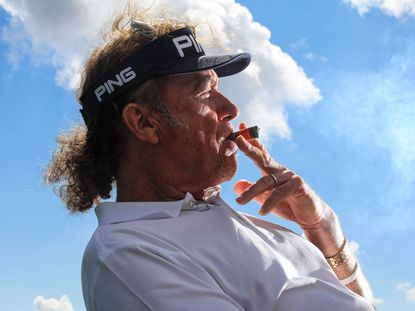 Miguel Angel Jimenez is currently competing in his 36th consecutive year as a professional. Does he still love golf? You bet!
Miguel Angel Jimenez Q&A: On His Career, Love For Golf, Tiger Woods And More!
With a cigar in his left hand throughout, Miguel Angel Jimenez runs through his inimitable warm-up routine.
There is a 50-strong crowd watching as the veteran Spaniard loosens up ahead of a special clinic to mark the opening of his new short-game facility at Las Colinas Golf Club near Murcia in Spain.
Lunging this way and that, hoisting his feet up onto his bag and bending double, there is no doubt he is playing to the crowd.
An entertainer through and through, Jimenez is just about the only sportsman who can transform the mundanity of this process into a must-watch spectacle. A combination of ohhs, ahhs and claps follow his every move.
There is only one Miguel Angel Jimenez. Born in Malaga in 1964, he came from modest means and his first experience of golf was when he worked at the 1979 Spanish Open.
Despite never having picked up a club, he turned professional four years later.
Having established himself as a solid player in the '80s and '90s, Jimenez became a prolific winner in his 40s.
As players from his own generation were fading from the limelight, Jimenez stepped onto centre stage and loved it.
He won 14 events after turning 40, including the European Tour's flagship event, the BMW PGA Championship, and played in four Ryder Cups.
Throughout his career, he has stood apart from the rest, approaching life on tour in his own way.
As golf courses got longer and the path to success became seemingly ever more reliant on power, Jimenez continued to show there was more than one way to skin a cat.
During the most successful phase of his career, he was a testament to the idea that golf is game that neatly balances the demands of the physical and mental, and that a good brain is just as important as a good swing.
Over the course of my own career, I have met and interviewed Jimenez a handful of times.
On each occasion he has been eager to underline his gratitude to the game. "I give myself to golf and golf has given me everything in return," he said back in 2009.
Quotes like this aren't in short supply. From my experience, his passion for the game is unmatched and when he talks about his love of golf, there is a determined, steely look in his eye. Of course, as soon as the camera comes out, the smile and showman return.
For our latest interview, it is the passion and determination I want to explore. Where does it come from and why is his outlook so unique among professional golfers? Here, he talks about his unusual path into the touring ranks, his respect for the game's greatest players and his views on the evolution of the sport.
Miguel Angel Jimenez Q&A:
Tell us about how you got into the game of golf…
It was in 1979. I worked at the Spanish Open at Torrequebrada on the driving range, giving the golf balls out to the players and collecting them from the range. It was where everything started. It was the first time I had seen any of the players like Seve. So after that I started to play and what I liked about golf was that you really get to know yourself. The more you give to it, the more you get back.
Just four years later you played your first European Tour event – the Spanish Open in 1983. How did you reach that level so quickly?
I was caddying and playing from sunrise to sunset in the early days because that was what I needed to do to survive. We were poor people, we needed to eat, so I stopped school when I was 15 and started working as a caddie and collecting balls on the driving range. That was when I started to play and learn about golf too. I would watch the people play and then I started doing the same with my brother. I had to practise hard to become a professional in that time as well. It was everything to me so I spent all day practising things. When you are young, you have no fear, but my long game was probably the best part of my game.
Tell us about those early days on the European Tour…
I spent some time in the army and that finished in 1985. Then I wanted to focus on golf – to practise and play. I got my tour card in 1988 at La Manga and so 1989 was my first year on tour. It was very different to how it is now, that's for sure! When I started there were no golf balls on the range or courtesy cars. You see all the improvements coming through the years, no?
What can you remember about the 1992 Belgian Open, your first win?
I played with Nick Faldo when he was pretty much at the top. It was very important for me to have that victory because I proved to myself that I could win. It was very nice because Seve was there too and my English, as you can imagine, was not so good. I asked him what I should say and he replied, "Whatever you say is good, it doesn't matter. You are the winner, which means you are the boss today. Say whatever you want." It was funny.
Expand 6 Of The Best Miguel Angel Jimenez Quotes
6 Of The Best Miguel Angel Jimenez Quotes
Here we take a look at six of…
Expand Lee Westwood Q&A: 'I Want To Be 2022 Ryder Cup Captain'
Lee Westwood Q&A: 'I Want To Be 2022 Ryder Cup Captain'
The Englishman reflects on a brilliant career, assesses…
Were you ever intimidated by the likes of Faldo or Seve?
I played with Seve in the 1989 French Open in Chantilly and I remember the first four holes. I think Seve started with par-bogey-bogey-par and I started with par-birdie-birdie-par, and we were sitting there on the par 3 waiting for the group in front on the green. I started thinking "something's not right here". I was playing with Seve, my hero – he was two-over-par and I was two-under-par. My mind got away from the golf and it was a learning process. I wasn't intimidated by those players, but I did respect them. I played with Jack Nicklaus for the first time in the 1994 Andalucian Open at Montecastillo in Jerez. I was playing with Nicklaus, who was the best player in the world, and Seve, who was the best player in Spain. I remember warming up and I couldn't hit the ball! I was duffing it. I felt nervous that I was going to be playing with those two guys. We got to the first tee and I tried in English to say, "It is an honour to play with my idol, Seve, and the best player of all time, Nicklaus. Thank you very much." I exhaled. "I hope I can play now," I thought!
Most of your wins have come later in your career. Why?
Everything happened later for me. I started playing golf late and experience means a lot. You also need passion, belief, to be yourself and enjoy what you are doing in life. All these things make you a winner.
If you had to pick one win as your career best, which would it be?
I don't want to pick one – I want to pick all of them! The first one was nice, especially playing with Faldo in the last round. I won the Andalucian Masters in 1999 in Malaga with all my family and my friends there. But you know, it's not fair to pick one because all of them are beautiful moments. It's nice to have a choice!
You are now getting into course design. What can people expect from your courses?
I think you need to respect the natural environment around you and not interfere with it too much. Of course you need to do things – put buggy paths in, for example – but keeping it natural is one of the main things. My game is more based on strategy and being able to place the ball in the right areas. Of course, I will put longer holes in there too because you need a balance, but my courses will be more strategic than anything else.
Which do you prefer: golf in 1983 or golf in 2017?
Well, I grew up with the old one. There was more skill involved – more moving the ball and feeling things. Being on tour was different then, too. There was no internet! Now they play, go back to the hotel, have room service and play computer games. They also have access to a lot more information. We had to learn things like the psychology ourselves. If you need some information now, you open your phone and go to Google. We had to learn it over the years. But also in the early days we were not training as hard as they are now; we were not athletes. Golf has also got a lot bigger now. There are players from all over the world competing on tour and every week you can have a different winner. Why can't I choose something in the middle? I like a little bit of everything!
In the future, can you imagine anyone ever dominating golf like Tiger Woods did?
It will be difficult to find another Tiger Woods. I don't want to compare anyone to Tiger because everyone has their own character. One thing I would say is that the charisma and attraction Tiger has, you can't find in any other player. Tiger is Tiger. What Tiger did is not going to be easy to replicate because you have so much more competition nowadays.
Do you still love golf just as much as you ever did?
If not, I would not be here. I love it and it is what I wanted to do in my life. It's what I've been doing all my life and what I want to keep doing, and I will carry on competing as long as I'm still enjoying myself on the golf course and I feel competitive. If somebody had said to me when I was at the Spanish Open in 1979 that I would one day be here with 20 or however many tour wins, and that I would make so much money playing golf, what would I have said? What do you think?
In his current role, Neil is responsible for testing drivers and golf balls. Having been a part of the Golf Monthly team for over 15 years and playing off a handicap of 3, he has the experience to compare performance between models, brands and generations. For 2022 he thinks the main trend in drivers is: "In a word, consistency. Whilst all the brands are talking about ball speed (and the new drivers are certainly long), my biggest finding has been how much more consistent the ball flights are. Mishits don't seem to be causing the same level of drop-off or increase in the spin numbers. This means that more shots seem to be flying the way you want them to!" As far as golf balls are concerned the biggest development is in the, "three piece, non-Tour, urethane-covered section. For regular golfers, these models offer superb performance at both ends of the bag without denting your wallet quite as much as the premium Tour-played options."
Originally working with the best coaches in the UK to produce instruction content, he is now the brand's Digital Editor and covers everything from Tour player interviews to gear reviews. In his time at Golf Monthly, he has covered equipment launches that date back well over a decade. He clearly remembers the launch of the Callaway and Nike square drivers as well as the white TaylorMade driver families, such as the RocketBallz! If you take a look at the Golf Monthly YouTube channel, you'll see his equipment videos dating back over a decade! He has also conducted 'What's In The Bag' interviews with many of the game's best players like Rory McIlroy, Dustin Johnson and Jon Rahm. Over the years, Neil has tested a vast array of products in each category and at drastically different price-points.

Neil is currently playing: Driver: TaylorMade Stealth Plus Fairway Wood: Titleist TSR2 Hybrid: Titleist TS3 Irons (4-9): Mizuno JPX 919 Forged Wedges: Titleist Vokey SM7 46˚, 50˚, 54˚, 60˚ Putter: Odyssey Triple Track Ten Ball: Titleist Pro V1X