Lee Westwood Q&A: 'I Want To Be 2022 Ryder Cup Captain'
The Englishman reflects on a brilliant career, assesses his current form and looks ahead to possible Ryder Cup captaincy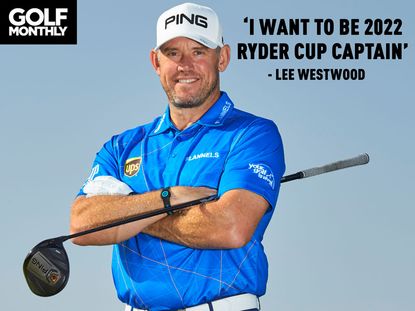 Lee Westwood has been at the forefront of European golf for decades. Here, he reflects on a brilliant career, assesses his current form and looks ahead to possible Ryder Cup captaincy
Lee Westwood Q&A: 'I Want To Be 2022 Ryder Cup Captain'
Lee John Westwood is now 44 years old and has just embarked on his 25th consecutive European Tour campaign.
His very first event was the Madeira Island Open in January 1994, where he finished T19th.
He would go on to make 12 consecutive cuts after that, setting an immediate benchmark for the impressive consistency that would become the hallmark of his career.
One or two minor blips apart, he's never really looked back.
Indeed, over the past quarter of a century, Worksop's finest – one of England's most popular players – has done very well indeed.
He has won 23 times in Europe, twice on the PGA Tour and 42 times in total around the world, including four victories in Japan and a perhaps surprising nine elsewhere in Asia.
He has topped the Order of Merit twice, including the inaugural Race to Dubai in 2009, represented Europe on ten successive Ryder Cup teams from 1997 to 2016 and spent 22 weeks at the top of the Official World Golf Ranking.
The only thing missing from his impressive CV is, of course, a Major, though he has come agonisingly close, with three runner-up finishes – perhaps most famously at Augusta in 2010, where he led heading into the final round, only for Phil Mickelson to turn on some real Sunday magic.
I met up with him in Dubai to reflect on his career, to find out if he's still as driven as ever and to learn what he still wants to do in the game…
You've been on tour for 25 years – are you still as motivated as ever?
Yeah, I think so. As you get older you get different priorities and your body changes, so you can't work as hard as you once did. So you have to prioritise your practice and work on different things – maybe work on your fitness and flexibility and things like that, rather than stand on the range bashing balls for hours on end like the 20-year-olds! I work more on my putting and short game now.
Have your goals for the year changed as you've got older?
I haven't set goals for ages, to be honest. I've achieved a lot in my career. Some years I've set goals and some years I haven't, and I've never really found it either beneficial or negative.
What do you need to achieve to make 2018 a good or great year?
I think just enjoying my golf more and getting into contention more. I haven't played well and hit it so well the last couple of years. If I can hit it better and feel like I've got more control and can do everything just a little bit better technically, then I know that will improve my results so it will have been a good year.
Which part of your game has improved most since your early days on tour, and is there any part that you feel was perhaps better when you first came out than now?
I think mentally when you're younger there's less going on in your head and you've been through less stuff. So I guess mentally I was stronger in my 20s probably, but I don't know as it's not something you ever really analyse! But you would think that you've had fewer bad experiences and you just have a different outlook on life in your 20s as opposed to your late 30s and early 40s, I suppose. But my short game is way better than it used to be. As I've got older, I've worked more on my short game and learned the right technique, and it's better than it was, certainly in my early 20s.
Expand 20 Of The Best Golf Quotes Ever
20 Of The Best Golf Quotes Ever
Great golf quotes from Hagen, Hogan, Snead, Trevino,…
Expand Lee Westwood Picks 11 Winners At Cheltenham
Lee Westwood Picks 11 Winners At Cheltenham
The former world number one is on a…
Expand Best Compact Mid-Handicap Irons
Best Compact Mid-Handicap Irons
A look at a selection of the best…
Did you have short-game lessons when you were younger?
Yeah, but I couldn't grasp it. That's not to say it was bad, but I've just got a better variety of shots now.
What have you learned most from your 25 years on tour?
Well, you travel the world a lot, but you don't see a whole lot of it! Generally speaking you just see airports, hotels and golf courses. That's not to say it isn't a brilliant lifestyle. I've learned over the years to use my intuition and not to be afraid to make decisions and use my initiative.
Which quality of yours do you think has been your biggest asset in all your years on tour?
I think my mental approach to it, and my work ethic really. I would say I was probably one of the hardest workers until recently.
If you could keep just one from 42 pro wins, two Orders of Merit or ten consecutive Ryder Cups, which would you keep?
The 42 wins I would think.
You've won all over the world, including nine times in Asia. Is there something that suits your game over there?
No, I've just always felt comfortable over there playing on those greens and have just embraced the culture and everything about it.
How would you rate your chances of making it 11 Ryder Cups?
I don't know. I'll have to start hitting the ball a little bit better and playing a bit better, but I know that if my game is on and I start making putts, I can still win any week I play. And that's what qualifying for the Ryder Cup is all about now – you have to win tournaments. You have to be consistently winning and finishing in the top three.
It's obviously on your radar then. Is making the Ryder Cup team the main goal for this year?
No, not really. I've never thought about qualifying for Ryder Cups.
But you've generally never had to, have you?
Well, no. The Ryder Cup comes as a consequence of playing good golf, so why think about 'Z' when you've got to accomplish 'X' and 'Y' before that? So you think about 'X' and 'Y' and then 'Z' comes along.
You are pretty much odds-on to be captain one day…
I'd like to be, yeah.
Do you have a target year in mind?
I'd like to do Italy in 2022.
What style of captain would you be?
I've played under ten different captains, so I've seen a lot of what the different captains have done. I think the captain's role is just to get the players in the right frame of mind and comfortable, and just able to focus on their own thing for that week and take everything else out of it. It's a hectic week, and you want to put as little mayhem on the players as possible – you want to try and take all of that off them, and then obviously get your pairings right.
What has been your most extravagant purchase after a win?
I don't know whether I've ever won a tournament and gone out and bought something. I've been lucky – I've played well and consistently well over the years, and obviously in the early days I was a lot more careful with money. But as you accumulate it, you tend to just buy something when you fancy it [laughs]. I didn't think, "Oh, I'll buy a Ferrari if I win a tournament." I just bought a Ferrari because I wanted one and I could afford it!
Which is perfectly reasonable…
Exactly! Why limit yourself.
Make sure you follow Golf Monthly on Facebook, Twitter and Instagram
Jeremy Ellwood has worked in the golf industry since 1993 and for Golf Monthly since 2002 when he started out as equipment editor. He is now a freelance journalist writing mainly for Golf Monthly across the whole spectrum from courses and Rules to equipment and instruction. He also edits The Golf Club Secretary Newsletter, a highly regarded trade publication for golf club secretaries and managers, and has authored or co-authored three books and written for a number of national papers including The Telegraph and The Independent. He is a senior panelist for Golf Monthly's Top 100 UK & Ireland Course Rankings and has played all of the Top 100 plus 91 of the Next 100, making him well-qualified when it comes to assessing and comparing our premier golf courses. He has now played well over 950 golf courses worldwide in 35 countries, right across the spectrum from the humblest of nine-holers in the Scottish Highlands to the very grandest of international golf resorts, but put him on a links course anywhere and he will be blissfully content.
Jezz can be contacted via Twitter - @JezzEllwoodGolf
Jeremy is currently playing...
Driver: Ping G425 LST 10.5˚ (draw setting), Mitsubishi Tensei AV Orange 55 S shaft
3 wood: Ping G425 Max 15˚ (set to flat +1), Mitsubishi Tensei AV Orange 65 S shaft
Hybrid: Ping G425 17˚, Mitsubishi Tensei CK Pro Orange 80 S shaft
Irons 3-PW: Ping i525, True Temper Dynamic Gold 105 R300 shafts
Wedges: Ping Glide 4.0 50˚ and 54˚, 12˚ bounce, True Temper Dynamic Gold 105 R300 shafts
Putter: Ping Fetch 2021 model, 33in shaft (set flat 2)
Ball: Varies but mostly now TaylorMade Tour Response