How To Clean Golf Clubs And Grips
If you want to know how to clean golf clubs and grips, check out this handy step-by-step guide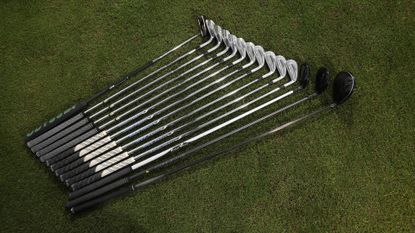 (Image credit: Kevin Murray)
If your clubs have been gathering dust and still have last round's mud and dirt on them, now is the time to clean them and get them as close to brand new as possible. Let's face it, a clean set of clubs in the bag is a beautiful site and of course there are clear performance advantages too, especially when it comes to removing dirt from grooves.
So then, what is the best way to clean your clubs? Well that is where the information below comes in.
There are several ways you can clean your golf clubs, from making the most of vending machine style devices found at modern driving ranges, to a good old fashioned bucket of soapy water in your back garden.
RELATED: How to regrip golf clubs
Of course, we should also mention that you should be cleaning clubs as you are playing. When playing from a muddy lie, it is worth getting something to clean your grooves after the shot and a towel (opens in new tab) to wipe the dirt away, too.
WATCH: How To Clean Golf Clubs And Grips
What will you need to clean your golf clubs?
To clean your golf clubs we recommend you start with a simple plastic bucket, but a bathroom or kitchen sink will do the job just as well. You'll also need lukewarm water, a splash of washing up liquid, an old towel, and a brush of some sort - an old toothbrush, nylon brush or a brush with plastic bristles will do the job.
Step 1
Squirt a little washing up liquid into your bucket or sink and fill it with enough lukewarm water to cover the heads of your irons without the water coming up over the ferrules if possible. Be careful you don't run the water too hot, as you could risk loosening the ferrules, which join the shafts to the heads.
Step 2
Set the bucket down (ideally outside if possible) and place your irons and wedges in with the clubheads submerged and allow them to soak in the warm water for a few minutes to loosen any dirt in the grooves. For the time being leave your woods and putter out of the water.
RELATED: 24 Essential Non-Club Items You Need In Your Golf Bag
Step 3
After a few minutes soaking time, take each club in turn and use an old toothbrush, nylon brush or sharp tee peg to clean out the individual grooves. This is the most important step in cleaning your clubs, as removing dirt and debris from the grooves will help increase surface area contact with your golf ball at impact, which is how the grooves impart spin to give you added control.
Step 4
Once the grooves are clean, run the brush across the sole of the iron and over the back of the clubhead, removing any mud, sand and grass.
Step 5
Once all the mud has gone, use a hose or tap to rinse off the clubhead, checking the removal of any suds hasn't revealed any remaining dirt. Next use your old towel to dry off the clubhead and give the shaft a quick wipe down to ensure it doesn't go back into your bag wet.
What if my irons are forged?
If you play forged irons you should favour a soft nylon brush, but otherwise you can follow all the steps above. If your forged irons start to show signs of rust, made possible when the mild carbon steel becomes exposed during a shot that chips their chrome plating, you can spray the surface with WD-40 and clean them with a nylon brush.
RELATED: Best Golf Blade Irons
It is also worth cleaning them in a bucket as opposed to a sink as contact with the sink could leave a little mark. Once you've done this, make sure you wipe them clean with a dry cloth.
Cleaning your driver, fairway, hybrid and putter
Unlike your irons ands wedges, you shouldn't submerge these clubs in water. Instead, either dip them in and out and rub down with a cloth, or use a wet cloth to wipe them over. Then dry them thoroughly.
Cleaning your golf club grips
While you're thinking about cleaning your golf clubs, don't neglect your grips. First off, if you don't clean your grips periodically, they will get slick, which can adversely affect performance on the golf course. Additionally, without regular cleaning, your grips aren't likely to last as long. And finally, slick, dirty grips will certainly create less value in your clubs should you ever want to trade them in.
The easiest way to clean your golf grips is to wipe them down with a moist cloth, then dry them gently with a towel. This removes surface dirt and grime, and only takes a few minutes.
Added Golf Pride development engineer Sara Bryant: "You can just use your hands and use soap and water and rub (them) down. You can use a cloth but never rub too much because you're going to actually start to physically wear the grip depending on your pressure. You can use a soft toothbrush if you want to get into those grooves but never use anything abrasive or harsh."
We also asked Bryant for her thoughts on what golfers can do to make their grips last longer. After all, a full set of re-grips can be a pricey proposition. Bryant's advice centered on golfers doing all they can to keep their grips clean and not subject their grips to prolonged heat.
"Wash them, clean them. Keeping them in the bag; that's (also) good," Bryant said. "If you do like to keep them in the car, pull your car in the garage so that it's at least a little bit more of a controlled environment. And you never want to leave them in the sun too long.
"Bringing them in the house in a temperature controlled environment, that's always good, because if you leave them in the car in the heat that changes the material, just because it is rubber. Rubber is a natural material. If you heat it up it might get a little gummy. It's never going to get to the point of things rubbing off on the grip, but heating up and cooling down can change the durability of material."
A golfer for most of his life, Sam is a Senior Staff Writer for Golf Monthly.
Working with golf gear and equipment over the last five years, Sam has quickly built outstanding knowledge and expertise on golf products ranging from drivers, to balls, to shoes.
He also loves to test golf apparel especially if it a piece that can be used just about anywhere!
As a result he has always been the one family and friends come to for buying advice and tips.

He is a graduate of Swansea University where he studied History and American Studies, and he has been a part of the Golf Monthly team since December 2017. He also previously worked for World Soccer and Rugby World magazines.
Sam now spends most of his time testing and looking after golf gear content for the website. He also oversees all Tour player content as well.
Unfortunately, Sam is not a member of any club at the moment but regularly gets out on the golf course to keep up the facade of having a handicap of five.