Darren Clarke: Captain Fantastic
Paul Mahoney talks to European Ryder Cup skipper Darren Clarke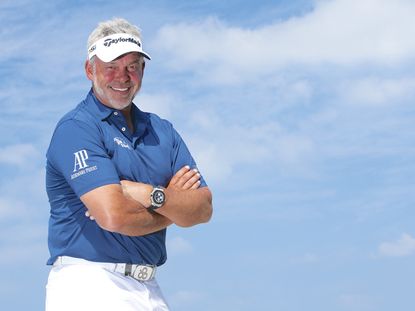 Paul Mahoney talks to European Ryder Cup skipper Darren Clarke about the upcoming battle, his preparation, Davis Love III and selection dilemmas
There are three Darren Clarkes. The one the public loves is the cigar-chomping, wise-cracking, Guinness-swigging Northern Irish cliche. The sort of fella you imagine meeting in a bar and becoming best mates with.
Clarke plays to this persona. It works perfectly in front of a television camera, transporting his charm into your front room. Thousands cheered and chanted his name as he downed a pint of the black stuff on the balcony of the clubhouse at the K Club in 2006 after Ian Woosnam's team had won the Ryder Cup. You won't see this Clarke at Hazeltine in September, although he may make a late appearance at the end of the week behind the closed doors of the team room.
There is also the short-fused, impatient, having-a-bad-day-get-me-out-of-here Darren Clarke. The sort of fella that can cut down the deliverer of a perceived ill-timed, inappropriate request with a short, sharp dismissal. There can be few reporters that haven't at one time felt the lash of Clarke's tongue and been sent on their way. For years, there was a myth that he kept a little black book filled with the names of those he believed had wronged him.
Related: Darren Clarke swing sequence
Once in it, you were excommunicated. Clarke encouraged the myth. The book, he revealed a few years ago, was only in his head. But the names of the blacklisted were real enough. Clarke can be your best friend or your worst enemy. His rugby player's frame can be a cuddly teddy bear or a gorilla with a sore head. You won't see this Clarke at Hazeltine. His temper has chilled over the years; grudges are no longer harboured. He is working hard to keep himself happy, and everyone else happy, during the demanding days of his tenure as Ryder Cup captain.
The Darren Clarke few outside the game know is the workaholic. This is the Clarke that will lead Europe's team at Hazeltine. He sometimes gives the impression he's too laid back and doesn't really care. He cares. To the point of being obsessed. The 47-year-old is one of the hardest working players on tour. He's a dawn-to-dusk range rat. "He will leave no stone unturned," said Padraig Harrington of Clarke's preparation for the Ryder Cup.
'One unit, one team'
Clarke was asked in 2010 to define his role as one of Colin Montgomerie's vice-captains at Celtic Manor. "I'm in charge of the Guinness," he said. "Ah, that was a joke," Clarke says when reminded of that on the patio of the Emirates Golf Club on the eve of the Dubai Desert Classic. Of course it was a joke. That was just Clarke playing to his man-of-the-people persona. It's different now. "There's a lot of responsibility on the captain's shoulders. A lot of things that happen during the week will be down to my decision. I don't want to get them wrong," he says. "It's a catch-22. You can be the best captain in the world and lose or an awful captain and win. That goes with the territory."
Being captain is occupying Clarke's every waking hour. Every sleeping hour, too. "Yeah, I'm thinking about a lot of things right down to the smallest details. I'm not quite what a lot of people think I am. I put an awful lot of effort in." This time, Clarke really does have a little black book. "I wake up at night with ideas and write then down," he says. "Some of them are great and some are stupid. Probably the majority are stupid. I write everything down. Bits and pieces. In the notes page on my phone, too. There's nothing more powerful than the written word. Information is king," he says.
"I'm absorbing as much as I can. I'm going to do my best, within my powers, before we get there. I'll try to deliver all the best bits from all the Ryder Cups I've been involved in." He's not going to be quite the micro-manager that 2014 captain Paul McGinley was, however. Will there be blue fish in the team room like McGinley organised? "Well, there's a place for everything," he says, sounding unconvincing. Is he bothered about the team colours? "Yeah, to a certain degree." He's not bothered.
What about a guest speaker? McGinley invited Sir Alex Ferguson. Steven Gerrard? "I haven't spoken to him," he admits. Clarke is a Liverpool fan. Kenny Dalglish? "I have a few people in mind," he grins. Ireland rugby players? "Got a few people that I'm sure a few words of their wisdom wouldn't go amiss. I'm keeping it under my hat. But good try," he says.
Clarke's enthusiasm for the Ryder Cup pours forth. He's revelling in his role and, well over a year into his captaincy, he still loves talking about September's match against the USA. His motto is 'One unit, one team', he says. "That's the way we have to be. If we want to compete and have a chance to win, we all have to be reading off the same script because they are going to be very strong. They are going to be loud. They are going to be patriotic. But that's the Ryder Cup, that's the way it is. Bring it on. We need a huge bond, a huge unity. You need it in every match, but in an away match maybe just that little bit extra."
While trying not to give too much away, Clarke pauses before offering up some of the ideas from his notebook. "The caddies are doing 36 holes a day so that's hard for them, as well as the players," he says. "Now the players have physios, so I'm thinking of getting some for the caddies if they want a ten-minute rub down. That's never happened before." He has upgraded the caddies, an important group that is often underestimated. "In the EurAsia Cup, all the caddies were in the team room as well. That helped us all feel as one," Clarke says. He was captain of the European team that thrashed Jeev Milkha Singh's Asians in January. "My big thought going to America is that in previous Ryder Cups, the caddies have been in the team room to a certain degree, but have had their own place outside it, too.
"But my whole thought for Hazeltine is 'One unit, one team'." There's that rallying call again. "I'm going to be dealing with 12 very successful individual athletes and they've all got their way of doing things. Some are a bit more relaxed than others. Some are more intense. Some will want to work with their coach every day," he says. "Simply trying to figure out what is best for everybody is an art in itself."
Selection dilemmas
There is a new generation breaking through and already winning tournaments. Some of them will make it into Clarke's team. So he's been getting to know the 20-somethings such as Andy Sullivan, Matt Fitzpatrick, Thomas Pieters, Danny Willett and Chris Wood and playing in tournaments with them. He's been digesting a 48-page dossier, too, compiled by statistics experts The 15th Club, which has been breaking down the strengths and weaknesses of all potential team members. "The EurAsia Cup in its own right is going to get bigger, but for trying out a few potential Ryder Cup partnerships, it was a wonderful opportunity," Clarke says.
All of which leaves stalwarts such as Ian Poulter and Lee Westwood under threat. The Englishmen were picked as wildcards for the EurAsia Cup to share their experience with the rookies and to give them an opportunity to show Clarke that they still have 'it'. Both won all their matches, but the captain's message was clear. They have to improve.
"Neither of them is going to get picked for the Ryder Cup because they played brilliantly in the EurAsia Cup," Clarke says. "They are experienced and thrive on match play, but like anyone else, they need to qualify, and if they fall outside the rankings, they are at the mercy of the captain's picks. Because they are good mates of mine, does that mean I am going to pick them? No. The team and the Ryder Cup are bigger than picking mates. The people I end up picking will be players I think are going to add to the team in whatever way I see fit. It's not an old pals' act as some have suggested."
The only old pals' act that will happen at Hazeltine is Clarke's friendship with US captain, Davis Love. "Davis, as a man, you couldn't wish to meet a better person," Clarke says. "I have a huge amount of respect for him and I think the feeling is mutual. We've played a lot of practice rounds together. We've played against each other in Majors and Ryder Cups. Davis has been there for me during tough times. He waited behind for me when I won the Open at Royal St George's. Davis is Davis. He's a wonderful man," Clarke adds. "He will do everything within his powers to make sure they try and win the Ryder Cup this time. I wouldn't expect anything less of him. But he won't try anything underhand and nor will I."
Clarke is also an old pal of Tiger. "Knowing Tiger like I know him, he will be doing everything he can to qualify for that team," Clarke says. "People have written him off, saying he has no chance, but there is nothing that would surprise me about Tiger." Love has already announced that Tiger will be a vice-captain at least. He could well be the first to play and be vice-captain. "Either way, as long as he is there," Clarke says. "Because every tournament I've ever played through my career, if Tiger Woods has been a part of it, it has been a better tournament."
The scenario was put to Clarke of Rory McIlroy versus Jordan Spieth in Sunday's singles with the result of the Ryder Cup on the line. "Yeah, what do you want for Christmas?" he smiles. "At the end of the day, with all the hype, while it is a massive sporting event, sometimes there is a little too much of it.
"There's a lot of pride and history and passion. And both teams will do their best. I have played on five Ryder Cups and been vice-captain in two, and I've only been on one losing side – at Brookline in 1999. I know what it's like to win and lose. The winners will be the ones who hole the most putts. It's a game of golf between Europe and America," he says. "It ain't life or death."
Getting the right balance
It has been five years since Clarke won the Open. "The way I'm playing at the moment, it feels like 20," he says. "I'm working harder than ever. But I've been playing poorly because I've been trying so hard. And that would be one of my worries about the Ryder Cup. I want to do everything right, but if I try too hard I'm going to make more mistakes. It's frustrating trying to balance things between my responsibilities as captain and still trying to compete."
So the Ryder Cup is messing up Clarke's day job. "It's been messed up these past few years anyway. But it's not helping it," he says. "But I do not do mediocrity, nor do I do excuses. At the end of the day, it comes down to me."
What will be Clarke's style of captaincy and what will be his legacy? "There are things that I am going to have to do as captain that will be difficult," he says. "Telling four guys they are not playing being one of them. But if the guys are relaxed, it will pay off. It certainly worked at the EurAsia Cup. A few of the young guys took the mickey out of me and I did the same to them. I have no problem with that.
"I've been in teams where it's all been deadly serious, which it is, but it just makes you more stressed. My team will be competitive, but will play with respect. At the end of the week, Davis and I will have a beer together," Clarke concludes. "That's the way it's going to be."
Photography: Paul Severn, Getty Images
David joined Golf Monthly in 2015 as a content editor for the magazine and regularly contributes to the website. He has worked in magazine publishing and editing since 2003. He is a keen golfer and up until recently was a member of Blackmoor Golf Club in Hampshire. He has covered various big events and tournaments for GM, the highlight of which was witnessing Tiger Woods win his 15th Major at Augusta in 2019. Email: david.taylor@futurenet.com