Dan Walker on Golf: Talking to Tiger
I've lost count of the times people have asked me about interviewing Tiger Woods, but when you think back to how good he was at his peak, it's not surprising we're all still so fascinated.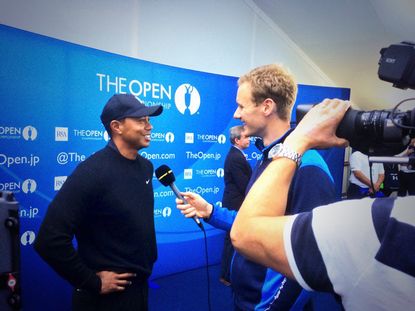 I've lost count of the times people have asked me about interviewing Tiger Woods, but when you think back to how good he was at his peak, it's not surprising we're all still so fascinated.
Dan Walker On Golf: A Talent Like No Other
First up, thank you for such a lovely response to column number one. A good friend of mine did text me to say he was cancelling his subscription when he heard I'd been signed up but I've seen him since and he said he "almost enjoyed it", which I'm taking as a glowing compliment.
I love talking golf and whenever I get collared about the sport there are normally three questions that quickly arise: 1) Who is the best golfer you've played with? 2) How far do you hit it? and 3) What is Tiger Woods really like?
I may deal with one and two in a later column but I'd like to take this opportunity to address number three. I'm sure you, like me, have read hundreds of articles about the man and watched thousands of hours of him on TV. I've had the opportunity to interview him several times but I'm not sure there are many in golf – outside a select circle – who can tell you what he's 'really' like. I'm certainly not one of them.
Related: Tiger Woods' greatest triumph
We all know he's a machine who, at the turn of the century, was playing golf from a different planet, but it's the enormous career and life ups and downs which make him so fascinating.
For years he was close to a golfing robot. We got used to the occasional fist-pump but the tears after his victory at Hoylake in 2006, following the death of his father, were a rare window into the inner workings of Woods.
I followed him round Royal Liverpool for three of his four rounds that year as he hit 2-iron after immaculate 2-iron.
I was lying down in the rough as he eagled the 14th on Friday with a perfect second shot from 209 yards.
One of his playing partners was Nick Faldo that week. I spoke to him after round one and he said he'd asked if his son Matthew – who was caddying for him – could have Tiger's driver as a memento because he clearly didn't need it. Woods only used it once that week and I remember standing behind him on the range on the Saturday morning as he pummelled his 2-iron time and time again no higher than a double-decker bus and the length of the Dee Estuary. Ernie Els stopped, watched him hit four or five, laughed, and went to concentrate on his own game.
There was no denying the raw talent. I firmly believe that if he could ever get back to 75 per cent of the golfer we saw ten-plus years ago then he would have a chance to add to his 14 Majors. I would love to think that is possible because it would be great for golf, but the body which was once able to harness that swing has long since let him down.
It's never a good idea to tell him that though. The last time I interviewed him I asked if he genuinely felt a 15th Major was possible. There was a long pause. He raised his eyes to meet mine and touched the brim of his cap... "If I didn't believe I could win I wouldn't be here."
Related: Tiger Woods wins the US Open by 15 strokes
The first time I sat down with him I introduced myself but he must have heard 'Don' and dropped it in during the interview and at the end. The crew found it very funny and I became 'Don' for at least a few months.
I always found his press conferences fascinating. In his prime, it was standing room only and filled with stock phrases like "getting it done" and "it's gonna be fun". The one-on-one interviews were often prickly and always preceded by a stern word from his manager about timing and content. I love being in that sort of situation and would always try and get him to say something different.
It's so easy to be intimidated by either Woods himself or his 'people' but ten years of going toe-to-toe with Sir Alex Ferguson was the perfect preparation. Woods is definitely more death stare than hairdryer.
Related: Tiger Woods What's In The Bag?
Whether we ever see Woods peak again is another debate but we shouldn't forget just how good he was. These are my favourite Tiger stats:
Woods has spent 683 weeks as World No. 1. That equates to over six years more than any other player.
From 1997 to 2008 Woods was a combined 126 under par in the Majors. There are 138 other players who played at least 40 rounds in Majors in that time. Tiger was 189 shots better than anyone else.
From 2002 to 2005, Woods had 1,540 putts from inside three feet on the PGA Tour. He only missed three of them. I miss three of them every nine holes!
I know it's never a good idea to dwell on the past but, in Tiger's case, the past is so good it's worth taking a moment.
You can see Dan on BBC Breakfast Mon-Wed or every Saturday on Football Focus. You may also find him on a golf course... probably missing a four-footer
The leading website from the world's oldest golf magazine, we're the go-to destination for amateur and keen golfers alike who are keen to up their golfing game. As well as expert course reviews, news and tips to improve your handicap our golf-focused travel content will help you pair teeing off with your travels in some of the best destinations around the globe.