Tiger Woods wins the US Open by 15 strokes
Alex Narey looks back on Tiger Woods' emphatic victory at the 2000 US Open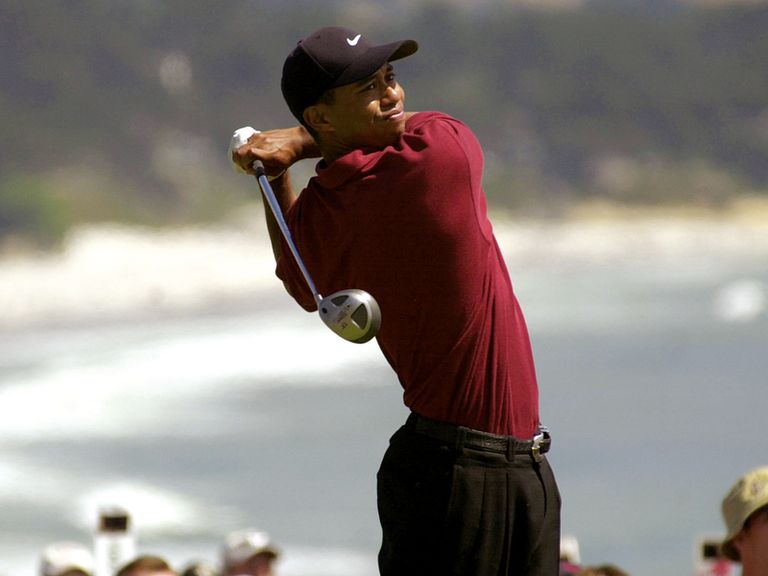 Golf Monthly Newsletter
Golf tips and expert instruction, golf club reviews and the latest golf equipment.
Thank you for signing up to Golf Monthly. You will receive a verification email shortly.
There was a problem. Please refresh the page and try again.
The US Open came to Pebble Beach in 2000 – where Tiger Woods' domination of the game was seen at its brutal best
It has long been a tournament that protects par as a symbol of its heritage. Considered the toughest Major to win, its chaotic defences are symbolised by penal rough and single-lane fairways.
Where the US Open is concerned, the USGA's order is clear: to find the best golfer on the planet. Come the third week of June 2000, there could be no clearer definition of that during the 100th instalment of America's national championship.
Indeed, while Tiger Woods tamed the rugged Californian coastline of Pebble Beach, the rest of the field simply played second fiddle for second place. Twelve-under-par played the three-over posted by Miguel Angel Jimenez and Ernie Els – a 15-stroke victory highlighting the gulf between one man and his rivals.
Such was Woods' form that from the moment he took the lead during the opening round, records were to be his only obstacle. They came thick and fast, including the first player in the event's history to finish in double figures under par, and a margin of victory that beat the previous Major record of 13 strokes held by Old Tom Morris at the 1862 Open Championship.
Fifteen years on, Woods' legacy in the game is not yet fully defined. But it was during this annihilation of both course and field that his superlative prowess was truly first recognised. "If you were building the perfect golfer," mused Mark O'Meara, "you would build Tiger Woods." Quite.
IN THE ZONE
So it was business as usual; four PGA Tour wins from ten starts had set Tiger Woods up well in preparation for the 2000 US Open. Top of the US Money list, top of the world rankings, the reigning USPGA champion also arrived on America's west coast on the back of a first-place finish in his previous event at the Memorial Tournament.
The 100th US Open at Pebble Beach would be Woods' 81st outing on the PGA Tour. From his 80 starts he had won 20 times – a quite staggering statistic for a man of his 24 years. Come the season's second Major, his intentions were clear, and prior to the tournament, the world No.1 had spent an intensive three-day session with his coach, Butch Harmon, preparing for his assault on the vicious shoreline set-up at Pebble Beach.
Butch Harmon: "We had spent some time working on a few things, but it was really just ironing out a few issues here and there. We just had to shape some shots, curve the ball a bit to how it would play out there."
EYES ON THE PRIZE
On the eve of the tournament, Woods' almost monotonous focus had caused controversy when he chose to play a scheduled practice round instead of attending the Wednesday memorial in memory of the late Payne Stewart.
The reigning US Open champion, who had won the 1999 tournament at Pinehurst in such thrilling fashion, had tragically died in a plane crash the previous October. Woods was not the only absentee, and those who chose to be elsewhere had requested a minute's silence while out on the course. "I felt it would be more of a deterrent," claimed Woods. "I didn't want to spend the week thinking about it."
THE BEAST OF THE BEACH
While Pebble Beach, as ever, looked at its immaculate best, the demons in the links layout would create a string of early problems for most of the field.
The impossibly thick rough punished anything wayward from the tee; approach shots needed to be hit with deadly precision to hold the course's small and concrete-like greens. As such, three-putts would become a common and repetitive issue for the mere mortals.
Colin Montgomerie: "It wouldn't pass a drugs test. [Commenting on Pebble Beach's rough following the opening round.]
NEVER AGAIN
Three years earlier, Woods had of course butchered Augusta National on his way to a record 12-shot victory in the US Masters. But such are Augusta's relatively wide fairways that a repeat – or anything approaching a similar margin of victory – seemed distant at Pebble Beach.
Still, Woods' brilliance throughout the opening round saw him head the field with a Thursday-low 65. For those who watched on, they could have been forgiven for thinking one man was playing a different course. He wasn't. But he was playing a different game.
John Garrity, Sports Illustrated: "On the Thursday afternoon the Monterey fog rolled over the course and forced a suspension of play that left Woods with a six-under-par 65 and the rest of the field with 4am wake-up calls.
ALL IN HIS STRIDE
With further delays pushing play back on Friday, an uninterrupted Woods was able to sign for a 69 to carry a six-shot lead over European Ryder Cuppers Jimenez and Thomas Bjorn going into the weekend. On Saturday, in gusting winds, the tournament leader made public his gritty streak with a string of par saves.
From six to 20ft, it didn't matter. When he fought from the lip of a bunker on the par-5 6th, the result was inevitable: he punched his approach to 10ft and sunk the birdie putt.
Even with a triple bogey on the 3rd hole, Woods was still able to compose himself and there were enough birdies in the tank to finish with a 71. The damage? Ten shots clear through 54 holes on eight-under-par.
Thomas Bjorn: "Incredible. He is playing every shot like his life depends on it."
Ernie Els: "It was awesome to watch. Whatever I say is going to be an understatement."
SECOND RATE
While Woods' superiority was without question, the rest of the field – commonly mocked throughout as the 'B-Flight' – were playing in their own tournament. Two-time US Open winner Els described the feeling as "different", referring to the point that even though he was sharing the final pairing with Woods, there was simply no chance of overcoming the man that headed the field.
"It didn't feel like a US Open," said Els. "It felt very weird being so far behind – playing in the last group and having no chance of winning." Jimenez, who led an impressive tournament for the Europeans (Faldo, Westwood and Harrington would all finish in the top 10), could only add: "Before we went out, I knew I had no chance."
NOTHING TO CHANCE
In the end, Woods' four-under-par 67 meant he had played the last 26 holes of the world's toughest tournament at par or better. Unlike so many others, he never three-putted during his wire-to-wire victory.
During a week where the world's best player had turned down a string of interview requests in pursuit of perfection, he was typically modest come Sunday evening when the dust began to settle on what he had achieved, although he did later joke: "All I had to do… was stay alive."
Tiger Woods: "Records are great, but you don't really pay attention to that. The only thing I know is that I have the trophy sitting right next to me. To perform the way I did, and on one of the greatest venues in golf, it doesn't get much better than that."
Ernie Els: "I could have played out of my mind and still lost by six or seven. He's near perfect."
LONG LIVE THE KING
After the US Open, total domination loomed. Woods won the Open Championship at St Andrews a month later, recording four sub-par rounds (67, 66, 67 and 69).
Next up was the USPGA, where he retained his crown in a thrilling duel with the unknown Bob May. Come April 2001, victory at the Masters meant he held all four Majors at the same time.
Andy North, ESPN: "He's the best driver of the ball; he's the best iron player; he's got a great short game; he's the best athlete on the PGA Tour; he works the hardest; he has the best mind. Other than that, he's average."
Alex began his journalism career in regional newspapers in 2001 and moved to the Press Association four years later. He spent three years working at Dennis Publishing before first joining Golf Monthly, where he was on the staff from 2008 to 2015 as the brand's managing editor, overseeing the day-to-day running of our award-winning magazine while also contributing across various digital platforms. A specialist in news and feature content, he has interviewed many of the world's top golfers and returns to Golf Monthly after a three-year stint working on the Daily Telegraph's sports desk. His current role is diverse as he undertakes a number of duties, from managing creative solutions campaigns in both digital and print to writing long-form features for the magazine. Alex has enjoyed a life-long passion for golf and currently plays to a handicap of 13 at Tylney Park Golf Club in Hampshire.