Bill Elliott on the legend Peter Alliss
GM's editor-at-large pays homage to friend and legendary broadcaster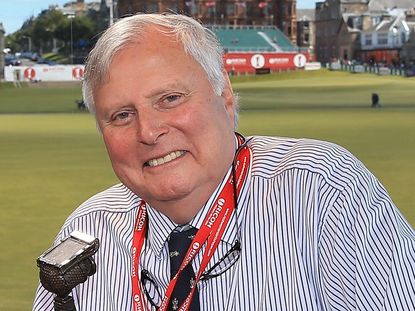 (Image credit: Getty Images)
Golf Monthly Newsletter
Golf tips and expert instruction, golf club reviews and the latest golf equipment.
Thank you for signing up to . You will receive a verification email shortly.
There was a problem. Please refresh the page and try again.
Our editor-at-large, Bill Elliott, pays homage to friend and veteran BBC Golf broadcaster Peter Alliss and recalls some of the conversations they have shared over the years…
As Mark Twain found out, it is good to get your obituaries in before you actually die. Well, it is if you are loved or at least held in some warm affection.
And so the BBC came up with their An Evening With Alliss programme on the eve of The Open Championship at St Andrews. Timing, as ever, is everything in this befuddled world and here the BBC managed to get the timing spot on.
The Open would still be an often-glorious evocation of the old game even if Peter Alliss had never uttered a word about it, but the fact he has uttered millions over the last several decades and that many of these words have been either astute, humorous or whimsical has added wonderfully to this already special part of the golfing calendar.
Related: golf commentary-box classics
It seems easy, doesn't it, sitting in front of a monitor watching pictures of golfers and then saying something about it? And it is easy, but only if you are gifted, and only if you have a vocabulary that moves beyond yeah, no, but, I mean, yeah, like and so tediously on. And that's before we get to the now obligatory misuse of the simple word literally. Look up its correct meaning and use it appropriately. Please. Pretty please.
Peter does. Use it properly I mean. But then he loves words, loves picking them up and throwing them around and watching carefully where they fall and then throwing them in the air again, all the time working out how he can tell the viewer something they can't see and maybe make him or her giggle a bit at the same time.
I first met him nearly forty years ago when he lived in Yorkshire and I lived in Manchester. Now we both live in Surrey, just a few miles apart, although you could fit most of my house into his kitchen and still leave room for Peter.
And, yes, there have been quite a few evenings with Alliss over the years. Many of these have been surgically removed from my memory by alcohol, bits of others dance merrily still while a blessed few remain vivid. I've always looked forward to meeting him because I've known that there would be fun as well as great insight.
Equally important, he is not a bore. He doesn't just want you to listen to him, he wants to hear you too. Rare among the celebrity tribe, he ASKS questions as well as answers them.
Golf has been lucky to have him and even luckier that he has wanted to go on doing his schtick at an age – 84 – when many would rather settle for a tumbler of whisky and a comfy chair. He's not as comfortable these days as he was – an arthritic spine has caused problems – but he still sees the beauty in a dawn and the expertise in a perfectly executed shot from a fairway.
Last time I talked with him in that big kitchen he was as charmingly prickly as ever. Occasionally lost in thought, he is never, ever lost for a word. He started life as a self-confessed liberal but is now a Tory 'wet'. My own loyalty to a hybrid form of soft, left-wing Champagne socialism means we occasionally disagree about things. It doesn't matter.
From our last, random conversation here are a few gems...
– "I sometimes get into trouble for what I say but I say these things because I care. I can't do with rudeness, for example. I'm not an old Colonel Blimp, jacket and tie sort of guy, I'm really not like that at all. I'm inevitably portrayed as an old fogey but all I admit to is being old."
– "I respect the game and I don't want a new generation famous before their time going into the likes of Sunningdale and putting their spikes on the table and wearing a cap back to front. Do you?"
– "If you can play golf, bridge and tennis, if you can shine your shoes and smile, then you can travel the world. The world's your oyster then."
– "The green lobby say that golf takes up too much room and is environmentally unfriendly. They say that if you don't switch off your TV at night then you're destroying the planet. I say bollocks."
– "I'm very observant, always have been. I can go into a room and see this and that and that and that. Other people don't seem to notice these things. No, I don't know how I do it but I believe I would have made a great detective."
– "Peter Thomson played badly once and then said he was going back to the hotel to have a cup of tea, think about it and then go and hit 20 balls. Why 20? Because, he said, people forget what they are doing after ten minutes. My dad said never hit more than 20. You can't concentrate on more."
– "I have no envy."
Bill has been part of the Golf Monthly woodwork for many years. A very respected Golf Journalist he has attended over 40 Open Championships. Bill was the Observer's golf correspondent. He spent 26 years as a sports writer for Express Newspapers and is a former Magazine Sportswriter of the Year. After 40 years on 'Fleet Street' starting with the Daily Express and finishing on The Observer and Guardian in 2010. Now semi-retired but still Editor at Large of Golf Monthly Magazine and regular broadcaster for BBC and Sky. Author of several golf-related books and a former chairman of the Association of Golf Writers. Experienced after dinner speaker.