8 Types Of Golf Fans You'll Spot At The Open
We look at the types of golf fans you're likely to spot at The Open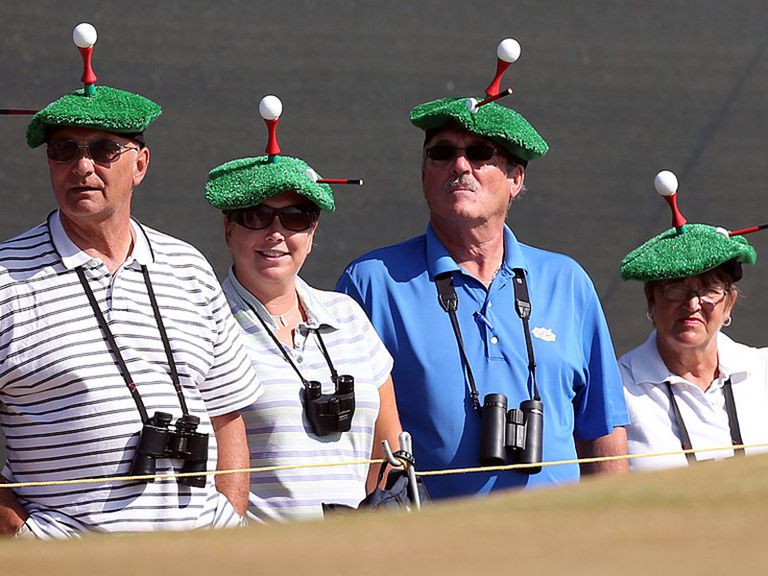 (Image credit: Getty Images)
Around 170,000 golf fans are expected to attend The Open championship at Royal Troon, and there are sure to be some characters among them
Around 170,000 golf fans are expected to attend The Open at Royal Troon, and there are sure to be some characters among them, like this lot...
The Coach
This is the guy calling all the shots from the stands. In his mind, he knows more than everyone on the course, and that means everyone else in the stands is then subjected to his 'knowledge' of the game.
Giveaway sign: Phrases like "I can't believe he chipped that, it's clearly better to putt from there."
The Super Fan
Most golf fans have a favourite player, but some show it a lot more than others with costumes, placards and the likes.
Giveaway sign: Look out for full orange outfits and, Miguel Angel Jimenez wigs and cigars.
The Stats Man
They know all the yardages and which holes are playing the easiest and hardest, plus all winners for the last hundred years.
Giveaway sign: A programme tucked under an arm is a good sign you've seen one.
The Family Man
He's the one who is trying to explain all things golf to his wife, or is busy balancing three 99s for the kids on his way back from the van.
Giveaway sign: Lookout for forelorn expressions and empty wallets near the exit of the Open Shop.
The Ex Player
This guy has probably been to regional qualifying too many times to count, and was just one injury away from being the next Tiger Woods when he was younger.
Giveaway sign: He'll be working on his backswing with an umbrella while in the queue for fish and chips.
The Drunk(s)
They're the guys who have hit the spectators village early and haven't stopped since. They will most likely be stumbling around, slurring, and shouting things like 'Go Rory' every time he knocks in a two-footer.
Giveaway sign: Anybody asleep, who's fallen over or is whooping every holed putt.
The Selfie Guy
Why did you buy a ticket to a live sporting event if you're just going to spend the day on Snapchat or uploading selfless of you with Jordan Spieth 50 yards away in the background.
Giveaway sign: You'll be able to spot the phone a mile off...
The Full Kit Guy
From cleats to his laser rangefinder, this guy is ready for a game if there are any late withdrawals from the field.
Giveaway sign: He'll be stood on the tee boxes checking his GPS watch to see how far away the bunkers are.
Jake O'Reilly specilaises in equipment coverage, and joined the Golf Monthly team in 2013. Before this he graduated from the University of Huddersfield with a Sports Journalism and Media degree, and worked at a number of British golf magazines. Follow Jake on Twitter @jake0reilly