7 Questions To Ask Yourself When Buying Irons
From forgiveness, feel, workability and looks, to custom-fitting and the make-up of your set, we pick out 7 questions to ask yourself when buying irons...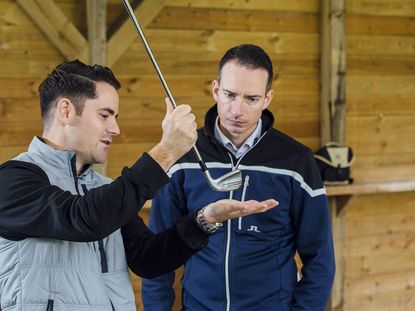 From forgiveness, feel, workability and looks, to custom-fitting and the make-up of your set, we pick out 7 questions to ask yourself when buying irons...
7 Questions To Ask Yourself When Buying irons
It's easy to look at golf club evolution over the past 30 years and think that all the progress has been in drivers as driver heads have progressed from persimmon to steel to titanium, grown exponentially in size, and become adjustable and customisable in all manner of ways.
But irons have evolved significantly too, with the arrival of oversized, deep-cavity heads for those seeking maximum forgiveness, and the use of multi-material designs whether to optimise weighting for easier launch, to improve feel on mishits or to increase power, and therefore distance, off the face. Here, we highlight the 7 questions you need to ask yourself when buying irons to ensure that you end up with just the right set for your game.
How much forgiveness do I need? This will depend on all sorts of factors from ability to individual swing characteristics. If you struggle to find the middle of the face regularly, maximum forgiveness will help you optimise mis-hit performance so your poor shots end up being closer to the green.
There are head designs these days that offer not only high-levels of perimeter-weighted forgiveness, but also extra weight in the sole and further back from the face to help get the ball up in the air more easily. Within most brand's iron families there are degrees of forgiveness throughout the range. During a custom-fitting session, you should hit a few different models and see how the more forgiving options offer greater average distances. The more inconsistent your striking the greater the potential gain of a more forgiving design.
Are feel and workability important to me? Generally – though not exclusively – it is better players who are seeking feel and workability, relying on the former to better gauge how well they're striking it compared to a more forgiving head design, and the latter to be able to manoeuvre the ball more readily to meet the demands of the shot or conditions they face.
Irons that are designed for maximum forgiveness make this more difficult, but there are also shallow-cavity irons available that are designed to provide the feel and workability that many players crave, while also providing a healthy degree of forgiveness. Relatively thin soles offer that crisp contact through the turf and this new breed of slim but forgiving shallow cavity irons are an excellent option for many.
How important is it that my new irons are custom-fit? This is very important, as correctly fitted irons will help you to optimise performance throughout the bag. Lie angle and length are two key factors any professional fitter will look at, so your new irons sit well at address and interact with the turf well through impact. Shaft flex is critical too as shafts that are either too soft or too firm will compromise both consistency and accuracy.
Other critical factors the fitter will advise on will be where to make the switch to hybrids or woods at the long end of the set, and perhaps towards more specialist wedges at the short end.
WATCH: Rory McIlroy talks through his current club choices and specs and the various different iron models he's using
Am I looking for help in getting the ball up or keeping it down This is a fairly critical factor as players who struggle to keep the ball down may find some of the most forgiving head designs launch the ball too high for the way they swing, while players who struggle to flight the ball will relish the assistance on offer.
For those who naturally hit the ball a little too high, it can sometimes be a bit of a choice between achieving the right levels of forgiveness they're after, without losing control of the ball flight. This can be tricky but custom-fitting will certainly help here, as it may be possible to get the best of both worlds with the right shaft. If you are struggling to get your iron shots up into the air, look out for an iron with a wide sole - by pushing the centre of gravity down and away from the face, these designs will help create that high launch you're looking for.
How strong is your long iron game? The vast majority of golfers, tour players included, rely on the added forgiveness and higher launch on offer from a larger-headed long iron. This involves creating a combination set where different models are used to help flight the long irons and control of the short irons.
While many iron sets have typically offered some extra assistance in the long irons, these days you can do so much more by switching models throughout, perhaps even going for blades or semi-blades in the short irons and then the most forgiving head designs at the longer end of the set. Even the best tour pros aren't averse to taking advantage of this extra help where it's most needed. Remember not to forget about this potentially game-changing approach when you go for a custom-fitting.
Where should I make the switch from irons to hybrids? Ability and personal preference are probably key here. Typically, less proficient players and slower swingers find longer irons harder to hit, so may want to consider making the switch earlier in the set – perhaps from 5-iron into their first hybrid.
But plenty of good players are giving up their very longest irons too in favour of clubs that are more forgiving, and certainly more versatile at the longer end of the set, like the TaylorMade M3 Rescue hybrid. It may well depend on the kind of courses you most often play and how far you hit it.
WATCH: Golf Monthly Top 25 Coach, Peter Finch, talks through the impact basics that generate golf's various ball flights
If you know you're likely to face a lot of long approaches, and can't guarantee to find every fairway, hybrids will prove more versatile and playable from the rough as their wide, rounded soles are less likely to snag through impact than the corresponding long irons.
If you play a lot of golf on links courses, you may find a long-iron flight that keeps the ball down a better option when things get windy. But the general trend is for players to switch to hybrids earlier than in days gone by as these clubs certainly make it easier to flight the ball from long range, allowing you to carry front hazards and stop the ball more easily than with a lower-flighted long iron.
How do I want the club to look behind the ball at address? This is probably down to personal preference as to whether or not you like a thin clean topline, or something a little wider to inspire greater confidence. To a large degree, we're back to the forgiveness versus feel and workability debate, as the most forgiving irons will typically have a much bigger topline like the TaylorMade M CGB, and the most workable irons offer a 'cleaner' look, like the TaylorMade P730, with models like the TaylorMade P770 sitting in between.
Only you will know what you like to look down on over the ball, but there may need to be some kind of compromise here between aspiration and practicality. What looks great behind the ball on the range also has to look confidence-inspiring while you're competing on the course!
Articles created in partnership with TaylorMade.