6 Ways to Enjoy Watching The US Open
You'll need to find a way to enjoy the long nights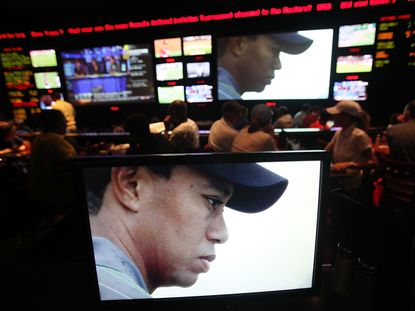 The US Open is one of the greatest spectacles a golfer can enjoy watching.
Ways to Enjoy Watching the US Open
Anyone who has ever stayed up to watch an American golf tournament, not just the US Open, will know the pains of doing so.
Adverts become increasingly intolerable. Thoughts become scrambled. You even start to believe that you could have made a putt that a player significantly better than you has just missed.
So, in order to enjoy your late night US Open viewing habits, take our advice on the best ways to make it through.
Related: Erin Hills Hole By Hole Guide
1. Avoid drinking games on Thursday and Sunday night
It might be tempting to take a shot every time Butch Harmon looks at the camera when answering a question, instead of at the presenter. Or even when the Golden Bear begins an anecdote that takes longer than the front nine to complete. Our advice? Put the glass down.
Finding out you underestimated the amount of times the aforementioned would happen on Thursday and Sunday could be catastrophic. With work the next day, you might regret taking a chance.
If the mood takes you, Friday and Saturday are your best bets.
2. Don't watch with the uninitiated
It can be quite enjoyable to explain some of golf's quirks to a newcomer to the sport. We've all been subjected to a wide variety of questions, from 'what's an eagle?' to 'when's half-time?'...
It's normally enjoyable. At 1:55am, when you still haven't seen the group you wanted to see, you dozed off during the best shot of the day and you remember you have an early start, it won't be fun. It'll be annoying.
3. Keep in mind you'll feel better about your own game
When the best players in the world are finding the unforgiving contours and 200+ bunkers at Erin Hills hard to deal with, as we expect them to, you'll feel better about your own game.
Yes, we want to see incredible golf, but who among us hasn't taken a bit of solace out of seeing a tour player chipping like he's been taking lessons from your dad?
So, when the bunkers are swallowing every ball from the tee or undulations are making seasoned professionals break down, you won't feel so bad the next time your own game fails you.
4. If you're betting, bet wisely
Related: Wells Fargo Championship Golf Betting Tips
Make sure you don't go too wild with your betting. If you want to feel optimistic on Monday morning as the last few players approach the back nine, consider playing it safe.
Sitting in front of the TV with numerous cans of who-knows-what in the knowledge that your bet didn't even make the cut won't be fun.
Add to that the pain of knowing you've got a lengthy commute in six hours and you'll wish you hadn't opted for the player whose name you're not even sure you're pronouncing correctly.
5. Give yourself something to do during ad breaks
Expand History Of The US Open Trophy
There have been two official US Open trophies…
Expand Key Dates In US Open History
A look at some of the key dates…
Expand Who Has The Most US Open Wins?
Who Has The Most US Open Wins?
Four men top the lost with four wins…
Expand 8 Unexpected US Open Winners
Eight men who upset the form book to…
You've said that you'll stay up to watch the whole thing, all four days. It's a nice idea, but you know as well as anyone that the advert breaks could determine whether that becomes a reality.
This is prime dozing off time. So, you'll need to be prepared.
Don't get lazy. If you stick a cool box next to the sofa you'll have no reason to move. Make the journey to the fridge to ensure you don't get as complacent as a golfer with a two-foot putt.
6. Be smart with the coverage
Find out when the leading players are going out, or when the live coverage starts. Some people think that because Sky are on air, the golf is free-rolling.
However the host-broadcaster usually doesn't have rights to show live golf until a certain time so there's always some build up. Prepare to see Butch Harmon staring you straight in the eyes.
Also the leaders don't go out until two or three hours into the coverage, and if that's not what you were expecting you might be asleep by the time the action happens.
Get the Golf Monthly Newsletter
Tips on how to play better, latest equipment reviews, interviews with the biggest names and more.
Will Medlock graduated from UEA with a degree in Film and Television before completing a Masters in Sports Journalism at St Mary's in London. Will has had work published by The Independent and the Rugby Paper.