Who Has The Most US Open Wins?
Four men top the lost with four wins apiece - but should one of them be considered to have won a fifth 'US Open'?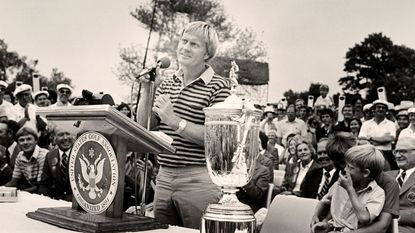 (Image credit: Phil Sheldon/Popperfoto)
Four men top the lost with four wins apiece - but should one of them be considered to have won a fifth 'US Open'?
Who Has The Most US Open Wins?
The most wins in the US Open is four. This record is shared by four men - Willie Anderson, Bobby Jones, Ben Hogan and Jack Nicklaus.
Jones and Nicklaus also each finished second four times as well. Jones lost two playoffs.
Willie Anderson: winner in 1901, 1903, 1904, 1905
Anderson's score of 331 (after rounds of 84, 83, 83 and 81) in 1901 is the highest by a US Open winner. In fact it was only partially a winning score - it only took him into a play-off.
In those days the tournaments ended on a Saturday. But the play-off had to be played on the Monday as Sunday was reserved for members only at the host venue, Myopia Hunt Club.
Anderson is the only man to win three consecutive US Opens.
Anderson was a Scot who worked as a caddie and an apprentice clubmaker in his homeland, before travelling to America aged 16. He worked a club pro in America.
He was renowned for his accurate play, a low flat swing, and an impassive outlook. "You couldn't tell whether he was winning or losing by looking at him," said 1908 US Open champion Fred McLeod, who like Anderson, was from North Berwick.
Anderson died aged 31.
Bobby Jones: winner in 1923, 1926, 1929, 1930
Jones was another for whom competitive golf ended early. He retired from this form of the game aged 28 in 1930. By that stage he had played in 31 Majors, winning 13 and coming ion the top-ten of 27 of them.
He had played in eight US Opens and only twice did he finish outside the top 5, in his first appearance in 1920, when he tied for 8th, and in 1927 when he came 11th.
This last achievement was still enough for him to win the US Open low amateur medal, something he did every year from 1922 until his retirement.
He is one of five amateurs to have won the US Open. No other amateur has won this title more than once.
Ben Hogan: winner in 1948, 1950, 1951, 1953
He is one of only five golfers to have won all four of the current Major titles. (The others are Tiger Woods, Gary Player, Gene Sarazen and Jack Nicklaus.)
Some historians believe Hogan should be credited with five US Open titles for he won the Hale America National Open in 1942.
This tournament was only held once, and was a replacement for that year's US Open, which was cancelled when America declared war, and was run on the same lines as the US Open.
Jack Nicklaus: winner in 1962, 1967, 1972, 1980
Of those with the most number of wins in the US Open, Nicklaus is the odd one out. Whereas the other three won their titles over a short period, Nicklaus' ones were spread over 19 tournaments.
Nicklaus win in 1962 was his first tournament victory as a professional.
Nicklaus' winning total of 272 in 1980, when he was 40 years old, had established a new tournament record, breaking his own record of 275 set in the 1967 US Open. Both these tournaments were played over Baltusrol's Lower Course.
This record is now held by Rory McIlroy, who went round in 268 in 2011.
Nicklaus won 15 of his 18 Majors in America, but the least productive of the three American Majors for him was the US Open. Despite this, in 2012 the gold medal the winner gets for winning the US Open was renamed the Jack Nicklaus medal in his honour.
Contributing Writer Golf courses and travel are Roderick's particular interests and he was contributing editor for the first few years of the Golf Monthly Travel Supplement. He writes travel articles and general features for the magazine, travel supplement and website. He also compiles the magazine's crossword. He is a member of Trevose Golf & Country Club and has played golf in around two dozen countries. Cricket is his other main sporting love. He is the author of five books, four of which are still in print: The Novel Life of PG Wodehouse; The Don: Beyond Boundaries; Wally Hammond: Gentleman & Player and England's Greatest Post-War All Rounder.