10 tips to help settle in when joining a new golf club
Joining a new golf club can be nerve-wracking, but these tips will help you settle in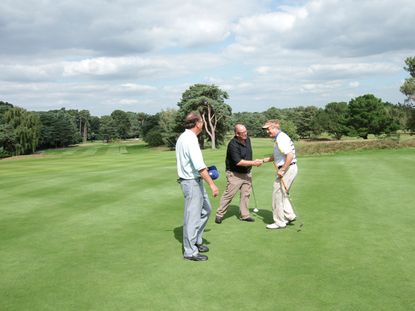 If you are thinking about, or in the process of joining a new golf club, or have recently done just that, you may worry about how you might fit in and feel part of it. Follow these tips you'll have nothing to fear
If you are considering joining a new golf club you may be worrying about how you'll initially settle in and feel that you are part of it.
It's not just first time members that get this feeling, it's common for everyone, even those of us who have been members at three or four different clubs in our lifetimes.
So don't put off joining a new golf club for another year, instead read our top 10 tips on how to settle in to your new surroundings.
1- Make an effort
When you are at the club having a knock, don't just pack up and head home afterwards. Take time out to have a walk around the club introducing yourself to some members. Ask a few questions and try and start up some conversations.
2 - Get on the putting green
You don't just have to turn up and go straight to the first tee. Take time to visit the practice putting green, pitching area or warm-up nets, where it's very easy (and normal!) to start up small talk with fellow players, especially when you miss a 2-footer!
3 - Appearance
Make sure you look the part. Don't turn up on the 1st tee with an untucked shirt and trainers. Having a smart appearance will only help you make a good impression, especially if you rip one off the tee too!
4 - Join a group
If you're playing on your own and there's a group following you, ask them if you can join them. Similarly, if you see someone about to tee off on their own, ask them if they want to join you.
5 - Watch your etiquette
If you manage to pick up playing partners like this, make sure you give them no reason to dislike you. So mark your ball and avoid other peoples' lines, be sure to avoid any tantrums and, above all, avoid slow play by always being ready to play when it's your turn. Do all this from the start and you'll settle in quickly.
6 - Get your handicap
Play a few rounds with a friend or any members you meet and get them to sign your scorecards for submission to the handicap secretary. Once you have three cards signed you can get your official handicap and that lets you enter club competitions...
7 - Enter a club competition
There's no better way to meet people on the course than playing in competitions, either by adding your name to a start sheet at an allotted time, or by entering into any randomly drawn competitions. As with meeting anybody in life, some you'll get on with an others you might not. If you find someone you click with and relax around, don't be shy about getting their contact details so you can arrange a few social games together.
8 - Play in a Texas Scramble
On each hole in a Texas Scramble your team of three or four select the best tee shot and all play a second shot from there. Then you select the best second shot and all play a shot from there, and so on. In our opinion, this is the best format for encouraging camaraderie. It also lets you relax and move on from bad shots, because terrible shots are quickly forgotten and great scores can be carded.
9 - Play well!
This isn't as easy as our other suggestions, but there's no better way to settle in with a group of new playing partners than to play well. If you shoot a good score and knock in a few 20-foot putts you'll settle in straight away.
10 - Buy a round
After your game don't dash off if possible. Make your way to the clubhouse and get a round in for whoever you've been playing with. This will show your generous and friendly nature, and should mean you get bought a few the next time you play!
Craig Middleton is a trainee broadcast journalist who is looking to pursue a career in golf journalism and has recently worked with the Open.com digital team. Follow Craig on Twitter @craigmiddjourno