PGA TOUR 2K21 Baller Edition Brings The Thrill Of Golf Into Your Home
Don't let the cold and wet weather stop you playing the game you love! PGA TOUR 2K21 Baller Edition allows you to take on some of the world's best courses from the comfort of your sofa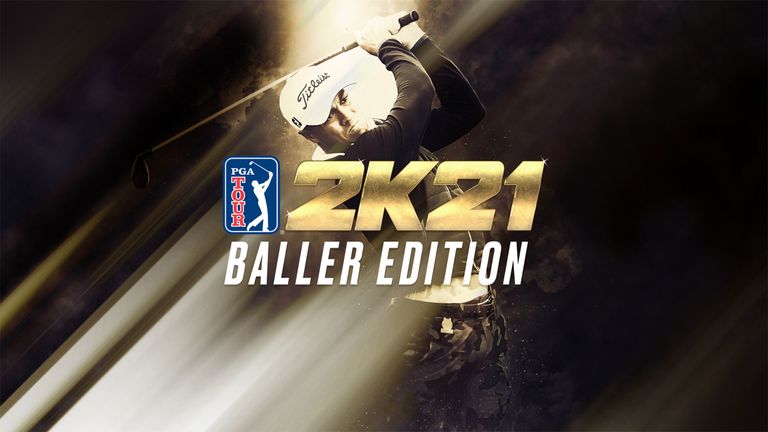 (Image credit: PGA TOUR 2K21 Baller Edition)
Is the winter chill stopping you from getting out on the golf course? Fear not! PGA TOUR 2K21 Baller Edition lets you play some of the world's best venues from the comfort of your sofa.
No wet weather gear. No stress over booking a tee time. Just an authentic PGA Tour experience. And there's no need to catch a plane.
This Black Friday weekend save up to 60% digitally on PGA TOUR 2K21 Baller Edition*
PGA TOUR 2K21 Baller Edition is the ultimate golf simulation that features...
The immensely popular base game that's sold-in over 2.5 million units worldwide
An acclaimed PGA TOUR Career Mode mode featuring 30 events across 15 licensed courses
An extensive range of real-world Golf equipment and apparel from brands such as Polo Ralph Lauren, Malbon Golf, Callaway Golf, Bridgestone Golf, TaylorMade Golf and more
Exclusive gear designed just for the game by Adidas Golf**
All previously released DLC courses and game modes
Holiday-themed gear, novelty putters, and the elusive Golden Touch Pack featuring a gold putter and driver
With a wealth of content available, PGA TOUR 2K21 Baller Edition makes a definitive mark on the golf simulation experience, featuring a broadcast-style presentation with state-of-the-art graphics, dynamic cutscenes and a seamless replay system, all anchored by the play-by-play commentary of renowned broadcaster Luke Elvy and analyst Rich Beem.
Savour gameplay that meets you where you are...
With fully customisable gameplay and difficulty levels PGA TOUR 2K21 Baller Edition is designed for players of all skill levels; if you're a video game golfing pro, the game will serve you a breathtaking challenge that takes course physics, swing speed and wind direction into account. Take advantage of Pro Vision, Distance Control, Putt Preview and other innovations to take your game to the next level.
PGA TOUR 2K21 welcomes new players with an educational beginner mode that can be made more difficult as your game progresses, whilst offering real-time tutorials, tips and shot suggestions.
Start your pro career right from the sofa… Take on Ian Poulter and other pros!
Go head to head with real PGA Tour pros with your own MyPlayer customised precisely to your liking in the action-and-drama-packed PGA TOUR Career Mode Mode. You'll begin your career amidst the masses at Korn Ferry Tour, and work your way up the golfing ladder from there, taking on the most 'baller of ballers' including Ian Poulter, Patrick Cantlay, Cameron Champ and, of course, world No. 6 and 2017 PGA Championship winner, Justin Thomas.
And don't worry, your MyPlayer will be the spitting image of exactly how you imagine yourself to be, because PGA TOUR 2K21 Baller Edition includes more than 15 genuine golf brands for you to customise your MyPlayer with.
In PGA TOUR Career Mode you will scale the ranks of the PGA Tour as you leave the pros in your dust and sign brand deals that increase in difficulty and demand over time. Think you have what it takes to make it to the top? Justin Thomas will be waiting for you at the peak.
Play real PGA Tour courses without hopping on a plane...
We know that every PGA Tour course has its own unique look and feel – from the angle of a pitch to the depths of a dune. The team at HB Studios spent countless hours working with 4K and 6K drone technology to recreate some of the most iconic courses down to the very last pixel, giving you the full PGA Tour experience without forcing you to buy a plane ticket to the USA.
For those of you filling out your dance card, the PGA Tour courses awaiting your arrival in PGA TOUR 2K21 Baller Edition are Atlantic Beach Country Club, Detroit Golf Club, Bay Hill Club and Lodge, East Lake Golf Club, Innisbrook Resort and Golf Club (Copperhead Course), Quail Hollow Club, Riviera Country Club, TPC Boston, TPC Deere Run, TPC Louisiana, TPC River Highlands, TPC San Antonio, TPC Sawgrass, TPC Scottsdale, TPC Southwind, TPC Summerlin and TPC Twin Cities.
(*trailer released prior to game launch)
...Or build the ultimate course of your dreams
Are you an aspiring golf course architect? Ready to craft your finest 18-hole masterpiece? PGA TOUR 2K21 Baller Edition gives you all the tools and control you need to bring the course of your dreams into reality quicker than it would take to explain how it looks to your best friend over a pint.
Want to keep it classy? Add a mansion or some elegant trees. Want to get wacky and wild? Add hundreds of squirrels and a gator or two. With a variety of themes including Desert, Tropical, Countryside, Harvest, Delta, Rustic, Swiss, Steppe, Autumn, and Highlands, the course designer is easy to learn and master in no time. Once you're done, share it for players from all around the world to enjoy.
Your dream of playing golf year-round on authentic PGA Tour courses against living, breathing pros from around the world is only a few clicks away. It's time to hop in the cart.
PGA TOUR 2K21 Baller Edition is available worldwide in digital format on PlayStation, Xbox, and Steam.
This Black Friday weekend save up to 60% Digitally on PGA TOUR 2K21 Baller Edition!*
*Discount based on 2K's SRP. Digital Only. PlayStation Offer Ends: 29 Nov 2021. Xbox Offer Ends: 2 Dec 2021. Steam Offer Ends: 30 Nov 2021. Terms apply.
**The PGA TOUR 2K21 Baller Edition includes all paid content except for NBA, FootJoy, and Titleist gear. Level-gated content still needs to be unlocked via player progression.
Betting experts, writers and video producers. Couple of guys in our early 20's looking to bring the sport that we love into a new era.'