Give Every Shot A Chance With Hole19
Know your yardage, select the right club and take advantage of good strikes to give every shot a chance with Hole19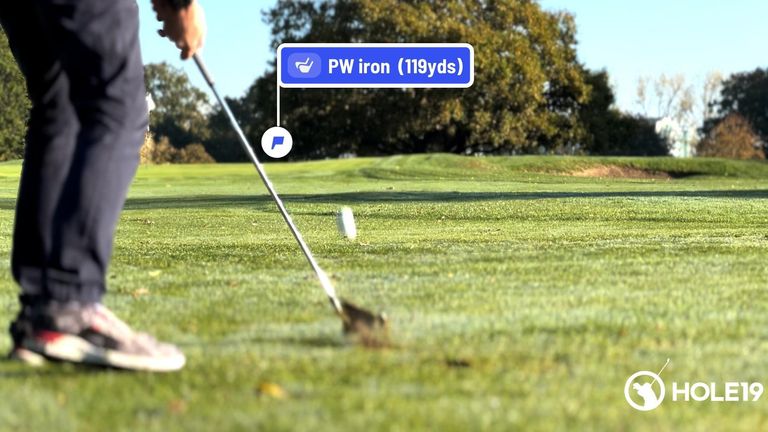 (Image credit: Hole19)
Give Every Shot A Chance With Hole19
Download Hole19 now for free
Golf is addictive. The adrenaline rush and dopamine hit that accompanies a well-struck shot keeps us coming back to the game, time after time.
When you swing with good rhythm and strike it out of the centre of the club, the sensation of finding the sweet spot is one of pure pleasure.
Most of us only hit two or three of those great shots per round and we never know when they're coming.
It's important then, that we get the very most out of them when they do.
We all know those instances when we don't!
Having made a good swing, you look up to see your ball sailing way over the flag or coming up short of the green… You've hit the wrong club.
Rather than finding the sanctuary of the putting surface, you've found the rough, a bunker or even a penalty area.
Dreams of a birdie are quickly gone, and pleasure turns to pain as you contemplate a testing up-and-down to avoid bogey or worse!
Golf is hard enough without having to use guesswork with regards yardages and what club to hit.
If you had taken a moment to know your yardage, and to select the appropriate club, you'd have enjoyed a putt for glory rather than faced a nightmarish pitch or bunker shot.
Your pals would have been grudgingly acknowledging your success rather than laughing at your plight.
Hole19 gives golfers all the information they need to be ready to take advantage of those moments of golfing excellence by providing accurate GPS yardages, and can even recommend what club to hit based on previous shots, so they have the right club in their hand every time they stand up to hit.
If you know the yardage, choose the right club, and hit the right shot – the rush of pleasure from a pure strike will be joined by a sense of satisfaction that you've also made the correct decision.
In addition, Hole19 offers easy scoring functionality, including performance stats, together with the option for live leaderboards to see how your golfing buddies are getting on elsewhere on the course.
There's shot tracking information allowing you to see how far you hit each club and to then share and compare it with pals. You can share your good, and not so good moments!
In addition, club recommendations are offered against the yardage you're faced with.
Featured multiple times by Apple as "App of the Day," Hole19 is available for both iOS and Android as well as smartwatches including Apple Watch.
Used by more than 2.8 million golfers globally, Hole19 Premium golfers save an average of three shots per round.
You can download the app on a free trial for iOS and Android.
Next time you're out on course, don't miss out on getting the very most from those rare perfect strikes… Get the yardage right, select the right club and give every shot a chance with Hole19.