'People Not Being Allowed To Play Golf Because They Have Ankle Socks On Or They Didn't Tuck Their Shirt, That's Crazy' - Sky Sports Broadcaster Inci Mehmet On The Rules Holding Back Golf
Sky Sports broadcaster Inci Mehmet answers a Quick 9 questions, from her best ever shot to her thoughts on encouraging the next generation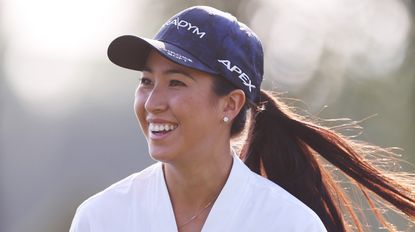 (Image credit: Getty Images)
Get the Golf Monthly Newsletter
Thank you for signing up to Golf Monthly. You will receive a verification email shortly.
There was a problem. Please refresh the page and try again.
Inci Mehmet is a full-time broadcaster for Sky Sports Golf, European Tour Productions and IMG Productions.
An ambassador for Callaway, the 26-year-old represented England throughout her amateur career, with her selection on the Elite England Golf girls' squad then progressing into the Women's squad.
She earned full playing rights onto the Ladies European Tour after she finished twelfth during the 2016 qualifying school.
Inci is now a renowned presenter and journalist and is a passionate advocate for improving accessibility and inclusivity within golf.
In the video below, Inci has a laugh at her "embarrassing" choice of music, relives the best shot of her life - which saw her retain her LET Tour card - and shares some interesting thoughts on the future of the game.
Dream Fourball?
Difficult question. I would say, Tiger Woods (although I have played with him before… just dropping that in there!), Serena Williams – I think she's an amazing female athlete and is getting into golf, I know Steph Curry likes golf… I think him! There you go, and me, that's the fourball.
Favourite Golf Course?
For me it would be the Home of Golf – St Andrews. I just think it's a really special place. There's so much history but the experience is just like no other.
Best Golf Shot You've Hit?
Back in 2018, I had to birdie four of the last six holes at the Emirates Golf Club – Omega Masters on the LET Tour and it was taking on a line over the corner on the 18th and I struck it out of the middle, I made the birdie and kept my Tour card.
Taking all the pressure into the equation, yes, that was probably the best – that drive.
Worst Golf Shot You've Ever Hit?
Oh god, there are way too many. Actually, I remember, I was playing for Surrey and I was off first. It was a driveable par-4… I feel like we might have been playing Walton Heath, and I remember just wanting to hit it so hard to try and reach the green.
I ended up kind of shanking a driver.. More of a semi-shank/top… In front of everyone of all the counties.
Best Tip You've Ever Been Given?
For golf – I worked with Graham Walker a little who works with Tommy Fleetwood on short game.
He said, after a bad shot don't leave it on the note of being annoyed, rehearse what you could have done better so at least you've let the emotion out and have rehearsed what you might have done so you leave on a high note.
So next time you have the same shot you can approach it differently.
What Tipple Would You Fill The Claret Jug With?
Honestly, I've really got into ginger beer recently. I had my first ever about two months ago and I'm a big fan of it. But there's only so much ginger beer you can drink.
In A Cart With Speakers - What Tunes Are Playing?
Let's get a bit of Queen B (Beyonce) out. I'm one of those people that just likes chart music. It's embarrassing but you have to own it! Maybe a song with a bit of attitude from Queen B.
Strangest Thing In Your Golf Bag?
I'm quite minimalist so I don't have too much rubbish in there. I'm just not that odd. Here today I have a marker that says "No three putts." I'm not sure it works but hey, it's worth a try.
How Do We Get More People Playing Golf?
I think it's a collective effort of us golfers and golf fans breaking down barriers and having some better representatives. We're talking about relatability. I think the power of that is massive.
If you see someone doing something and you feel like you can do it too. That's diverse, whether it's gender, age, ability.
Rules too. There are things I hate. People not being allowed to play golf because they have ankle socks on or they didn't tuck their shirt in or their hat is on backwards – That's crazy.
You could be well dressed and be rude or you could dress freely and be respectable and have a lovely friendly or competitive game. I just don't understand those barriers.
Affordability too – Golf is too expensive. How about a subscription model for golf like with cars? I've never heard people talk about that possibility and I'm not sure why.
Inci Mehmet was speaking to Golf Monthly at the 2023 adidas golf Global Launch in Los Angeles.
Get the Golf Monthly Newsletter
Tips on how to play better, latest equipment reviews, interviews with the biggest names and more.